Last Updated on November 6, 2022 by Editor
Towards the end of August 2022, MTN Nigeria did a soft launch of its 5G network, with an open 5G pilot made available to the public in locations around Lagos and Abuja. The network later did a commercial launch with wider 5G access to subscribers. The telecom operator said it deployed 127 5G sites and is working towards nationwide coverage. We went to town to test MTN Nigeria's 5G network and came back with interesting results and observations. Enjoy our MTN 5G review below.
We took a 5G smartphone along for use in our tests, and used the Ookla speed test app all through. The tests were conducted in Lagos, because that is our location. If we find people who are willing to run tests for us in other cities, we will happily include their feedback in this MTN 5G review.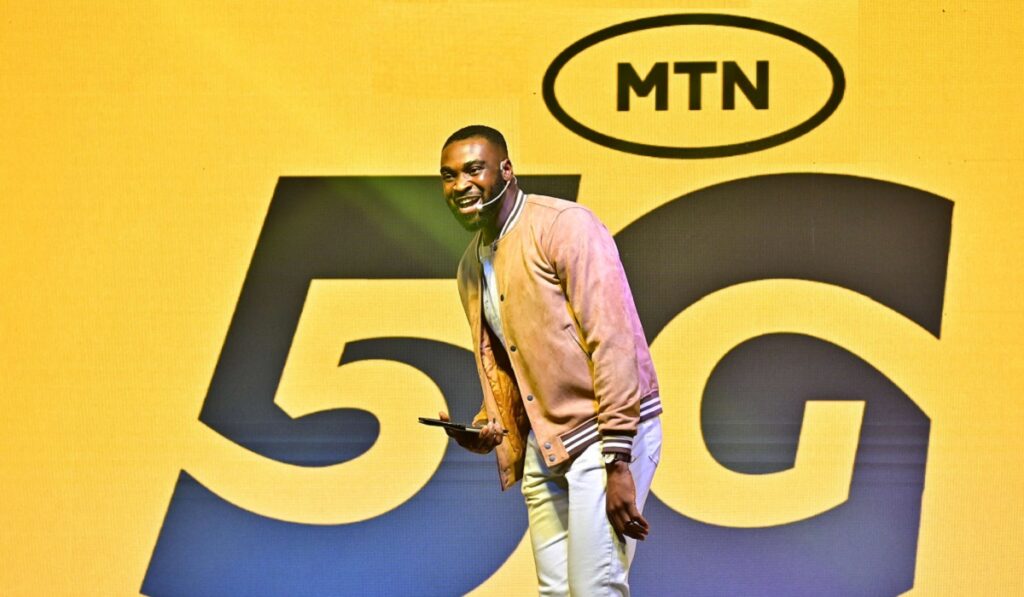 MTN 5G Review: Locations
We drove from Ikeja City Mall through Oregun, Opebi, and Allen Avenue, to check for 5G coverage for our tests. We hit jackpot along Kudirat Abiola Way in Oregun when the network icon changed from 4G LTE to 5G. And from there, we began to run our speed tests. The 5G icon stayed on the phone all the way through Opebi, Allen, and Obafemi Awolowo Way up till Coca-Cola, after which it disappeared.
In Alausa, Ikeja, there is 5G coverage all the way from Access Bank to the Police Divisional headquarters. It likely extends further towards Lagos-Ibadan express, but I took the right turn towards the House of Assembly. The Ikeja Electric office is covered too, and coverage extends all the way to just before the junction beside JJT park. And it popped up again at the park, where I got a measly 61.7Mbps reading on a 5G connection. I didn't get to Ndubuisi Kanu park to confirm what's up there.
Heading down Governor's Road and Governor's Avenue towards ICM from the park, 5G signal disappears again. It is 4G LTE all the way. Clearly, coverage needs to be improved in that location.
Other MTN 5G coverage locations in Lagos include: Computer Village, Anifowose, Opebi, Ikeja GRA, Murtala Muhammad Airport, Magboro, Ilupeju-Mushin-Itire, Palm Groove, Surulere, Ebute-Metta, Yaba, Onike-UNILAG-Abule Oja-Yabatech axis, Lagos Island, Ikoyi, Banana Island, Victoria Island, Lekki, Ajah, and Abraham Adesanya. MTN Nigeria say they are working to add more locations.
Update: We have a confirmed report from Ibadan in Oyo State of MTN 5G being as fast as 405Mbps at Agodi area.
MTN 5G Review: How Fast Is it?
And this is the really interesting part; isn't it? All of the hype about 5G boils down to speed (well, and capacity). But for the layman, speed is everything, so we shall focus on speed. Here are the aggregate results we got on the MTN 5G speed tests that we ran:
145.19 Mbps
327.25 Mbps
448.56 Mbps
453.49 Mbps
614.69 Mbps
928.51 Mbps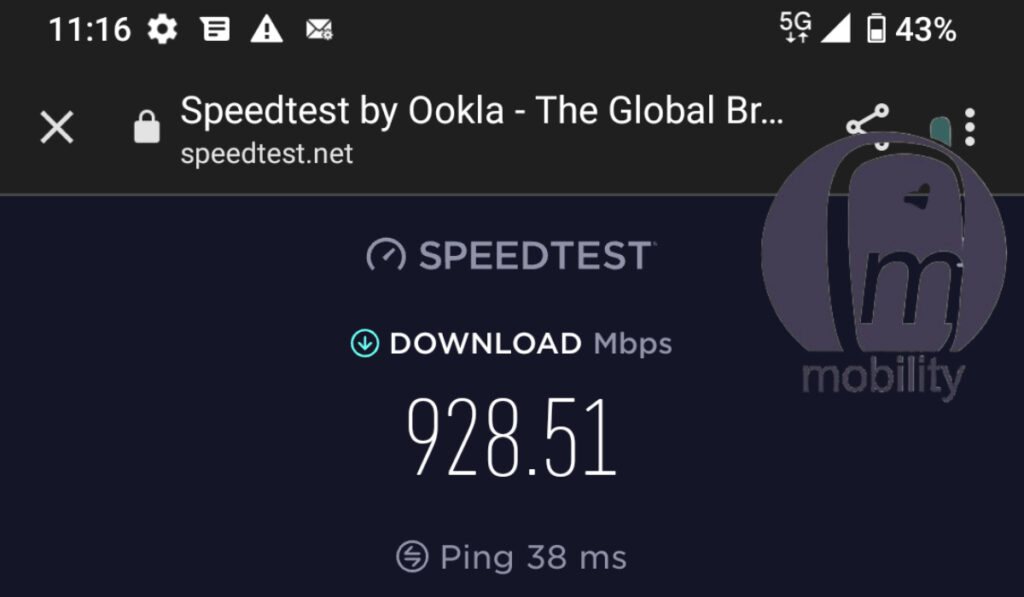 The lowest speed was 145.19 Mbps, while we got a whopping 928.51 as the fastest speed during our tests. MTN 5G delivers as high as almost 1Gbps in download speed at its best performance in our tests. We got the best speeds mostly at locations that are low density, though a spot along Allen Avenue gave us a surprise with 614.69 Mbps in download speed. Below is a clip we put together from our speed tests.
Update: There is 5G coverage at ICM, but it strays in and out. Speeds there are not on the high side, either. The maximum I got there is 140Mbps.
As you can see, what speeds you get will depend on the location and time. For example, business or industrial locations with heavy usage will likely not deliver the fastest speeds, unless MTN specifically optimizes the network for those areas. Just note that there are multiple factors that determine speed. Distance from the transmitter is another: the farther you are from the transmitter, the greater the likelihood that you will get lower speeds, all other things being equal.
MTN 5G Review: How Much Data Does Using 5G Consume?
If you are concerned about how much data consumption that your use of 5G will cost you, you should be. The answer is: a lot. A whole lot. It isn't that 5G itself consumes data. It is that because it allows for faster downloads and uploads, more data flows through the 5G pipe per second than it does though the 4G pipe. For example, we ran X number of tests under 30 minutes, and we soon got an alert from the phone saying we have used up 13.93GB of data. My partner almost went into shock.
How did 13 GB of data disappear under 30 minutes, and with us doing nothing major with the phone except running speed tests? For one, a 5G speed test requires larger chunks of data to be transferred in order to get an accurate measurement of the connection speed. A 5G speed test uses more data than a 4G speed test. That alone is important. After getting your 5G phone or router, for a while, you will be tempted to keep running tests just so you can marvel at the speed of 5G. Feel free to fall for that temptation; just make sure that you have a large data plan to back it up, otherwise it will end in tears.
MTN 5G Review: Conclusion
In conclusion, MTN Nigeria's 5G network is alive and working. It delivers good to great speeds, depending on a number of factors. You should be careful running speed tests on the network, as this will cost you a lot more data than you have been used to. If you want to get on MTN 5G, you need a 5G-compatible phone or an MTN 5G router. Thank you for reading our MTN 5G review.
I hope you enjoyed it and find it useful as much as we enjoyed making it. If you have any questions, or have a specific scenario you want us to test and provide feedback on, please leave a comment below. We will endeavour to help you with useful information as much as is within our power. If you have 5G network coverage at your end and want to contribute speed test results to this review, please send screenshots to us via Twitter, Facebook, or Instagram. Our links are provided below. Thanks.