Last Updated on October 22, 2022 by Editor
Even the most affordable 5G phones in the market today still cost a small fortune. Not a lot of people can afford to spend over ₦100,000 on a smartphone. Which must be a dampener for those looking to have a taste of 5G Internet on the MTN network (at this time, MTN is the only 5G player in the Nigerian market until January 2023, at the least, thanks to the extension granted Mafab Communications). But there is a way out – one that costs at least half the price of the cheapest 5G phone in the market: MTN 5G routers.
A router is a device that connects to a wireless network and allows multiple devices to use the same Internet connection. An MTN 5G router does just that, but in this case connects to MTN's 5G network and allows you to share it via a WiFi hotspot to your smartphone, laptop, tablet, etc. MTN 5G router allows you to connect up to 32 devices and comes with 100 GB data bonus on activation.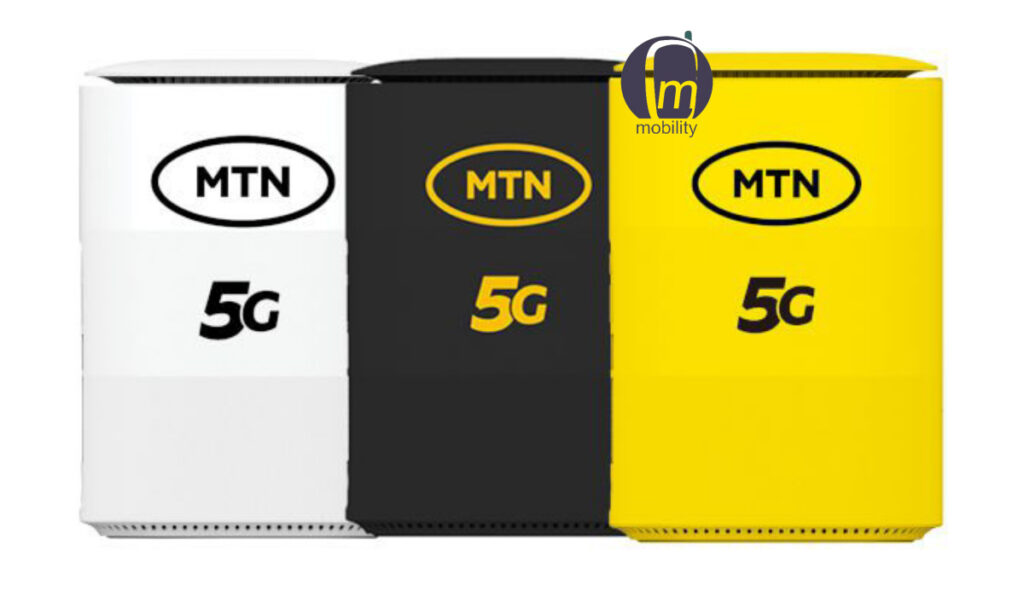 Where is MTN 5G available?
MTN 5G is initially available in select locations in eight (8) states and the Federal capital territory Abuja. The states include: Anambra, Borno, Edo, Imo, Kano, Lagos, Oyo, and Rivers. Coverage is available in multiple locations in each of these states and will expand to other areas later.
Initial MTN 5G coverage in the FCT Abuja includes areas in: Airport Road, Apo, Asokoro, Garki, Jabi, Kubwa, Life Camp, Maitama, Wuse, Utako, and Three Arms Zone. In Lagos, you will be able to enjoy MTN 5G in the following areas: Alausa, Ikoyi, Banana Island, Onike-UNILAG-Abule Oja-Yabatech axis, Abraham Adesanya, Ajah, Lekki, Victoria Island, Computer Village, Anifowose, Opebi, Ikeja GRA, Murtala Muhammad Airport, Magboro, Ilupeju-Mushin-Itire, Palm Groove, Lagos Island, 1004, Surulere, Ebute-Metta, and Yaba.
I was expecting that at the most, initial coverage would be restricted to some locations in Lagos and Abuja FCT only, but MTN Nigeria has done a solid one by rolling out 5G service in multiple locations in eight states. In all, we are looking at 190 locations in all. Impressive work. Update: This morning of August 24, 2022, a few hours after this article was published, MTN Nigeria switched on 5G in Lagos and Abuja only, with a rider that the other locations will follow "soon". Nigeria's first 5G network is live. You can check if your area has 5G coverage.
What phones work on MTN 5G?
What smartphones can you use on MTN 5G? According to MTN Nigeria, the following phones are officially supported for now:
Nokia X10
Nokia X20
Nokia 8.3 5G
Redmi Note 10 5G
Redmi Note 11 Pro+ 5G
Vivo V23 5G
Vivo V25 5G
Huawei Mate 40 Pro 5G
The company says it will update the list of officially supported 5G phones. However, user reports from around the country indicate that some other 5G smartphones also work with MTN Nigeria's 5G network. They include:
POCO F2 Pro
Samsung Galaxy S22 Ultra
Samsung Galaxy Note20 Ultra
Samsung Galaxy A51 5G
TECNO Camon 19 Pro 5G
Nokia G60 5G
OnePlus 8
OnePlus 8 Pro
Asus ROG 5
ZTE Nubia Red Magic 7s Pro
Vivo V20 Pro 5G
Google Pixel 6
Motorola Moto G 5G
OPPO Reno 5 Pro 5G
Realme V3
iPhone 12
iPhone 13
ZTE MC801A 5G router
MTN 5G Router Price
Getting an MTN 5G router will cost you ₦50,000 only. Considering that the cheapest 5G phones in Nigeria at the moment cost upwards of ₦100,000, this is a great way to get on the 5G ride early. Eventually, the cost of 5G phones will drop low enough to make them more affordable to more people. In addition, eventually, we will also see 5G mifi devices arrive in the market, at lower price points than these routers.
If you pre-order an MTN 5G router, you will also get 100 GB data bonus on activation. That is a lot of data to play around with, for downloads, movie streaming, and gaming over a 5G connection. The MTN 5G routers come in three colours – white, black, and yellow, and can be pre-ordered from MTN stores and outlets in these locations across the pioneer states and the FCT.
If you have a 5G phone already
If you have a 5G phone already, you might not need to invest in an MTN 5G router, depending on your needs.
Do you need a new SIM to get MTN 5G?
You might have a question about whether you will need a new SIM card for 5G. According to available information, MTN is rolling out 5G on new radio (NR) non-standalone (NSA) technology, so your current 4G SIM card will work just fine. You won't be required to replace your SIM card.
However, there is a clause. MTN seems to be gate-keeping devices for now. Information available is that if you have an iPhone, you won't pick MTN 5G signal now. What phone brands can you use to access MTN 5G? Some TECNO, Nokia, and Xiaomi phones. Some Samsung devices are getting it too. It is all a bit chaotic right now, but access will get better. The summary is that your best bet for accessing MTN 5G right now is the MTN 5G router.
When will you get your MTN 5G router when you pre-order?
Expected date when the MTN 5G routers will be available is September 19, 2022. Which leads me to believe that the commercial launch will happen on that day or around that time. What is going on now is a pilot phase, with limited availability.
Special MTN 5G Plans
MTN says that you will get 5G on regular data plans, but that special 5G data plans are on the way.
How Fast Is MTN 5G?
We have run speed tests on the 5G network of MTN Nigeria and have results to share. Find them in our MTN 5G review.