Last Updated on January 20, 2023 by Editor
 Manufacturer: Kia Corporation, Korea
Production: 2000–2020
Class: Mid-size car  
Body Style: 4-door sedan, 5-door station wagon.
Layout: Front-engine, front-wheel-drive, Front-engine, four-wheel-drive 
The Kia Optima, is a mid-size car manufactured by Kia since 2000. It offers several premium features, as well as two available turbocharged engines, one of which pairs with a seven-speed dual-clutch automatic transmission. An infinity sound system, paddle shifters, Bluetooth hands-free, eight-way adjustable driver seat, audio remote control, engine start button, rear view camera, rear parking system, rear air ventilation, cooling glove box and a lot more, are what makes up the beautiful work of art called Kia Optima.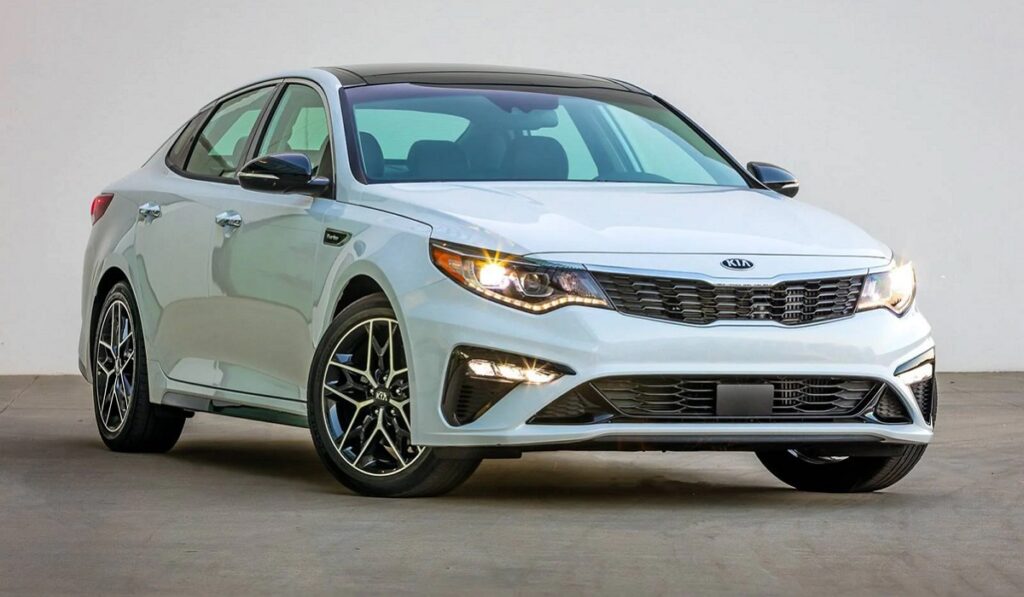 Upon arrival in Nigeria, Dana Motors officials – representatives of Kia Motors in Nigeria – engaged the services of Lagos State Traffic Management Authority to ensure free flow of traffic while giving the brand new Kia Optima models a test run to the admiration of other motorists.
Kia Optima Models Released Till Date
Before the Kia Optima was discontinued in 2021, there was a total of four different generations released;
First Generation
2000 — 2003 (MS)
2004 — 2006 (MS) Facelift
Second Generation
2007 — 2008 (MG)
2009 — 2010 (MG) Facelift
Third Generation
2011 — 2013 (TF)
2014 — 2015 (TF) Facelift
Fourth Generation
2016 — 2018 (JF)
2019 — 2020 (JF) Facelift
Is Kia Optima fuel efficient?
The fuel consumption of the Kia Optima can vary depending on the model of the car. In general, it has a decent fuel mileage ranging from 7.8 litres per 100km to 8.7 litres per 100 km.
How many litres is a Kia Optima fuel tank?
Depending on the trim level, model options, and model year, the fuel tank capacity of an Optima ranges from 65 litres to 70 litres, which means you'll be able to drive approximately up to 860 kilometres without refuelling.
Is the Kia Optima better than the Toyota Camry?
Upon an extensive analysis, we discovered that the Toyota Camry offers some solid advantages over the Kia Optima. The Camry gives you more standard and optional power, great standard safety systems, a hybrid option and a newer platform. The Optima does have more interior and trunk space.
Conclusively, it's hard to explicitly determine which is better and it all boils to the consumer's preference.
Is the Kia Optima a reliable car?
Lots of room, dashboard has all the bells and whistles you could want. Quick pickup and the fuel mileage is great. Plenty of legroom and a reasonably quick and good handling. Also worth noting that the Kia Optima Reliability Rating is 4.0 out of 5.0 on RepairPal, which ranks it 8th out of 24 for midsize cars. The average annual repair cost is lower than average ownership costs. The severity of repairs is average and the frequency of those issues is low, so major repairs are uncommon for the Optima.
All these goes to show that the Optima is a very reliable vehicle.
What is the price of Kia Optima in 2023?
Depending on the model and year of manufacture you want to purchase, you can easily get a used Optima for anything from N8.1 million to N20.5 million. If you want a brand new K5 OPTIMA 2.0l EX AT, Kia Motors has a N30.1 million price tag on it.
Is the Kia Optima a good buy?
The Optima is a good option for new and used car buyers because of its practicality and proficient handling. Renowned for its excellent handling, quiet ride and comfortable interior space, the midsize sedan has spent most of its life as the centerpiece of the automotive world. It's in the goldilocks zone for most drivers who prefer cars, offering more legroom and cargo space than a compact car and yet possessing better handling and fuel efficiency than a full-size or luxury sedan.
Within the sedan segment, the Kia Optima has elevated the midsize sedan to dizzying heights, courtesy of its long list of standard features, range of powertrain options and European-influenced style.
With the Kia Optima, you have three gasoline engines to choose from, a massively efficient hybrid version and a plug-in hybrid that allows you to make small trips without burning a single drop of gas.
Inside, it's a wonderland, plus you'll find more headroom and more legroom in the first row as well as a larger trunk to make sure less has to stay home on your excursions. The standard presence of Android Auto integration allows Android users to access their favorite apps and data on the go without touching their phones.
I could go on and on but I think you get the point.