Last Updated on July 24, 2023 by Editor
Big Brother Naija is showing, and we have seen fans run into all sorts of hitches. One viewer lamented about public power supply being out and her generator acting up. Many other fans get stuck in traffic heading home from work and miss out on juicy parts of the show. The good news is that you can watch Big Brother Naija (BBN Live) on your mobile phone, too.
We can go on with more examples of why it is a good idea for you to have access to view Big Brother Naija on your mobile phone or tablet. The idea is that regardless of the situation, you do not have to miss your favourite show and can keep up with the drama between the housemates who will be spending several weeks in Big Brother's house this year. Meet the 12 housemates of season 7: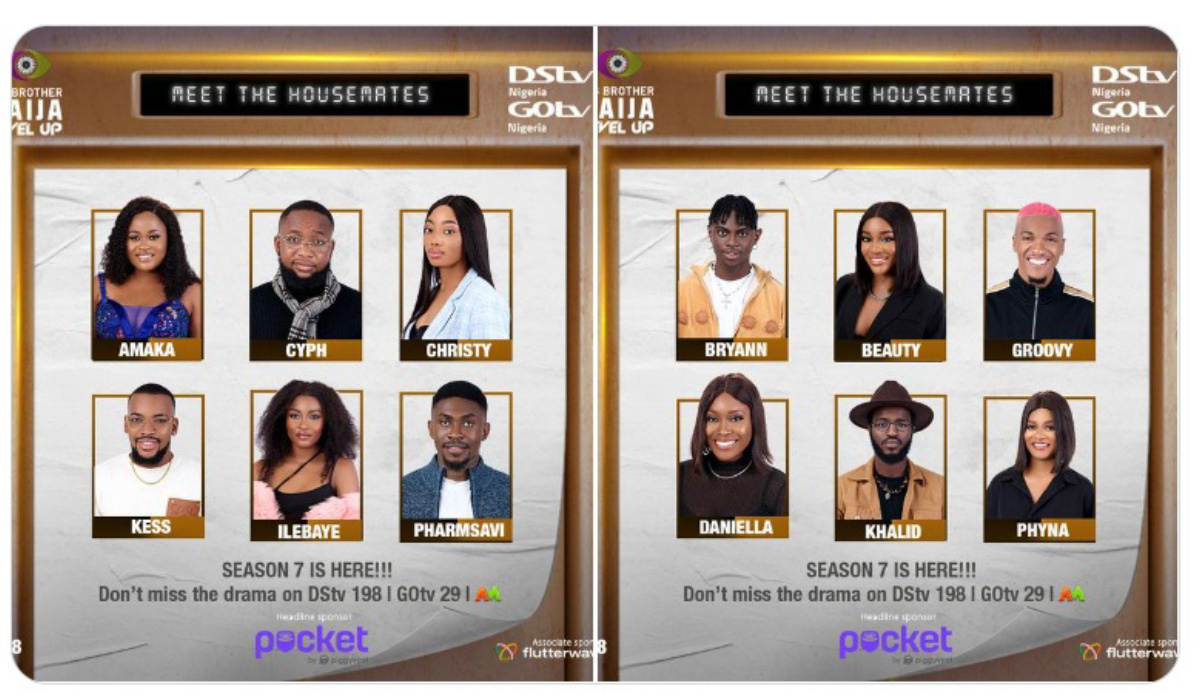 Table of Contents
Watch Big Brother Naija Live online using DStv Now app
To watch Big Brother Naija (BBNaija) on almost any smartphone or tablet, you need to download the DStv Now app for Android or iOS, depending on the device you have. Download DStv Now app for Android HERE. Download DStv Now app for iOS HERE.
The app is free to download and to use. Of course, you will use up data while streaming the show, so make sure you have an adequate data bundle active, or a Wi-Fi connection is available. One good thing about the app is that it lets you choose a maximum video quality, which is a great way to manage your data consumption. Available options include:
Highest – up to 1080p HD
High – up to 720p
Medium – up to 576p
Low – up to 360p
Lowest – up to 216p
Videos display great on smartphones with large 6.5-inch HD+ displays when set to Low (that's 360p). This means you can enjoy good enough quality video as you watch Big Brother Naija without burning up a lot of data, if you are using your mobile data bundle to view it. If you have access to unlimited Internet, you can pick a higher setting. If you are on a smartphone with a small screen, select the lowest setting (216p).
To access the menu where you can change the video quality setting, launch the DStv Now app, select the Big Brother Naija show (on channel 198), and tap your phone screen. A gear wheel icon will show up in the bottom right corner. Tap that, and the options are presented to you.
What DStv packages are accessible on DStv Now app?
DStv Premium,
DStv Extra, now discontinued
DStv Compact Plus,
DStv Compact
DStv Confam,
DStv Family, discontinued, replaced with DStv Yanga
DStv Access, discontinued, replaced with DStv Padi
In the past, if you were on any package apart from Premium, Extra, Compact Plus, and Compact, you were not able to use the app to view BBNaija. Now, it does not matter what plan you are subscribed to, you will be able to view shows on the DStv NOW app. Once the app is installed, follow the steps below.
To watch Big Brother Naija (BBN Live show) on your phone, using DStv Now app
1. Launch the app and login using your DStv account. The option to register is there as well, if you aren't already registered.
2. You will also be required to link your smartcard number during registration.
3. Open the DSTV Now Menu and select the Live TV menu.
4. Pick "Big Brother Naija Live Broadcast" from the lost of available shows and enjoy.
Watch BBNaija Live on Showmax
If you do not have a DStv subscription, and especially if you are abroad, Showmax is how you can watch BBN Live on your phone. Simply install the app from the Play Store or Apple App Store, create your account, sign up for a plan, and you will find BBN Live as one of the available shows you can watch on the app.
Available plans include Showmax Standard for ₦2900 monthly, Showmax Mobile for ₦1200 monthly, Showmax Pro mobile for ₦3200 monthly, and Showmax Pro for ₦6300 monthly. Nigeria bank debit cards are accepted. You can download Showmax for Android HERE, and for iPhone HERE.
Do not forget that Showmax is an online streaming service, so you will be needing an active and stable Internet connection to watch shows and movies on it.
Watch Big Brother Nigeria (BBNaija Live) on a DVB-H phone
DVB-H (Digital Video Broadcast – Handheld) is a mobile TV format. It has not gained widespread usage and is considered a dying technology now, though. Still, if you happen to own a compatible smartphone, you are in luck.
Both MTN and Glo networks offer DVB-H transmission, so you can watch Big Brother Naija on a compatible phone without having to use the DStv Now app. Simply use DStvMobile from MTN or DStvMobile from Glo.
In summary, you do not have to miss a thing on the Big Brother Naija live show just because you are not at home or not in front of a TV screen. Thanks to the DStv NOW mobile app and DVB-H technology, you can keep up with the show and watch Big Brother Naija everywhere you go. Whichever option you choose to go by, it is a good idea to have a fully charged power bank with you if you will be streaming Big Brother Nigeria on your mobile device. That way, you are sure to never get stranded, regardless of where you are.