Using VoLTE on MTN is giving me exactly the kind of excitement that I needed, and I will tell you why. Recently, MTN Nigeria announced VoLTE service on their 4G network. In simple terms, VoLTE is 4G Calling. What does that mean? Normally, voice calls are not possible on a 4G LTE network; your phone has to switch from 4G to 3G when you make a call or when a call comes in. Which means your internet connection gets disrupted.
VoLTE or 4G calling adds the ability to make calls on a 4G connection to your phone. That way, when you initiate a call, or receive a call, your phone stays on 4G to handle it, while leaving your internet connection working without a hitch. MTN has been pushing this in recent weeks. I got the first SMS notification from them some days ago. It said:
Enjoy uninterrupted downloads and streaming while making a call with MTN VoLTE at no extra cost! Simply update your phone software to enjoy. Visit www.mtn.ng/volte/ for more info. To opt out, text NOVOLTE to 131.
My phone was not on the list of pioneer smartphones that the service was enabled for. The list included: Phantom X, Infinix Zero X, and Infinix Zero X Pro. Still, I checked my Camon 18 Premier for a software update and didn't find any waiting. But then, I remembered that shortly before then, I had received and installed a software update on the phone. Perhaps that update already enabled VoLTE for me? So, I restarted the phone, but still didn't see any indication that VoLTE was now active. I went about my life. This morning, I got another SMS from MTN. This one read:
Y'ello! You have been specially selected to enjoy VoLTE service. Restart your phone to complete VoLTE setup to enjoy crystal clear calls on 4G. For information on VoLTE, visit www.mtnonline.com/mtn-volte-service. To opt out, text NOVOLTE to 131
Specially, abi? Issokay. I checked my phone again and still didn't see a VoLTE icon. Again, I unlooked. A few minutes later, I had a telephone call, and noticed a VoLTE icon appear in the notification bar of my phone. Yay! This was it.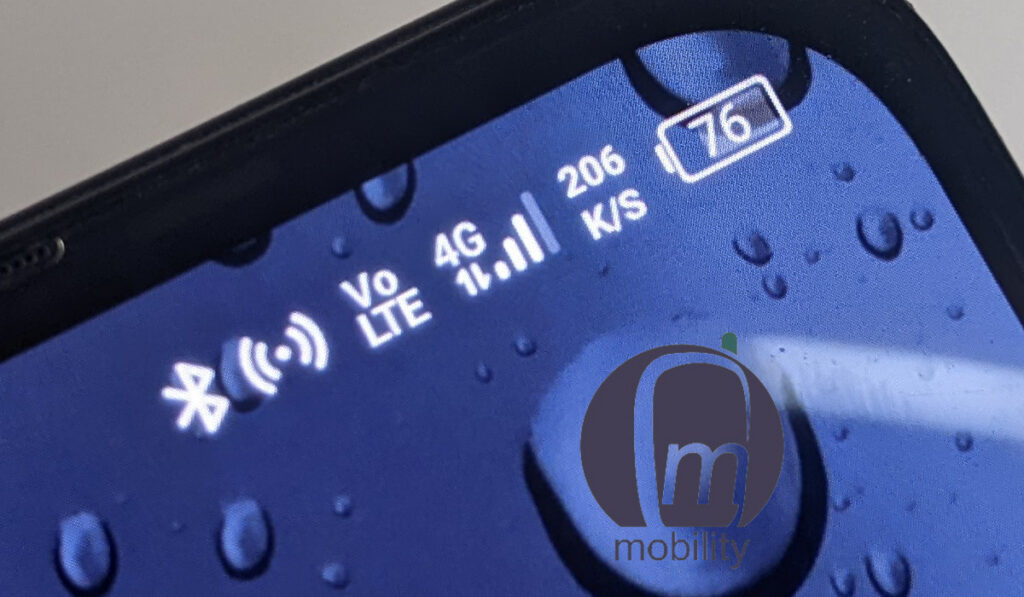 Running a test of VoLTE on MTN: What is it like in use?
I didn't waste time testing it. What I did was put on my phone's hotspot, open up my laptop, and begin to browse using the hotspot. Then, I placed a telephone call and kept working on my laptop during the call. The VoLTE icon stayed on the phone, and I browsed away on my laptop without a break in speed or any other disruption of any sort.
But the data side is only aspect. 4G Calling is supposed to deliver "crystal clear" voice quality. Does it? Something like that. I haven't been wowed by the quality of the in-call audio, so I don't think it qualifies as "crystal clear". It is good. It sounds like a good WhatsApp call when the network is not messing with you. That is no surprise: VoLTE is a voice call made over a 4G internet connection, which is why it is called 4G Calling. My experience is that the voice calls are good, not stellar – clear, not crystal clear.
In other words, VoLTE on MTN works mostly as advertised. I am more concerned with the fact that an incoming telephone call does not have to disrupt my Internet connection any more. That is mega for me. I will take the good quality voice calls like that (and keep fingers crossed that the audio becomes stellar and crystal clear later). The good thing is that if you do not find it good enough, you can opt out of VoLTE on MTN Nigeria.
VoLTE On MTN: Supported Phones
The list of supported phones has been updated to include more models beyond the initial three. As at the time of this article, the following phones are all supported and can latch on to VoLTE on MTN:
TECNO Camon 19 Pro 5G
TECNO Camon 19 Pro
TECNO Camon 19
TECNO Camon 18 Premier
TECNO Camon 18P
TECNO Camon 18
Phantom X
Infinix Zero X Pro
Infinix Zero X
TECNO Camon 17 Pro
TECNO Camon 17P
TECNO Camon 17
TECNO POVA2
TECNO Spark 9
TECNO Spark 9T
TECNO Spark 9 Pro
TECNO Spark 8 Pro
TECNO Spark 8C
TECNO Spark 8
TECNO Spark 7 Pro
TECNO Spark 7
TECNO Spark 7T
Infinix Note 10 Pro
Infinix Note 10
Infinix HOT 10S
Infinix HOT 10 Play
iPhone SE 2022
iPhone SE 2020
iPhone 13
iPhone 13 mini
iPhone 13 Pro
iPhone 13 Pro Max
iPhone 12
iPhone 12 mini
iPhone 12 Pro
iPhone 12 Pro Max
IPhone 11
iPhone 11 Pro
iPhone 11 Pro Max
IPhone X
iPhone Xs
iPhone Xs Max
iPhone XR
IPhone 8
iPhone 8 Plus
iPhone 7
iPhone 7 Plus
It is good to see more budget and affordable smartphones enabled to support VoLTE On MTN. That way, you do not have to rob a bank to be able to enjoy the benefits. Trust me when I say that being able to take calls without having your Internet connection disrupted is the next best thing since Agege bread. Oh, and it looks like TECNO and Infinix made a deal with MTN to kick off this service. Of course, it will come to phones from Samsung, Nokia, Xiaomi, OPPO, and others, too.
Is VoLTE available on any other mobile provider in Nigeria? Yes; it is available on Smile and ntel 4G networks. Yes; you can make voice calls on those networks. 4G Calling has been available on Smile and ntel since 2016, actually. I used 4G Calling on Smile a number of times some years ago, and it worked well, too. What of Globacom, Airtel Nigeria, and 9mobile? None of them have 4G Calling active yet. If you want it right away, you have to go with MTN, Smile, or ntel.
From 2001 when GSM phones were introduced in Nigeria till date, Mister Mobility has owned and used hundreds of mobile devices running proprietary, Java, Symbian, Palm, PocketPC/Windows Mobile, BlackBerry/BB10, webOS, Windows Phone, Firefox, Ubuntu Touch, to Android, iOS, and KaiOS operating systems.