Last Updated on December 13, 2020 by Editor
Smile Communications offers 4G voice and data services in select towns and cities across Nigeria but have been known to be relatively expensive. A new set of data bundles offer much better value. Here's everything we know about the new Smile BIGGA plans.
The new BIGGA data plans all have a validity period of 30 days and start from as low as N1,000 for the smallest data volume, and going all the way up to N18,000 for the biggest. It is important to note that the biggest plans offer the best value.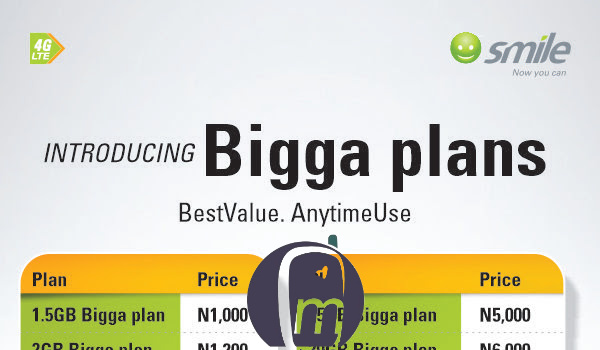 List Of Smile BIGGA plans
1.5GB data for ₦1,000
2GB data for ₦1,200
3GB data for ₦1,500
5GB data for ₦2,000
6.5GB data for ₦2,500
8GB data for ₦3,000
10GB data for ₦3,500
12GB data for ₦4,000
15Gb data for ₦5,000
20GB data for ₦6,000
30GB data for ₦8,000
40GB data for ₦10,000
60GB data for ₦13,500
75GB data for ₦15,000
100GB data for ₦18,000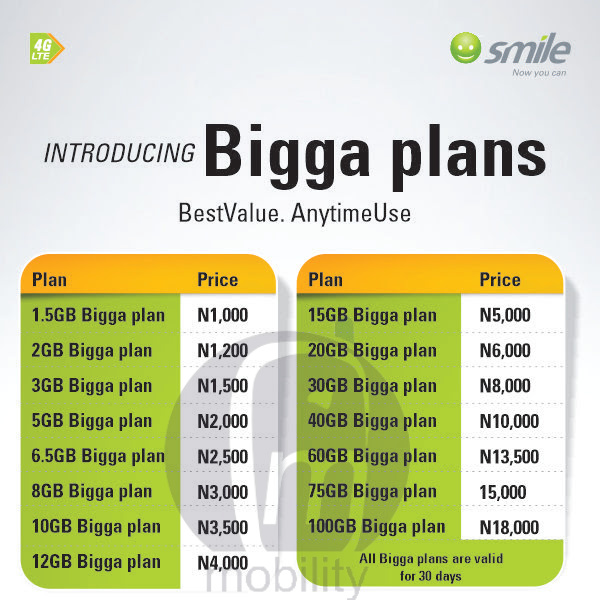 Smile BIGGA plans are the equivalent of monthly data plans from MTN, Airtel, Glo, and 9mobile. It is good to see Smile finally match the GSM networks in volume of data and price. These plans, for example, match what MTN currently offers. This means that more people can afford a Smile 4G subscription now without feeling like they are not getting the best value for their money.
How Fast Are Smile BIGGA Plans?
There is no mention of any speed caps on these plans, so it is expected that, theoretically, you get up to 21 Mbps in download speed if you subscribe to any of the new Smile BIGGA plans.
How To Subscribe To Smile BIGGA Plans
To subscribe to a BIGGA plan, browse to the Smile website at smile.com.ng, go to a Smile shop in your neighbourhood, via Guaranty Trust Bank and Access Bank mobile banking apps, or via QuickTeller.
Follow @mobilitynigeria on Twitter and turn notification on so you don't miss breaking stories.