Has it ever occurred to you that your mobile phone screen may be dirty? This is a good opportunity to talk about it. It is pertinent to learn how to clean your mobile phone and keep it germ-free. Because millions of users constantly carry their mobile phones around with them everywhere. That includes places that are obvious breeding grounds for germs – such as the restroom, kitchen, and open marketplaces.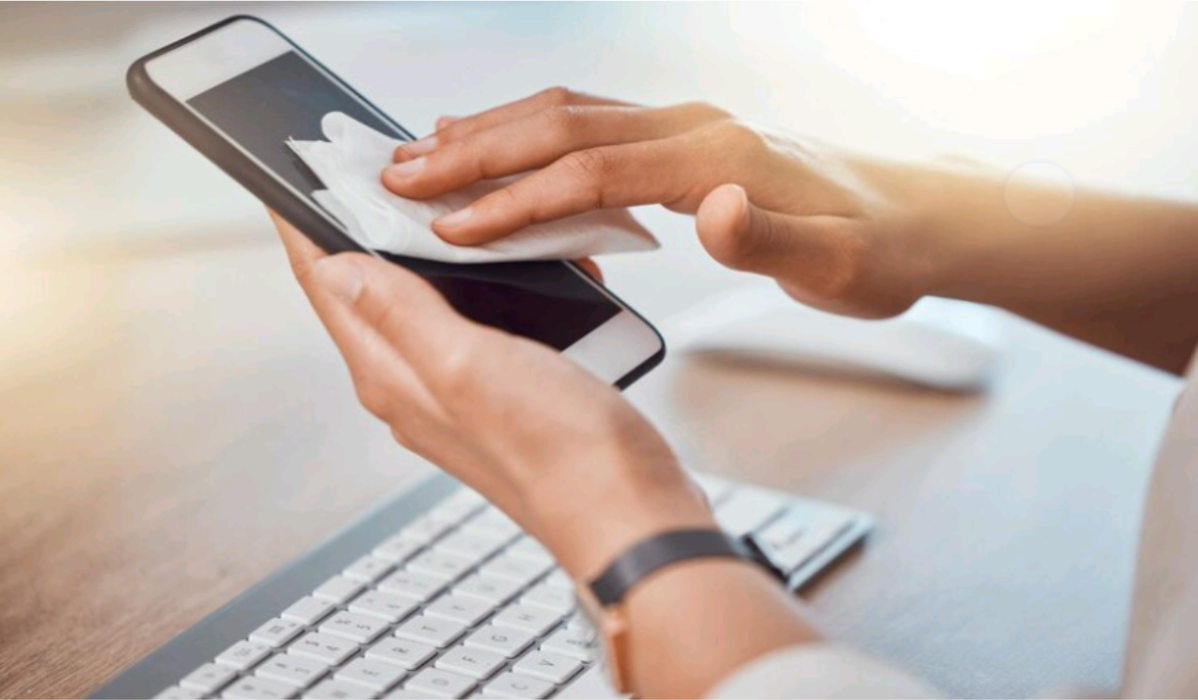 Table of Contents
Germs – From Your Hands to Your Mobile Phone
Recent findings have shown that mobile phones have the potential to harbor up to 10 times as many germs as one can find on a toilet seat. Surprising, right? Many of these germs are probably harmless. However, there is clear risk of dangerous microbes lurking among these germs. This is why you need to clean your mobile phone.
The risk is even higher considering that our hands touch a lot of surfaces and objects, before picking a mobile phone. This risk factor is more critical for people who work for, or are customers of food service and healthcare industries. Our hands can easily pick and transfer germs from one place to another – and very easily to your mobile phone. It is easy for the hands to pick up germs from all kinds of surfaces, and even parts of our bodies.
According to a recent report by The British Columbia Center for Disease Control, about 80% of all infections are transmitted by the hands. Harmful germs that can be easily transmitted by hand contact include mold, yeast (Candida strains included), Streptococcus, Coagulase Negative Staphylococci (CoNS), E. Coli, Coliforms and MRSA.
And depending on environmental conditions or the type of surface involved, many of these germs can linger on surfaces for long. It could last from anywhere between a few hours up to several days. In addition, warm environments lying within temperatures of between 40 degrees and 140 degrees Fahrenheit encourage the rapid growth and spread of these germs. Speaking of Africans who live in warmer climes, this fact should put all phone users on red alert.
Keeping your Mobile Phone Germ-free – Start with The Hands
Health experts and phone manufacturers recommend that you should clean your mobile phone at least once a day. However, the actual starting point for maintaining mobile phone hygiene is with regular washing of the hands using soap and water. Add another layer of protection to this, by using alcohol-based sanitizers on your hands. You can use sanitizers at any time, even if there is no soap and water nearby.
This is particularly more important for persons in these situations:
Before and after handling food, whether to prepare food or eat it
Before and after handling animals
After blowing your nose, coughing, or sneezing,
After visiting the restroom
Before and after catering to sick patients,
After touching refuse/garbage,
After cleaning up a child e.g. when changing soiled diapers
Also ensure you reduce or restrict the use of your mobile phones in germ-risk areas. Such areas include bathrooms and toilets, kitchens, medical centers, dining tables, open marketplaces and the like.
Tips on How to Clean Your Mobile Phone
To clean your mobile phone, you must remember it cannot be handled like the hands. You cannot use soap and water on your mobile phone; exposure to water is highly discouraged. Phone manufacturers now recommend the use of alcohol-based cleaning wipes to clean your mobile phone.
Follow the tips below to clean your your phone and keep it germ-free:
Start by washing your hands using soap and water. Do so for at least 20 seconds.
Turn off your phone. Make sure it is not plugged to any power source.
Use an antibacterial (or sanitary) wipe to gently wipe down the screen, as well as the other outside areas of your mobile phone.
Alternatively, spray a little alcohol-based disinfectant on soft, lint-free clean cloth (or a swab of cotton) and use it to gently clean your phone. The recommended type of disinfectants are those containing 70% isopropyl alcohol; they can be bought in health and departmental stores around.
Do not use too much of the alcohol on your mobile phone, it should be minimal – just a small quantity. This will prevent damage due to leakage of liquid into the phone.
Ensure you stay clear of the ports, holes, slits and buttons around your phone. Allow no liquid or debris to touch any of these openings.
It is best to also consult the manufacturer's manual for your mobile phone, and follow the instructions on how to clean your mobile phone. Additionally, any phone accessories you use along with your mobile phone should be regularly cleaned and sanitized as well. Speaking of headsets, earpieces, charging cables and more; they are equally prone to the deposit of germs on them.
Finally, there are antimicrobial materials you can use to protect your mobile phone – such as screen protectors with silver ions in them. Lookout for such a screen protector. It is designed to kill off any germs that come in contact with it. And remember to clean your mobile phone and accessories at least once everyday.
Dont sleep on this
You can buy your dream smartphone on an instalment plan. Call or message Courage on 0817 160 1491, and mention Mobility Nigeria.