Counterpoint has released its report on the Nigerian smartphone market in 2021, including the list of the top smartphone brands in Nigeria, as part of the report on the country's smartphone market. the country.
There were no surprises in the report from Counterpoint. The usual suspects showed up once again in the top 5 table. And Nigeria still remains a budget smartphone market, where most of the purchases are in the sub-₦100,000 price range. If you spend over ₦100,000 on smartphone purchase, you are in the top 10% of the country's smartphone buyers.
The leading 5 smartphone brands in Nigeria 2021
TECNO Mobile
Samsung Mobile
itel Mobile
Infinix
Xiaomi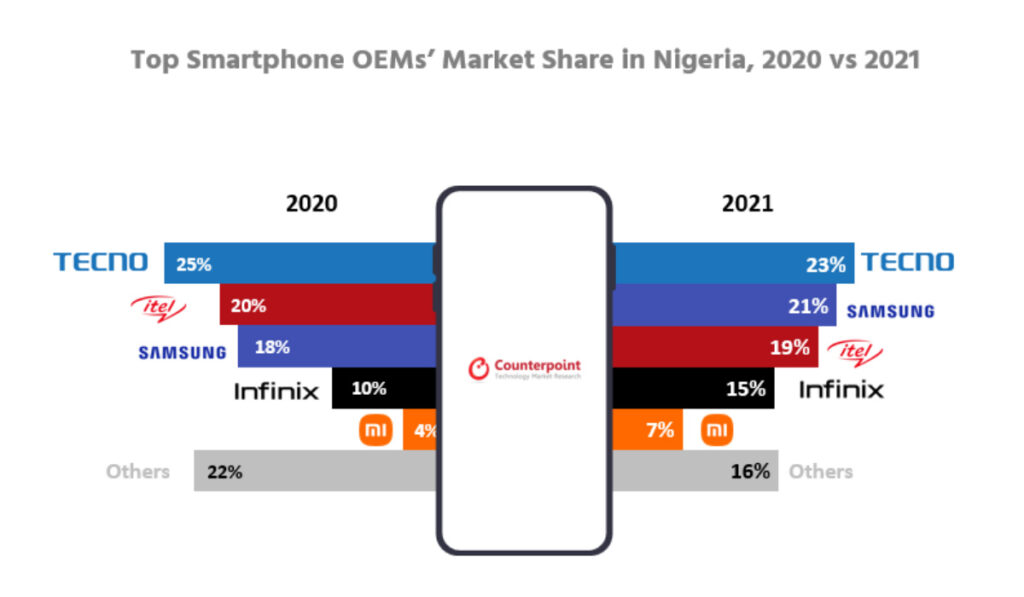 TECNO, Samsung, itel, and Infinix have been regulars in the top 5 chart for the country. Xiaomi is the new entrant, filling the vacuum that Huawei left after the US ban took a big toll on its operations.
Mobility Business covers free tech support software, voip phone service comparison and reviews, samsung voip phones, renewable energy technology, Samsung conference call, virtual call center technology, wireless technology in business, web based tech support, mobile phone answering service, cloud security technologies, apple business software, business phone system reviews, virtual phone system reviews, and more. Coming soon.
In the last three years, Xiaomi and OPPO have battled for that spot, and now, the figures say Xiaomi won it. That shouldn't be much of a surprise, as the brand has a range of budget phones that are great value for money. OPPO, on the other hand, has positioned itself as a premium brand in the Nigerian market from day one.
Nokia, once Nigeria's top smartphone brand, did not make the top 5 list again. Like Huawei, it has fallen off the table, though it fell off a long time before Huawei did.
Xiaomi's 7% market share in 2021 is a far cry from the next brand above it, Infinix, which has 15%. But if we were Infinix, we'd be watching our flanks closely, considering that Xiaomi's 173% growth from 2020 is massive and makes it the fastest growing smartphone brand in Nigeria.
While Xiaomi is a threat to Infinix, it is not to itel, which is an entry-level brand. Xiaomi does not produce entry-level Android phones. It is also less of a threat to TECNO, because TECNO also has a strong footing in the entry-level market. Nearly 90% of smartphone sales in 2021 were in the entry-level segment (phones that cost less than $200), where Transsion brands itel, TECNO, and Infinix are kings and had 63% share.
Again, contrary to the misinformed sentiment in some quarters that the Apple iPhone brand has a strong footing in the country, the statistics from Counterpoint confirms what insider's have always known – that the iPhone is a marginal brand in Nigeria, and that the little showing it has is based on second-hand market purchases.
Other highlights of the report
TECNO, Samsung and itel together owned over 50% of smartphone sales in Nigeria in 2021.
TECNO has maintained its top position for the fifth consecutive year.
4G smartphones sold the most in the year and made up 75% of the smartphone market share for the year.
5G smartphones still have a minute market share of 3%. This is understandable, as there are no active 5G networks in the country yet.
Total smartphone sales were up by 81% from 2020 to 2021.
Reference: Counterpoint Research.