MTN Nigeria has some of the best mobile data plans in the market today. Personally, I use one of the network's Data4Me plans, which gives me 40 GB monthly for N5,000 only. Not half bad a deal. But the issue is that not everybody is eligible for the Data4Me mega deals. I do not know the exact criteria, but it definitely has to do with how much is spent by the subscriber monthly (whether on data alone, or on both airtime and data).
As such, ineligible subscribers have been crying out for a while. Some have even accused us of publishing falsehood about it. The good news is that the new MTN Always-On Data bundles are available to all and sundry, and they pack almost as much value as the Data4Me plans. For example, the monthly Always-On plan offers 45 GB data for N6,000 only for a month. That is even more data than the Data4Me mega plan I am on.
But there are clauses. There are always clauses. Let's have a look at them.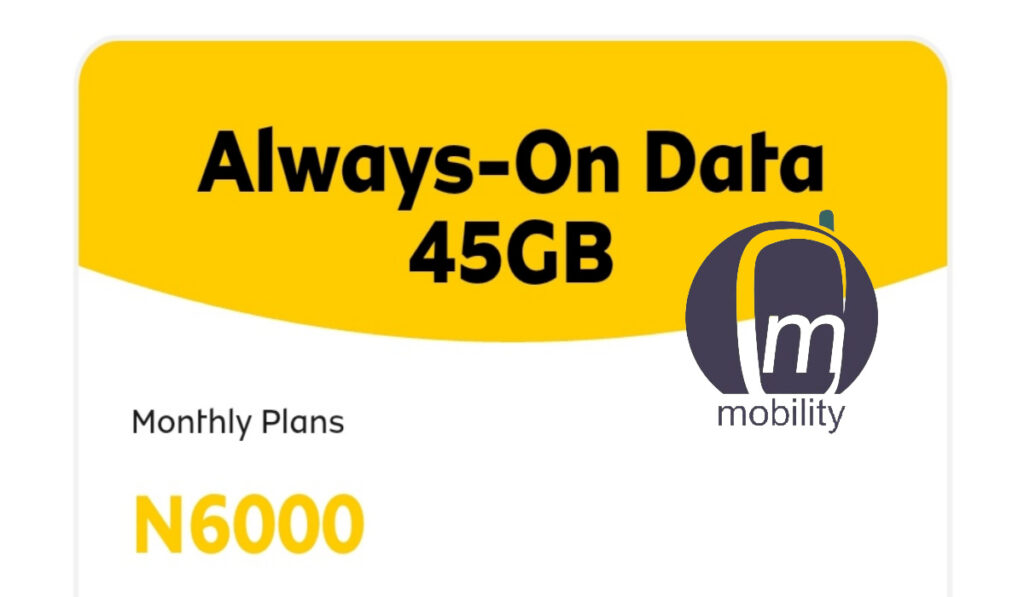 MTN Always-On Data Bundles: Features
Here are the key features of the Always-On bundles. First, the data is not allocated to you in one lump sum. So, if you go for the 45 GB monthly plan, you do not get 45 GB allocated to your line in one go. What MTN does is allocate 1.5 GB data to you each day. This happens at 12 midnight every day.
The implication is that you cannot decide to do a binge downloading or streaming of heavy files one day. You are limited to just 1.5 GB per day, and once it is exhausted before the day is up, you will need to subscribe to some other plan, or use another source for Internet till midnight when the next 1.5 GB is automatically allocated to you.
This principle applies to the other plans as well: you get allocated a small, prorated part of the total data volume on a daily basis. Note also that while you can use the allocated data at any time for normal MTN Always-On plans, you can also subscribe for the night data element can only be used from 11pm to 6am daily.
Note that there are four (4) different Always-On plans, with varying tariffs and data volumes. Let's have a look at them.
Pick An MTN Always-On Data Plan
200 MB Daily & Night Plan: This gives you 50 MB Day-time data and 150 MB Night-time data. The plan has a 24-hour validity and costs N60 only.
450 MB Weekly & Night Plan: This gives you 120 MB Day-time data and 330 MB Night-time data daily for 7 days. The price is N120.
15 GB Always-On Monthly Plan: This gives you a daily data allocation of 500 MB for 30 days. The data can be used at any time – day or night. Cost is N3,000.
45 GB Always-On Monthly Plan: This gives you a daily data allocation of 1.5 GB for 30 days. The data can be used at any time – day or night. Cost is N6,000.
How To Activate an MTN Always-On Data Bundle
You can subscribe to MTN Always-On data bundle in the following ways:
USSD: Dial *131*1# or *904# and selecting your preferred data plan
SMS: Sending the bundle plan keyword to 131. (See table below for keywords).
myMTN App: download the app and login to subscribe
myMTN Web: by logging on to www.mymtn.com.ng
MTN Bot (Zigi)
MTN Top-It/VTU
How To check MTN Always-On data bundle balance
You will be able to check your data balance via the following channels:
SMS: Text 2 to 131
USSD Code: Dial *131*4# (for main data bundle and bonus), or *556#
myMTNApp
myMTNweb
MTN Bot (Zigi)
Lastly, you can share from your daily allocated data to friends and family. You can gift an MTN Always-on data bundle to others. You can also subscribe to multiple Always-on plans and to other MTN data plans, so if you run out of a daily allocation, you have data to fall back on. One important clause, though, is that if you are subscribed to a bonus plan like I am (e.g. an Data4Me plan), if you sign up for an Always-on data plan, you will no longer be eligible for the bonus plan. Yes; we cannot eat our cake and have it.
Personally, I love the new MTN Always-on data bundles. However, I think that the Data4Me bonus plan that I have been using serves me better, so I am sticking with that. If you have been trying to get the Data4Me plan and have not been successful, you should consider the monthly Always-on data bundle. It is great value. Just remember that your data is given to you in small, daily bits.
Dont sleep on this
You can buy your dream smartphone on an instalment plan. Call or message Courage on 0817 160 1491, and mention Mobility Nigeria.