Two years after the launch of her hybrid platform, Linda Ikeji Social, as well as her music service, Linda Ikeji Music, rockstar news and gossip blogger, Linda Ikeji, has launched a video streaming service, Linda Ikeji TV. Naturally, I took a look at both the Linda Ikeji app and the Linda Ikeji website. But first, let's have a quick look at how the Linda Ikeji Media empire has fared so far.
Linda Ikeji's Blog
Linda's blog has been a phenomenon in these parts. Till now, it keeps growing, raking in both traffic and cash. By all standards of blogging, it wouldn't ordinarily be regarded as a great blog. The design and layout leaves a lot to be desired. But this looks like a superb example of the popular digital media mantra, content is king. Clearly, a lot of people like her content and could care less what the blog looks or feels like.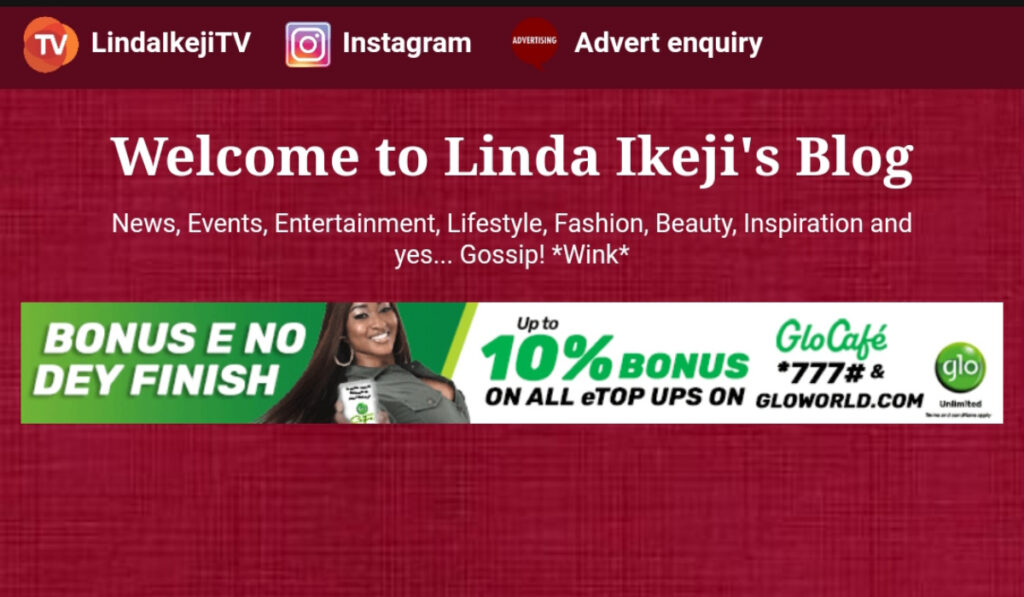 Much Ado About Linda Ikeji Social
Linda Ikejis Blog has been a runaway hit. So, when she announced the launch of Linda Ikeji Social – a half cast platform between a blog, a social network and a marketplace – in 2016, the buzz was deafening. Many were sure LIS was going to be a hit. It garnered close to 90,000 signups within its first few days.
Today, two years after that launch, however, LIS is a graveyard. The buzz died off. People headed back to Linda Ikeji's Blog and lived happily ever after. What of Linda Ikeji Music? It didn't even generate half the buzz that LIS did. And it too went down the same road.
What Is Different About Linda Ikeji TV?
Before now, Linda Ikeji TV had existed as a YouTube-based service. The official launch today has seen it move to it's own web page, lindaikeji.tv, along with a mobile app.
The Linda Ikeji TV App
Launching the app after installing it, I was greeted with a signup page, like I expected to. I signed up and had to verify my email address, and then, I was in.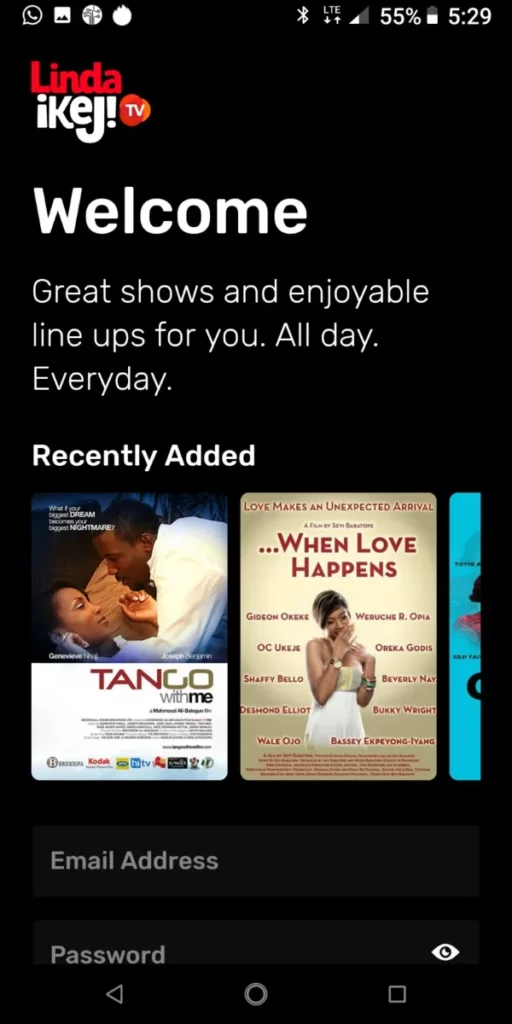 Then, I wasn't in any more and had to login again, after which I was presented with the option of paying via credit card or voucher card. When I selected credit card, the app closed. Launching it again, I was required to login all over again. And I did, and picked credit card as payment mode, and the app closed on me again. Tough. Teething problems, certainly. I will give it a rest for now and try again another day.
The Linda Ikeji TV Website
So, leaving the Linda Ikeji TV app for a bit I switched to the website. Note that I am accessing it on a mobile device. I am Mister Mobility, after all. But who cares about that? The real deal is that mobile is how most people access websites today. That is how most will access the Linda Ikeji TV website.
The website is nicely designed and works well on mobile. Logging in was no problem this time and after selecting the credit card payment option, the site presented me with a subscription page to pick an option from – monthly, 3 months, 6 months, and one year.
Prices were not listed anywhere but I was required to add my card details on the same page. Errr…blind date? I need to know how much this costs before proceeding.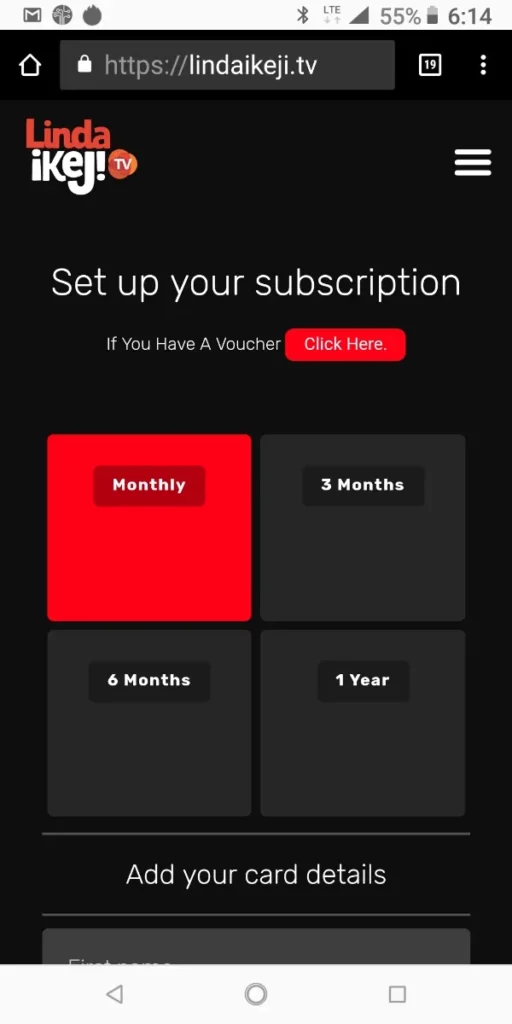 And here, ladies and gentlemen, was where I pulled over and backed out. I will proceed when this is fixed. The TV app has got some things wrong from the start. The app closing repeatedly during subscription is one. Not having a clue about subscription fees while being asked to enter card details is another.
The Linda Ikeji TV app download figure so far isn't great. The app has recorded only 100+ downloads at the time of this review. Not quite a buzzy beginning, but then how did the early buzz of LIS help? It is still early and I am sure that more downloads will happen.
Does Linda Ikeji TV Have What It Takes?
Make no mistake about it, Linda Ikeji TV is up against heavyweights like iROKOtv and Netflix. But has it got what it takes?
Netflix's success has little to do with its Nigerian audience. It is a global service. The real elephant in the room is iROKOtv, which has cracked the code to video on demand in Nigeria/Africa. Has Linda Ikeji TV app tackled those issues peculiar to this market?
The cost of mobile data and network reliability are the two key issues. Because of the issues I came up against, I was unable to find out if LITV addresses these issues. But I doubt it. The marketing lines of the service would be screaming those benefits to high heavens if it did.
Without addressing those issues, LI TV stands no chance of success in streaming video in Nigeria and other African markets. But as an export product to other global regions, I don't see why not.
Download Linda Ikeji TV App
You can download the Linda Ikeji TV app and give it a spin too.
2020 update: As at June 11, 2020, the Linda Ikeja TV website was offline and users unable to login to the app any longer.
From 2001 when GSM phones were introduced in Nigeria till date, Mister Mobility has owned and used hundreds of mobile devices running proprietary, Java, Symbian, Palm, PocketPC/Windows Mobile, BlackBerry/BB10, webOS, Windows Phone, Firefox, Ubuntu Touch, to Android, iOS, and KaiOS operating systems.