Lara is a very interesting proposition. It is a simple web app that helps you with directions to your destination, as well as with estimated fare. She will also give you an estimate of how much time your commute will take.
Lara Is easy Like Sunday Morning
How easy is Lara to use? Pretty easy. In your mobile browser, go to Lara.ng and type in your request in this simple format: "from Ikeja to Ilupeju", hit the return button, and Lara will display the information you need this way: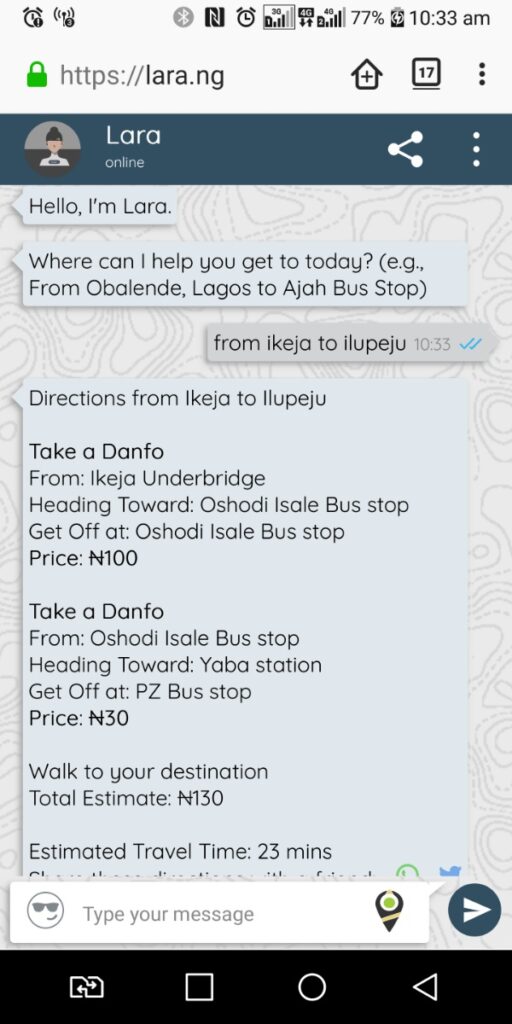 I like how she uses local lingo like Danfo. I can imagine she would use Okada, Keke, and the like as well. Nice touch.
This simple web app also lets you share the directions you get with a friend via WhatsApp, Twitter and Facebook. You know, because there is love in sharing.
Like all location/map-based services, Lara gives you directions that she thinks is best for you. For example, in this example request for directions from Ikeja to Ilupeju, as someone who is familiar with the route, I would have preferred to take a Palm Groove/Onipanu bus and drop at Obanikoro.
Which route is faster or more accurate? I don't know for sure. Lara's directions will get you to a certain part of Ilupeju faster and my preferred will get you to a different part faster.
One thing is for sure: if you already have a preferred route like I do in this instance, you won't be asking Lara for directions. So, what is Lara useful for?
Get Directions To Your Destination In Unfamiliar Places
Yes; you got that right. If you are heading out by public transport to a location that you are not familiar with, Lara is your very present assistant. Fall in love with her. Court her. Listen to her. She is God's special gift to you.
Note Lara's Present Limitations Though
I tried out a request for directions from Gwagwalada to Kubwa (Yes; that is Abuja; perhaps Lara could have helped me not get lost as happened the other time). Lara responded with, "You are searching for locations outside my current capabilities. We are adding locations soon. Sign up for our newsletter, and we'll let you know where we go next."
I also requested for directions from Challenge bus stop to Oluyole in Ibadan, Oyo state. Lara responded with the same as above.
So, it looks like Lara is limited to giving directions to your destination only in Lagos for now. Yes; that sucks, but it must take a lot of work to input all the data that makes an app like this effective. Gathering all that info for the entire country is a herculean task. Most likely, more states will be rolled out in a phased manner and then one day, one can take a trip around the country with Lara as a companion and guide.
It will be nice to see this develop further and have voice interactions added, among other usability extras. But Lara is good at what she does, and within her scope for now. If you crossed over into 2018 single and searching, here's an available girl. You do not have to walk alone any more. Do not say I never did anything to help you.
Like our Facebook page: @mobilitynigeria
Follow @MobilityNigeria on Twitter to stay up-to-date when we publish new articles.
Follow @MobilityNigeria on Instagram for fun stuff.
Dont sleep on this
You can buy your dream smartphone on an instalment plan. Call or message Courage on 0817 160 1491, and mention Mobility Nigeria.