Last Updated on July 24, 2023 by Editor
itel Mobile is one of my favourite smartphone manufacturers and the reason is simple: they are focused on delivering the best value possible to entry-level smartphones, and they often bring features that used to be the preserve of high-end and mid-range phones to entry level phones. It is not an easy feat, as a lot of juggling have to be done.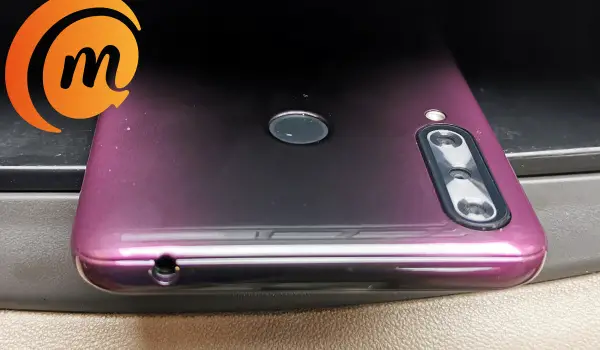 The more advanced of the itel S15 twins arrived MobilityArena yesterday. I have played with it a bit and I am happy to see that itel has pulled off a few nice things with it. The full review will take a few more days but in the meantime, enjoy my itel S15 Pro unboxing and hands-on.
For starters, it is a good idea to run through the key specs of our review phone at this point to see what it brings to the table, so let's do that quickly; shall we?
itel S15 Pro Quick Specifications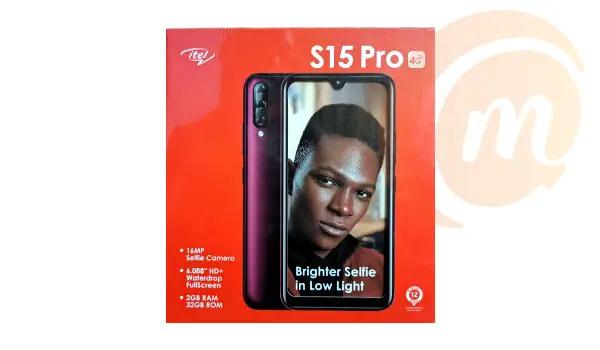 What we have is a dual-SIM 4G Android phone with a 6.1-inch waterdrop display, a 16 -megapixel selfie camera, a triple camera at the back, and next to which is a fingerprint scanner. On the inside, we have a Unisoc Spreadtrum SC9863a processor clocked at 1.6GHz, 2GB of RAM, 32 GB internal memory, and a removable 3000 mAh battery.
itel S15 Pro Unboxing
In the box is the phone itself, a transparent hard silicone case, battery, USB cable, charging adapter, as well 3.5mm headset.
itel S15 Pro Setting Up
With the itel S15 Pro unboxing done, setting it up was next and that meant opening the back cover to insert the battery, your SIM cards (it has 2 SIM slots), and a memory card, if you have one. Prying the back cover open is easy, thanks to a notch in the bottom right corner.
Once your cards are in place, snap the cover back on and power the phone. Both SIM slots in the itel S15 Pro support 4G LTE – and it can be active on both lines simultaneously. Even better, they both support enhanced LTE mode, which helps improve voice and data communications.
Unfortunately, the S15 Pro does not support Glo's 4G network on the 28(700) band. However, Glo is expanding its new 3(1800) band and if already active in your area, you will be able to use Glo 4G on it.
Setting up the fingerprint scanner was smooth and easy, with no issues encountered.
itel S15 Pro Hands-on Review
Our itel S15 Pro unboxing and setting up out of the way, it is time to share our first impressions of this entry-level smartphone.
The first thing that struck me when I picked it up out of the box was the lovely gradient purple back cover. It is plastic but is quite pleasing to the eyes. The S15 Pro is quite a charmer and proof that an entry-level Android phone does not have to look bland. In addition, it has a nice heft to it, givin
There is a waterdop notch here, housing the phone's 16-megapixel selfie camera. Another novelty of the S15 Pro is that it has a triple camera at the back. Interesting. It is not every day that you find that on a sub-₦30,000 smartphone. It is only 8MP + VGA + VGA in configuration though, but it would be hard to pull off more, considering the price tag of the phone.
How well these cameras perform? itel says the selfie camera, which is the focus of its S series, prodcues brighter selfies in low light. And we are curious about the rear triple camera as well. We will discuss more about both snappers in our in-depth review.
All the buttons on the S15 Pro are on the right edge – the volume buttons are positioned above the power button. The 2.5mm headphone port is at the left corner at the top of the phone, while the bottom edge houses the USB port, microphone, and loudspeaker grill. Move closer, so I can whisper something to you: the speaker is LOUD. The left edge is bare of any buttons or holes.
Under the hood of the itel S15 Pro is an Unisoc Spreadtrum SC9863a processor, 2 GB of RAM, and 32GB internal storage, a configuration that is fair game for this price point.
In terms of software, this entry level smartphone runs Android 9 Pie with a custom launcher integrated. In other words, this is pretty much stock Android OS. Google's Digital Wellbeing suite is here as well to help you manage your phone usage.
We found a small software update (V034-V035) of 75MB in size waiting after we connected to the Internet. It included camera optimizations.
At the back of the phone is the triple camera and LED flash. The fingerprint scanner is close by. And it works well for quickly unlocking of the phone.
itel S15 Pro costs just ₦29,500. As far as we can tell, it is an impressive smartphone for that price. If you look around, you will find competing devices offering similar value but costing much more. Our detailed review is on the way.
Meanwhile, do check out its complete specs, if interested in exploring the phone in more detail. Do share this itel S15 Pro unboxing and hands-on review with your social networks.