Last Updated on July 5, 2022 by Editor
Etisalat Nigeria has been at the centre of a $1.2 billion loan saga in recent times. Finally, there is a clear way forward. Abu Dhabi-based Etisalat International has terminated its management agreement with its Nigerian arm and has given Etisalat Nigeria three weeks to phase out the brand in the country. As such, a re-branding exercise of the network within the next three weeks is imminent.
The Chronicles Of Etisalat Nigeria's Saga
A consortium of Nigerian banks had moved to take over Etisalat Nigeria over the operator's indebtedness and failure to settle the loan. Nigeria's financial and telecoms regulatory bodies, the Central Bank of Nigeria (CBN) and Nigerian Communications Commission (NCC) stepped in to prevent the take-over and moderate talks.
The banks involved in the loan deal include: Access Bank, Guaranty Trust Bank, Zenith Bank, First Bank, United Bank for Africa, Fidelity Bank, Ecobank, First City Monument Bank, Stanbic IBTC Bank and Union Bank.
The talks to restructure the debt eventually failed and shareholders of Etisalat International pulled out. The group of banks eventually took over the management of the company. Last week, the former chairman of the board and key proposer, Hakeem Bello-Osagie, resigned. Thereafter, a new board was announced for the company.
Today, Etisalat international announced a formal withdrawal from the Nigerian operation and demanded that its brand be phased out in the country within 3 weeks.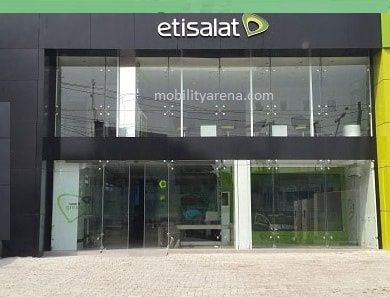 Etisalat Nigeria Rebrands To…
MobilityArena's inside sources say that there are two main contenders to take Etisalat's place – Vodafone and Orange. There has been no official statement from the operator about this, but we can expect tangible info within the next three weeks, when Etisalat International's deadline will expire.
Etisalat Nigeria will be the second of the Big Four to re-brand. The network known as Airtel Nigeria today has undergone several re-branding exercises since its beginnings as ECONET Wireless Nigeria in 2001. Etisalat Nigeria commenced commercial operations on 23 October 2008 and currently has 21 million subscribers across the country. The network offers voice SMS and data over 2G, 3G and 4G networks.