The best content you can ever find on the internet and on television are typically video content either in part, or in full. Because with recorded or live videos, you get to enjoy a full bouquet of experiences. The sights, sounds, motion, and effects convey so much information within a few minutes. Video content can be immensely entertaining. And what's more, video recording and video editing on your mobile phone has become such a cheap operation.
Now we have so many versatile and powerful smartphones in town that have video cameras with superlative picture quality. Here is a quick guide on how to execute video editing on your mobile phone easily like a pro. If you are on a journey to learn the basics of video editing, you are in the right place. This will lay the foundation for further professional work in video editing.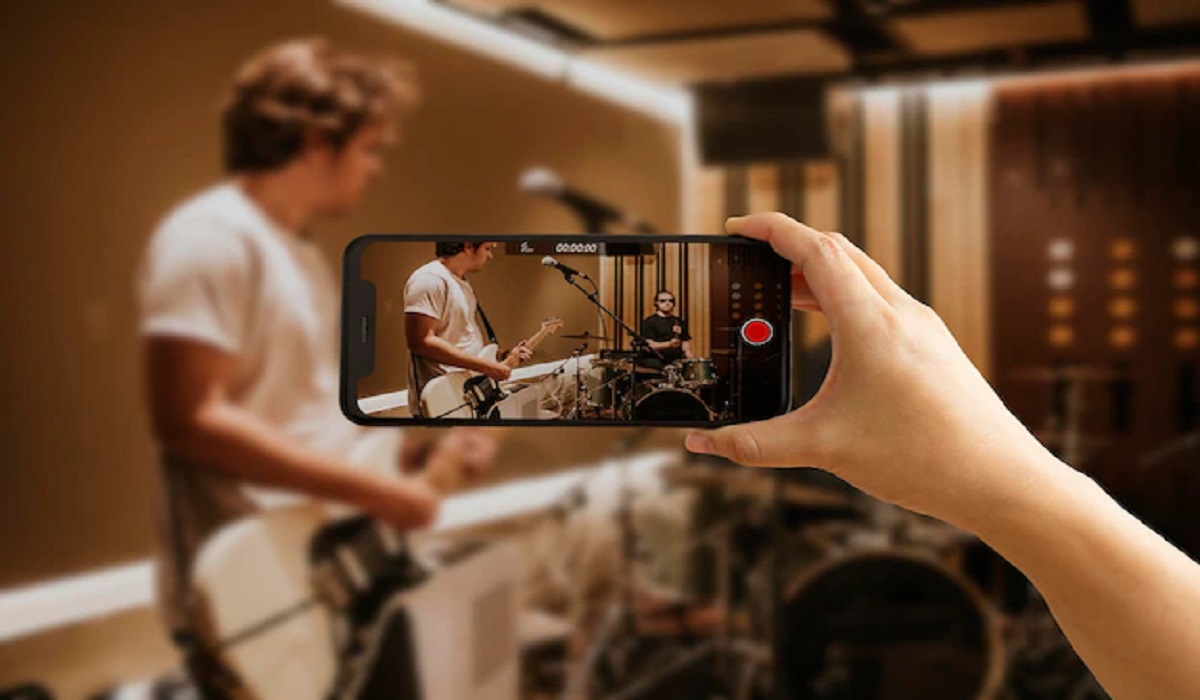 Table of Contents
Video Recording Before Editing on Your Mobile Phone: The First Steps
Landscape View
The best way to record a video and capture as wide an angle as possible, is to use Landscape orientation. That is, turning your mobile phone with the longer (horizontal) side up. The end-product is video that looks more visually appealing and enjoyable when you view it. On phone, TV, tablet or a computer monitor – whichever medium you choose, you get more satisfaction watching it.
The only exceptions might be for the kind of videos you record for platforms like YouTube Shorts, TikTok or Instagram stories that fit well into Portrait format.
Using frames
Experiment with the recorded video by ensuring that the subject(s) of your video fill up the entire frame. You can zoom in and out, turn your camera in wide angles to capture the subject(s) and the surroundings or background. You can view them from different angles and position them slightly off-center.
You can also enable the vertical and horizontal gridlines in your phone camera's settings while recording; and most cameras have them. The gridlines can help you align and arrange the subjects of the video to get the best effects.
Zoom
For some reason, zooming in on your subject(s) while recording a video is not always a smooth experience. Digital zoom is a bit tricky; you may even lose some details while attempting to zoom. Your best bet is to use a smartphone camera with a lossless optical zoom. That is, such a phone camera can produce and preserve high picture quality as you zoom in and out. That is possible with phones that have multiple rear cameras, where one of them is normally designated as a telephoto lens.
In any case, learn to move up close to the subject(s) as much as possible to record all the fine details. You may also use an additional clip-on lens with your phone camera to get a sharper view of your subject(s).
Flash
Your smartphone comes with LED flash lights that are often too bright, and can distort the color 'temperature' of the objects in a video. As such, the video colors may come out not so original or not as clear as one would have desired. It is even worse when you are recording at night, or in low light. Smartphones with 'Night Mode' can improve the footage. Otherwise you will need to provide external lights for a clearer view, such as ring lights to light up the face, or LED panels.
Backlighting
You should also watch out for the backlights. If the backlights of your video are too bright, your smartphone's camera may end up picking the backlights but not the subject(s) clearly. The details of the subject(s) may become so blurred or dark that they cannot be seen. Moving the camera to different angles or getting the subject(s) to face the light can immensely help. If you are lucky, your smartphone camera may help to reduce the backlighting if it has enhanced HDR abilities.
Time Lapse and Slow motion
There are videos that require the time-lapse photography technique. Simply put, time-lapse photography enables the fast replay of videos recorded over an extended period of time. Not all smartphones have this feature. If you check your smartphone camera and it does not possess the time-lapse feature, simply download a time-lapse video app. A good example is Framelapse, Lapse It Pro, or Time Lapse Camera.
Slow motion effects may also come in handy. However, a general warning concerning slow motion and time-lapse is that they should not be overused. Otherwise their value will soon be lost.
Image Stabilization
To get the required balance for your smartphone while recording, you should not depend on your hands to remain stable. Your hands may shake, thus affecting the image or video captured. Some modern smartphones have improved optical image stabilization to reduce the effect of hand shaking while recording the video.
But if you are moving with or following the subject with a handheld smartphone, you will need better balance. You can get a phone support (call it tripod, gimbal, or phone stand) to give you smooth footage and additional physical controls to easily move your phone. Some of these phone supports come with an app powered to deliver good object tracking abilities; try out the DJI OM 5.
Adding effects
Adding effects or animations to your videos is getting more popular. It will add more excitement and life to your videos (and even on still pictures). This was the great advantage of Snapchat app. With a video feature called Lenses, you can add more pop and excitement to your videos. Such effects will include applying filters and special sounds. Also using augmented reality to apply an overlay of another object on a face or on the surroundings (3D World Lenses app is particularly good for this).
Besides Snapchat, Instagram also offers special effects and filters you can add to your videos as well, before posting them on social media.
Get accessories
Smartphone cameras on their own are not nearly as powerful as modern cameras or camcorders. Because these smartphone cameras usually lack some advanced functionalities that can handle finer details in videos. So – if you want to get the best out of your phone camera, try getting a range of camera-enhancing accessories. Tripod stands and add-on lenses are highly recommended.
Use video compression
It is best to compress your record videos to enable it load faster. For Android smartphones, there are special video compression formats such as HEVC and H.256.
Video Editing on Your Mobile Phone: Basic Tips to Follow
Install a high-quality mobile video editing software: The Best mobile video editing software apps offer so many advanced video editing features. However, you don't have to fixate on the most powerful software out there. Get the video software type that works for you and your editing needs. It should at least offer you the basic features you usually need in your videos. Especially if the user interface is easy to understand. Some of the best video editing app recommended for modern smartphones are shown below:

For Android: FilmoraGo, Kinemaster, Adobe Premier Rush, Magisto, PowerDirector, Capcut, Inshot Video Editor, Funimate, VN Video Editor Maker, VLLO Video Editor & Maker.
For iPhone: iMovie, Splice, Kinemaster, Quik, Videoshop, LumaFusion, Adobe Premier Rush, FilmoraGo, InShot Video Editor, Magisto.
You need a fast smartphone:
Your smartphone should be fast enough and with large enough storage to contain your video files. If you can get a smartphone with memory or RAM size up to 8GB in size, the better. Also, your storage drive must have large storage capacity and be fast.
Get video editing tutorials.
Sites such as Video Co-Pilot, Youtube, Skillshare, Red Giant and other educational websites have more than enough video editing tutorials you can learn from. It is also advisable to use the same program and version of the software used in the tutorial for faster assimilation. Aside from this, it is advisable for a learner to work with the same project files as the ones used by the video instructor. The instructor would usually include download links to these project files in their tutorials so you can use them. Once you have mastered the practice files, you can then create your own projects.
Learn to keep copies of your project files.
This is sometimes called the 321 Rule. to be on the safe side, make three copies of every project file. Keep them in two different places. And at least one of those places should be in a physically separate location (a storage device for instance).
Learn important terms related to video editing.
You will need to get used to common terms in the video editing industry. Because you will encounter them sooner or later in the course of your work. That would include terms such as Montage, Cutaways, Jump Cuts, Cutting on Action, J Cut, L Cut, amongst others. Carry out research on these terms and memorize them.
Perform a color correction and grading:
You may need to make your videos appear closer to real life, or to reflect a certain mood (or a past or future time simulation). This is where you should apply color correction (to make the slides appear more uniform) and color grading (to make some slides appear unique).
Add good music:
Learn to choose music that complements the mood of your video. Especially at special points in the video where you wish to create an emotional impact. You may need to also pay for good music effects while handling a serious project. In any case, there are royalty-free music providers you can connect with on the internet.
Include suitable graphics and text:
You may need to add more text apart from the basic information that comes with videos (the title, film credits, the cast and more). Always try to render it in simple but clear text. Unless in a case where you need to add a special text and graphics effect. That would be better done with a video editing software.
Export compressed versions of your video:
Once the video is ready to be exported over the internet, prepare and send smaller but high-quality versions of the video. This is particularly good for use on social media and the internet. Larger-sized videos can be reserved for cinema viewing. You can check with each social media site for the recommended video export settings. That way, it would be easier and faster to upload and play them.
Dont sleep on this
You can buy your dream smartphone on an instalment plan. Call or message Courage on 0817 160 1491, and mention Mobility Nigeria.