By a stroke of luck, I found out that the budget TECNO POP 4 that has my 9mobile SIM in it has RCS enabled, allowing me to have my first experience of RCS on Android.
RCS is the new messaging protocol on Android devices. It's an alternative for SMS and MMS. The good thing is that it is designed to operate within your smartphones's default SMS app. No 3rd party apps are needed. But unlike SMS, you don't just get text. RCS lets you enjoy a graphically richer user interface for messaging.
In addition to enhanced graphics, when using RCS, you can send and receive photos, videos and audio messages. If you enable them, you can also see a typing indicator and read receipts, just as you do when using instant messaging apps like WhatsApp or Telegram.
Not too long ago, 9mobile Nigeria launched RCS service for their customer care channel. At that time, I quickly checked my Xiaomi Note 10 Pro to see if RCS is enabled. Unfortunatly, it wasn't. I have had a TECNO POP 4 with me for some weeks but didn't bother to check for RCS support. I mean, if the expensive Note 10 Pro didn't have it, how could a lowly phone have it?
But I was surprised when I received a message from 9mobile, inviting me to enjoy their RCS service, named Erin. Amazing grace! Finally, I could give RCS on Android a try and see what it was capable of.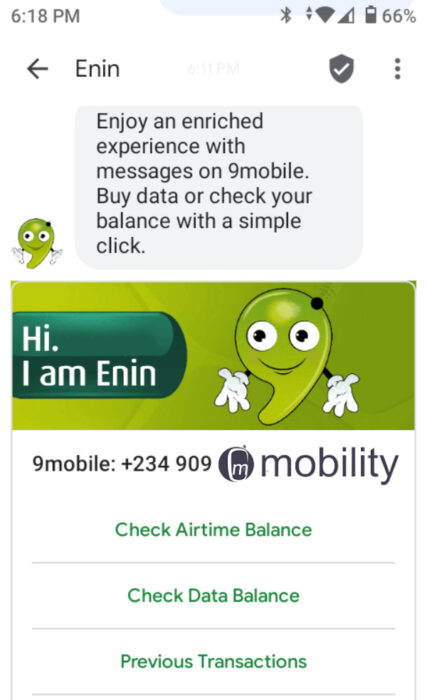 What is it like using RCS on Android?
In summary, it is like SMS, but much more interactive. For example, 9mobile's initial RCS message to me appeared like a navigation menu within an app or on a mobile website. It offered the options to check airtime balance, check data balance, check previous transactions, as well as buy data.
When you tap on any of these menu options, a mesage is sent to the system, and you get a response – again, graphically enhanced, presenting the information you requested for, or initiating the transaction you want to carry out.
Usually, the responses are immediate. In one instance, I was trying to buy data, but the response took forever after I requested for more bundles. I went back to tap on Buy Data, but when I tapped on More Bundles again, I got no response, though my message was delivered.
So, for now, it looks like Buy Data transactions beyond the default options presented are not going through. Those two default options are 250MB Weekly (N200), and 650MB Daily (N200). I was able to proceed with buying those plans and successfully purchase the 250MB Weekly bundle.
All the other menus work though: I was able to check airtime balance and check data balance. When I requested for my previous transactions, though, I got a response that said the "Last five chargeable transactions not available on your phone number". I wonder why.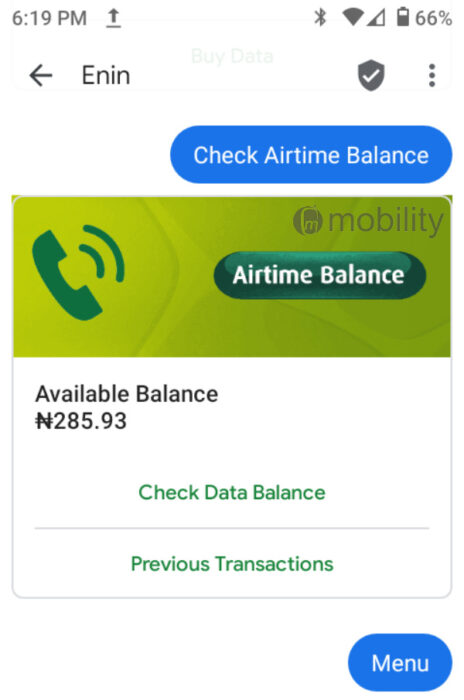 Rich Communications Service is a competitor to WhatsApp, Telegram, WeChat, iMessenger, and other instant messaging apps. Unlike those apps though, RCS is designed to not guzzle your data. As already mentioned, it is built into your Android phone's default Messaging app and requires no login.
RCS on Android is an interesting feature and should hopefully catch on. I say hopefully, because we were hopeful that MMS would catch on too many years ago. Till today, MMS is used mostly by businesses for mobile marketing.
In the next section, I answer some of the most commonly asked queations about Rich Communications Service (RCS).
What happens if you send an RCS to a non-supported network or phone?
It will arrive there as an SMS and stripped off all multimedia you may have sent.
How can I tell if I have RCS support on my phone?
If you want to confirm whether or not RCS is enabled on your device and by your mobile network provider, follow these steps:
Open the default Android Messaging app and hit the menu in the top right-hand corner.
Select Settings.
Select Chat features.
Chat features will tell you if you have support or not, and if it's enabled.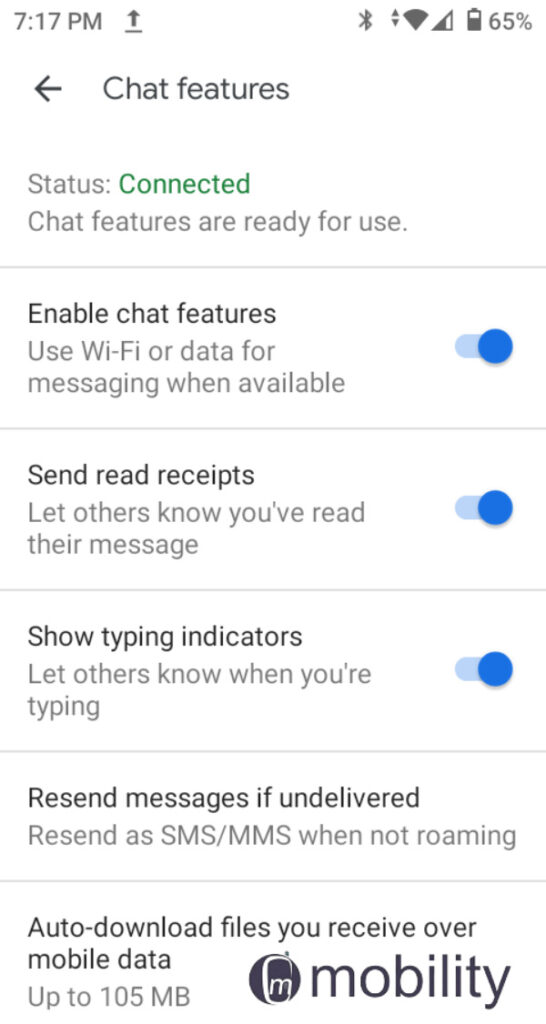 There under chat features, you can enable or disable Send read receipts, Show typing indicators, as well as choose whether to resend undelivered messages and determine the size of incoming files that can be auto-downloaded.
Which telcos in Nigeria support RCS?
Which Nigerian mobile networks have launched RCS?
9mobile (formerly Etisalat)
MTN Nigeria – a business service branded as RBM (RCS Business Messaging)
Airtel Nigeria
GloMobile (Globacom). This report suggests that RCS is active on Glo.
Lastly, because Rich Communications Service is a mouthful and RCS sounds too technical, RCS is simply called "Chat" on your Android smartphone. Have you started using RCS (sorry, Chat)? What has been your experience with it so far?
Dont sleep on this
You can buy your dream smartphone on an instalment plan. Call or message Courage on 0817 160 1491, and mention Mobility Nigeria.