Last Updated on December 25, 2020 by Editor
The successor to TECNO Mobile's Spark 4 series are finally official here in Nigeria with the launch of TECNO Spark 5 and Spark 5 Air in the country. Like their predecessors, both of these new Android smartphones are mid-range products and they share similarities that include HiOS 6.1 based on Android 10, a large 5,000mAh capacity battery and 2GB RAM.
TECNO Spark 5
Spark 5 is fitted with a 6.6-inch IPS LCD display and runs Android 10 OS. Above the display is an 8-megapixel selfie camera in a waterdrop notch with dual LED flash. As already mentioned, it has a massive 5000mAh battery to keep that large screen on for a long time. Also on the inside is 32GB storage memory for your pictures, video and other files. There is a dedicated microSD card slot for you to add more storage capacity should you need it.
At the back of the Spark 5 is a quad camera, comprising of a 13-megapixel sensor, a 2-megapixel wide sensor, a 2-megapixel macro sensor, and a QVGA low light sensor. There is quad LED flash for low-light photography.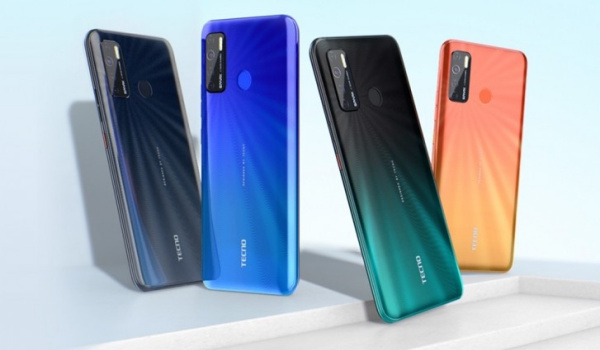 How powerful is TECNO Spark 5? It uses a quad-core Mediatek Helio A22 CPU clocked at 2.0GHz as its main powerhouse. For graphics processing, there is a PowerVR GE8320 GPU strapped in. This isn't a very powerful smartphone, but that is expected for the price. For multi-tasking and running apps, RAM capacity is 2GB.
TECNO Spark 5 Air
The Spark 5 Air has the same Helio A22 CPU, PowerVr GE8320 GPU, 2GB RAM, 32GB internal storage, and 5000mAh battery of its sibling, but it makes its entrance with a bigger 7-inch display. If you love large displays, this is the Spark 5 model for you. It runs ANdroid 10 as well.
On the front side, the 8-megapixel selfie camera is housed in a waterdrop notch too. As a matter of fact, both phones look alike. At the back, the camera configuration is different though. This time, what we have is a dual camera comprised of a 13 MP main sensor and a QVGA secondary camera. There is a quad LED flash available for night shots.
Neither Spark 5 smartphone has fast charge.
TECNO Spark 5 Pro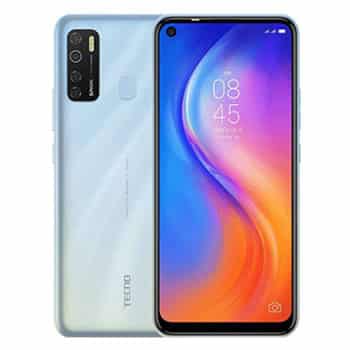 The Spark 5 Pro was later to join the family, with a 6.6-inch display, Helio A25 chipset, 3GB and 4GB of RAM, 64GB and 128GB internal storage options, a 5000mAh battery, and a rear-mounted fingerprint reader.
It is more powerful and packs more functional value that the Spark 5 and Spark 5 Air.
Pricing of TECNO Spark 5, Spark 5 Air, and Spark 5 Pro
TECNO Spark 5 has a recommended retail price (RRP) of ₦49,000, while the Spark 5 Air's price tage is ₦47,000 in Nigeria. Both smartphones can be picked up from TECNO and independent retail stores around the country, as well as from online stores like Jumia, Konga, and Slot. You will find them available in Ice Jadeite, Spark Orange, Vacation Blue, Misty Grey colour schemes.
Update: TECNO Spark 5 Pro is also now available in the country in two variants: the 3/64GB variant, costing ₦55,000, and the 4/128GB variant, costing ₦66,000.
Where to buy TECNO Spark 5, Spark 5 Air, and Spark 5 Pro in Nigeria
TECNO Spark 5, Spark 5 Air, and Spark 5 Pro are available at TECNO Mobile stores, as well as from independent retailers like Slot, Pointek, Finet, and others around the country.
You can also purchase them online from Konga, Jumia, Kara, Jiji and other online ecommerce platforms.
Where to buy TECNO Spark 5, Spark 5 Air, and Spark 5 Pro and pay in installments
You can buy any of these phones and pay in installments through EasyBuy, a service that partners with TECNO. EasyBuy agents are available in TECNO flagship stores in major states like Lagos, Abuja FCT, Anambra, Oyo, Ogun, Delta, Rivers, Enugu, and Kano. See more details here: Buy phone and pay in installments.