Last Updated on June 21, 2022 by Editor
In my opinion, if you are based in Lagos, the most reliable 4G LTE service is from Smile Communications. So, I have taken the pains to compile a list of the best Smile 4G LTE data plans and available Smile 4G LTE devices that you can use on the network.
While there are a number of 4G LTE service providers in Nigeria, not a lot of them are reliable. And I have used them all – Swift 4G, Spectranet 4G, Ntel 4G, Smile 4G, as well as the big four – MTN, Glo, Airtel, and 9mobile. It doesn't mean that Smile doesn't act up. It does; just not as bad as the others do.
Best Smile 4G LTE Data Plans
Reliability aside, Smile 4G LTE data plans are generally expensive – more expensive than what you get from competing 4G service providers. As a matter of fact, I argue that Smile 4G has some of the most expensive data plans around. Still, there are some good value plans available. Here are my recommended Smile 4G LTE data plans:
2GB SmileLite: This is recommended if you want to spend the least amount possible on mobile data on Smile. You get 2 GB for 30 days at the cost of N2,000. This is perfect if you connect to the company hotspot at work or if you have regular access to free Wi-Fi hotspots.
UnlimitedPremium monthly plan: If you are a really heavy user, the Unlimited premium plan makes sense, and you should consider using it. It is particularly great for small business teams that need to share internet access at one location. You need to shell out N19,800 monthly.
3GB Bonus Data: This one is the cream of the crop. For just N1,000, you get 3 GB of data with a 30-day validity period. Is there a catch? Yes; there is. Because it is a bonus plan, it is not listed on the Smile 4G website. You have to log in to the portal to access it, and it is only displayed to you when you qualify. I have not been able to figure out what qualifies subscribers for the plan, but I am guessing that it is tied to heavy use. It makes sense that if you are a heavier user, you get a lower tariff; doesn't it?
Those are the best Smile 4G LTE data plans that are available right now. But if none of the above plans fit your needs, Smile has more that you can explore.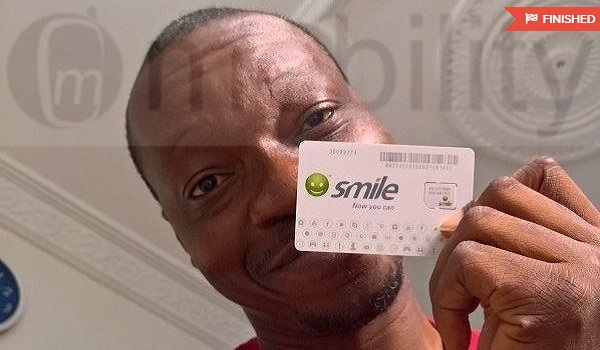 Smile 4G LTE devices
You can get a Smile mifi from any Smile 4G outlets around the city, use an unlocked compatible 4G mifi, or use the Smile SIM card in a compatible 4G smartphone or tablet. These compatible devices are what I refer to here as Smile 4G LTE devices. Here is a quick list:
TECNO: Camon CX, Camon CX Air, W3 LTE, Camon CM, Camon XPro
Infinix: Zero 4 Pro, Hot 3 LTE, Note 4, Note 4 Pro
Samsung: Galaxy A5, Galaxy S8, Galaxy J7 Prime, Note 5
Apple: iPhone7
There are many more 4G smartphones from the above manufacturers and from others that are compatible with smile's LTE network. If interested in using your Smile SIM in a smartphone, be sure to check 4G tests (we have plenty here on MobilityArena) before buying the device. You can also direct your question to the Smile 4G customer care number, 07020444444.
If you want an unlocked 4G mifi, a compatible one that I use is Huawei E5573Cs-322. Make sure you buy an unlocked unit. To configure your smartphone, tablet or mifi, we have the Smile 4G APN settings.
How Do You Smile?
What are your preferences in terms of the recommended Smile 4G LTE data plans and Smile 4G LTE devices? How do you Smile?