Do you remember Opera Max, the mobile VPN that helped millions of users save data and protect their privacy? Opera shut it down last year. But it is back, thanks to Samsung. There has been a redesign, so it looks different. The problem is that Samsung Max is not available for everyone.
I had used Opera Max in the past and wanted to see what the new mobile VPN app is like. I tried to install Samsung Max on the LG G6 and then the itel S32, and on both devices, I got this: "Your device isn't compatible with this version". If you do not own a Samsung smartphone, tough luck with this. But then, there are several alternatives available, so it isn't such a big deal.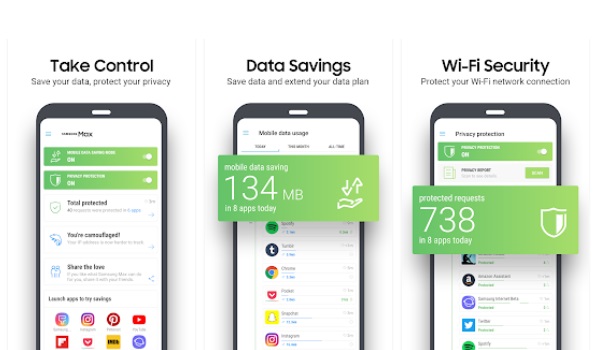 Samsung says that Samsung Max is offered "as an exclusive and unique service that sets Samsung devices apart from the rest of the smartphone market." It is specifically targeted at their mid-range line-up. Aha!
From Opera Max To Samsung Max
Opera Max was introduced in 2014. In August 2017, Opera announced that it was discontinuing the app because it "had a substantially different value proposition than our browser products, and represented a different focus for Opera." So, the company stopped further development work on the mobile VPN and removed it from the Google Play store's catalogue. However, the service remained intact for those who already had it installed on their devices.
With the take-over by Samsung, users that still have the old Opera Max running on Samsung smartphones will receive an automatic upgrade to Samsung Max. One wonders what will happen to non-Samsung users of the app. It will probably just stop working perhaps.
Samsung says its new Max mobile VPN will be preloaded on all Galaxy A and Galaxy J series smartphones in select countries. These include: India, Argentina, Brazil, Indonesia, Mexico, Nigeria, South Africa, Thailand and Vietnam.
If you own a different model of Samsung smartphone and would like to use Samsung Max, you can head over to Google Play or Galaxy Apps stores on your device to download and install it. To download from Google Play, click HERE.
Dont sleep on this
You can buy your dream smartphone on an instalment plan. Call or message Courage on 0817 160 1491, and mention Mobility Nigeria.