Last Updated on July 28, 2023 by Editor
We pitched Samsung Galaxy A20 against Infinix S4 3/32GB not too long ago, and it was an interesting face-off. The A20's incremental upgrade is here in the A20s and we now pitch it against the 6GB RAM variant of Infinix S4. Why? They are in the same price range and people will compare them to determine which is better value for money. So, it is now Samsung Galaxy A20s (2019) vs Infinix S4 6GB and you may be wondering how the blow-by-blow comparison plays out.
At first glance, Samsung's gladiator appears to be outgunned. With its 3GB of RAM and 32GB of storage, does it stand a chance against the Infinix phone's 6GB RAM and 64GB storage?
Besides the huge differences in RAM and storage, how similar are these two smartphones? For starters, they have similar screen sizes and resolutions with a waterdrop notch. This Samsung has an IPS LCD screen, so if you were hoping to get an AMOLED display, sorry.
They both have a rear fingerprint scanner. They both run Android 9 Pie. Both are 4G LTE dual-SIM smartphones too. They both have a 4000mAh battery. And they both cost around $158 or ₦56,000. Clearly, they are similar in not quite a few areas.
Samsung Galaxy A20s vs Infinix S4 6/64GB: Quick Specs Comparison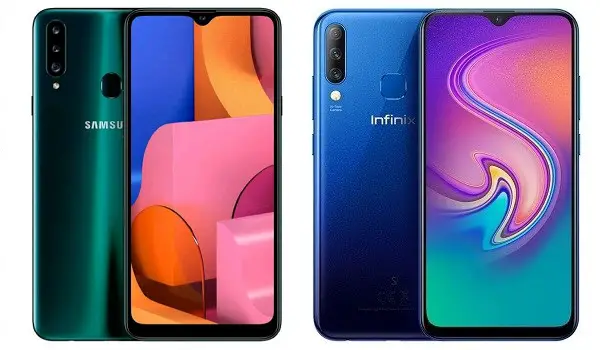 And this is where we must draw up the comparison table of the key specs and features of the two devices, so it is easier to itemize what sets them apart.
| | |
| --- | --- |
| Samsung Galaxy A20s | Infinix S4 6GB/64GB |
| 6.5 inches, 720 x 1560 pixels, 19.5:9 ratio, IPS LCD display. | 6.26 inches, 720 x 1520 pixels, 19:9 ratio, IPS LCD display |
| Octa-core Snapdragon 450 (14 nm), 1.8 GHz | Octa-core Mediatek Helio P22 (12 nm), 2.0 GHz |
| 8MP selfie camera | 32MP selfie camera |
| 13MP + 8MP + 5MP rear triple camera with LED flash | 13MP + 8MP + 2MP rear triple camera with quad-LED flash |
| 32 GB internal storage + dedicated microSD, up to 1TB | 64 GB internal storage + dedicated microSD slot, up to 128 GB |
| 3 GB RAM | 6 GB RAM |
| 4000 mAh battery + 15W quick charging | 4000 mAh battery + regular charging |
| $159 (₦56,500) | $158 (₦56,000) |
Both phones pack triple camera at the back, and those shooters are comparatively specc'd. On the selfie front, Infinix S4's 32 MP shooter looks much better than Samsung A20s' 8MP snapper.
If experience is anything to go by, I am willing to bet that the Samsung Galaxy A20s's camera will one-up the Infinix S4's in a number of areas, and vice versa. Unfortunately, without a direct shoot out, it is difficult to give a verdict on cameras.
As such, I am not awarding the camera slugfest to either phone. Feel free to swing where your preferences lie. So, let's now move on and examine the features where each phone shines.
Samsung Galaxy A20s vs Infinix S4: Where the Samsung has the edge
The Galaxy A20s offers much better expandable storage support. You can use a memory card of up to 1TB with it. That is miles beyond the paltry 128GB card support that the S4 offers.
Also, the Samsung phone can be topped up faster than the S4 can be. With 15W fast charging, a quick plugin will take the Galaxy A20s from 0 to 50% in about 30 minutes. Infinix S4 does not have fast charging built in, so you won't get more than about 12-13% battery from zero in that short period.
Samsung Galaxy A20s vs Infinix S4: Where the S4 has the edge
First, Infinix S4 offers double the RAM of the Galaxy A20s. That means launching and switching between apps is much smoother on the S4. Secondly, it offers twice the size of the internal storage of the A20s.
While these are only two features, the differences are stark and wide in those two areas. And with the infinix S4 selling for marginally lower i.e. the two devices pretty much cost the same, the S4 is the much better value for money of the two.
Samsung Galaxy A20s vs Infinix S4 6/64GB: Who Wins?
Infinix S4 and Samsung Galaxy A20s have similar screens, have the same battery, and their processors are comparative in terms of performance.
Earlier, we saw how Samsung Galaxy A20 left Infinix S4 3/32GB in the dust in many ways. But the tables have been turned as we go higher up the ladder. In this Samsung Galaxy A20s vs Infinix S4 6GB comparison review, Infinix's gladiator whoops the posterior gluteus maximum flat out. Not a lot of people will need a 1TB memory card, and most can do without fast charging if the battery is as robust as obtains on both devices.
And the S4 also sells at a marginally lower price than the Samsung. it is a win all the way for Infinix Mobility. The 6GB RAM variant of the S4 is much better value for money than Samsung's A20s.
And so we come to the end of this Samsung Galaxy A20s vs Infinix S4 6GB comparison review. Despite the clear win that I pronounced, there are those who will choose the Galaxy A20s for some other reasons, and that is fine. If you were out shopping for a mid-range smartphone with a rough budget of $158 (₦56,000) now, which of these two would you pick? Tell us: submit your comment. We love to read from you.