The Samsung Galaxy A02 was announced weeks ago in Thailand. It is now officially available in Nigeria as well.
The Galaxy A02 runs Android 10 and supports 2G, 3G, and 4G mobile networks. Its other specs include a 6.5″ display, a 1.5GHz quad-core Mediatek MT6739W chipset, options of 2GB and 3GB RAM, options of 32GB and 64GB  internal storage, a 13MP dual camera at the back, a 5000mAh battery coupled with 7.75W charging.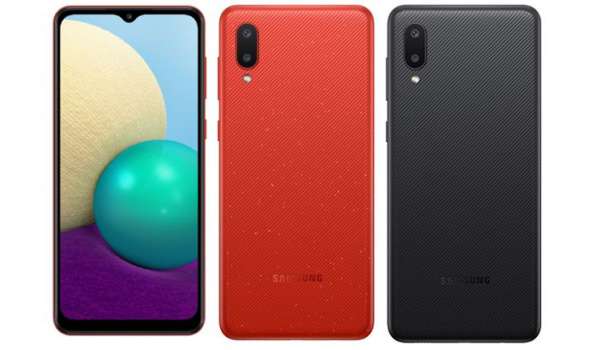 Prices of Samsung Galaxy A02
The 2/32GB variant has a price tag of ₦43,000, while the 3/64GB version sells for ₦51,000.
If you shop around, you will find that the 2/32GB variant is good value for money. The combination of the 6.5″ display, the RAM, 4G LTE, storage, battery capacity and slightly enhanced charging makes it one of the best all-round entry-level packages in the market.
We daresay the 2/32GB variant is arguably the best cheap Android phone in the market. We can't recommend the 3/64GB cvariant though, as there are competing smartphones that offer more value for the same price.
Where to buy Samsung Galaxy A02 in Nigeria
This phone is available at Samsung Mobile stores, as well as from independent retailers like Swot Systems, Pointek, Finet, Slot, and others around the country.
You can also purchase it online from Konga, Jumia, Kara, Jiji and other online stores and platforms in the country. So you can order it online and have it delivered to you.
Buy Samsung Galaxy A02 on instalment
Credit, loan, and instalment purchase facilities are available through a handful of loan apps and businesses, including Carbon Zero, and QuickCheck. These loan apps allow users to purchase smartphones on credit and pay the price of the device over a number of months. You should be able to purchase a Samsung A02 on instalment through one of these services.
Dont sleep on this
You can buy your dream smartphone on an instalment plan. Call or message Courage on 0817 160 1491, and mention Mobility Nigeria.