Last Updated on March 13, 2023 by Editor
Leading smartphone brand, Infinix has introduced two new models to its Smart series: Smart 7 Plus and Smart 7HD. Both phones have appealing features that meet the demands of users on a tight budget who want high-quality smartphones.
One of the key features of the Smart 7 Plus is its massive 6,000mAh battery, which can last for up to four days depending on your usage. The device supports convenient charging through the Type-C port, which ensures faster charging times, this, therefore, makes it an ideal choice for people who are always on the go. In addition, the Smart 7 Plus offers up to 7GB of RAM and 4+3GB extended RAM, which provides sufficient space for running multiple apps and storing files. It also has 2TB expandable storage support that enables users to expand the storage capacity of the device.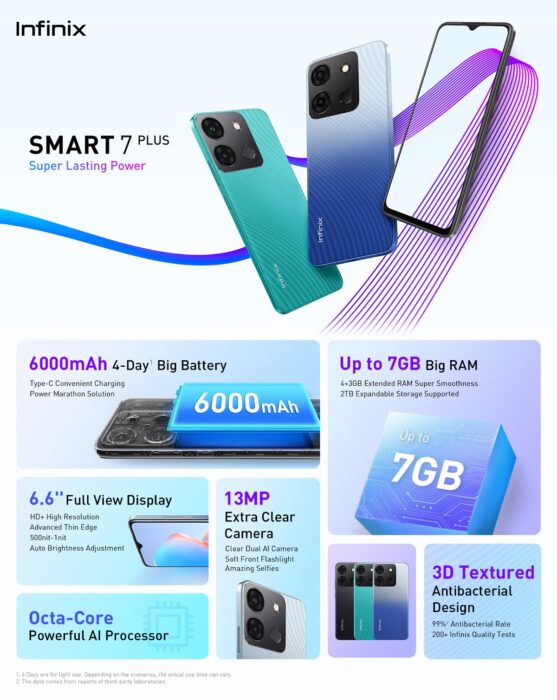 The Smart 7 HD has a 5,000mAh battery that can last for an extended period. It also offers up to 64GB of massive storage and up to 4GB of RAM (2+2GB) to cater to the needs of users who require sufficient storage space. Its super-smooth performance, combined with its 2TB expandable storage support, makes it a perfect device for users who need to store a large amount of data.
Both smartphones – Smart 7 Plus and Smart 7HD boast of a large 6.6-inch full-view display with HD+ high resolution and advanced thin edges. This makes the smartphones ideal for viewing videos and images. 
The auto-brightness adjustment feature on the Infinix Smart 7 plus ensures that the display is clear and easy to read in any lighting condition. The device also has a 13MP extra-clear camera with a clear dual AI camera, which takes amazing photos and selfies. The camera also comes with several features such as AI beauty mode, HDR, and portrait mode, which enhance the quality of the photos.
Infinix Smart 7 HD with its 500nit-1nit auto-brightness adjustment ensures that the display is clear and easy to read in any lighting condition. The phone is equipped with a powerful octa-core-4G processor, which ensures smooth and efficient performance for even the most demanding tasks, the smartphone features both fingerprint and face recognition technology, which provides extra safety and protection for your data. The 3D textured anti-bacterial design of the smartphone is another notable feature, making the phone more hygienic and easy to clean.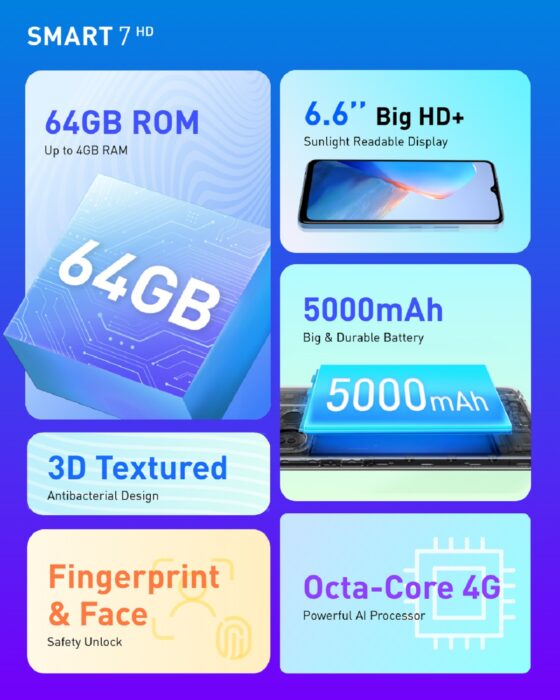 Both Smart 7 Plus and Smart 7HD run on Android 11 with XOS 7.6 skin. This means that you get the latest features and security updates from Google and Infinix. The XOS 7.6 skin adds several features to the device such as smart gestures, game mode, and dark mode, which enhances the user experience.
The Infinix Smart 7 Plus and Smart 7HD offer unique features and specifications that cater to different smartphone user needs. The Smart 7 Plus focuses on long-lasting battery life and high performance, while the Smart 7HD prioritizes massive storage and practical features like anti-bacterial design and OTG support. Regardless of which one you choose, both phones are excellent choices for those looking for quality smartphones at affordable prices.
The Infinix Smart 7 series is a great choice for budget-conscious consumers who desire high-quality smartphones, and can be purchased at authorized Infinix retail outlets across Nigeria.
To keep up with more details on the Infinix Smart 7 Series and more fun stuff from Infinix Nigeria, follow them across their social media pages: 
#SmartAndSmoothExperience
#InfinixSmart7