Last Updated on July 7, 2023 by Editor
Infinix has been pushing the boundaries of charging technology in recent time in their Note line of smartphones. The successor to the Infinix Note 12 VIP is here and it isn't called the Note 13 VIP. Say hello to the Infinix Note 30 VIP which we have used as our daily driver for about a week now. Before we jump into how well it has performed, first of all, introductions.
The Note 30 VIP comes to the table with 5G via a more powerful processor. In addition, there is wireless fast charging and Infinix included a wireless charging pad in the box. In other words, it is giving VIP vibes. Key specs of the phone include:
6.67-inch, 1080×2400 pixels, 120Hz refreh rate, AMOLED screen
32-megapixel selfie camera with dual flash
108MP main camera with 2160p video recording
Dimensity 8050 5G processor
Supports MTN 5G and Airtel 5G
Dual SIM support (both SIM slots support 5G)
12GB RAM
9GB Virtual RAM
5000mAh Li-Polymer battery
68W fast charge
50W wireless charging
Reverse charging (wireless and wired)
JBL-tuned dual speakers.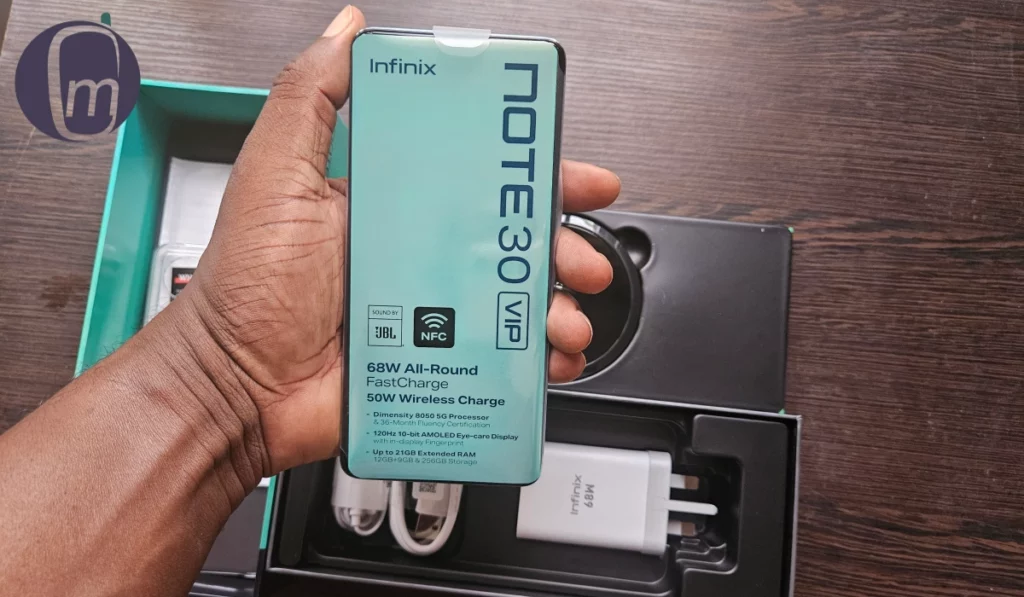 Table of Contents
Infinix Note 30 VIP Review: What's In The Box?
The Note 30 VIP comes in a long and narrow green box. Or shall we say, tall and narrow? Same thing; right? Precisely. There are two boxes in the outer packaging – one containing a wireless charging pad rated at 15W (we were hoping it would be 50W, but this is will do, as we found out later). The other contains the phone and accessories. In all, the whole package includes: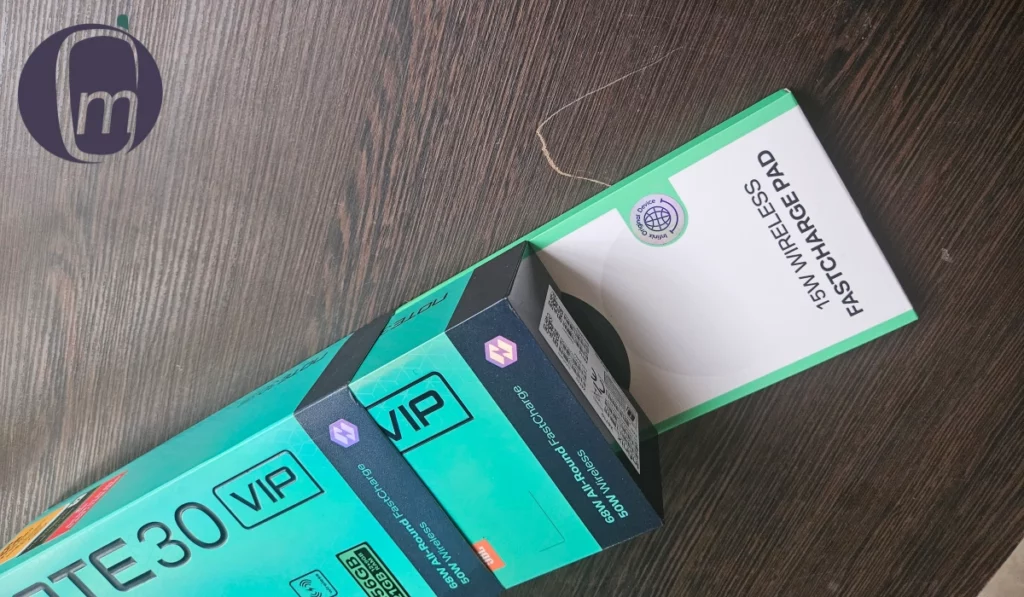 Infinix Note 30 VIP
Plastic screen protector
An Xpark promo leaflet,
SIM ejector tool
3.5mm headphones
USB-C cable
68W fast charging brick
15W wireless charging plate
Lastly, there are MTN, 9mobile, and Airtel stickers on the pack for free data from each of these networks.
Infinix Note 30 VIP Review: All-Round FastCharge
All-round FastCharge is the main highlight of the Note 30 VIP, so we are jumping into that right away. Infinix says that it has implemented a mix of hardware and software optimization to deliver really fast charging that is also safe. The Note 30 VIP supports 68W fast charging and 50W fast wireless charging. On paper, it is impressive. In real life, it impresses just as well.
We have tested 120W fast charge on the Note 12 VIP and found it impressive. What is really new here is the fast wireless charging. To test it, we emptied the battery of the phone, plugged in the 15W charging pad and dropped the Note 30 VIP on it. Then we waited and counted the minutes. After 54 minutes, the battery was at 50%.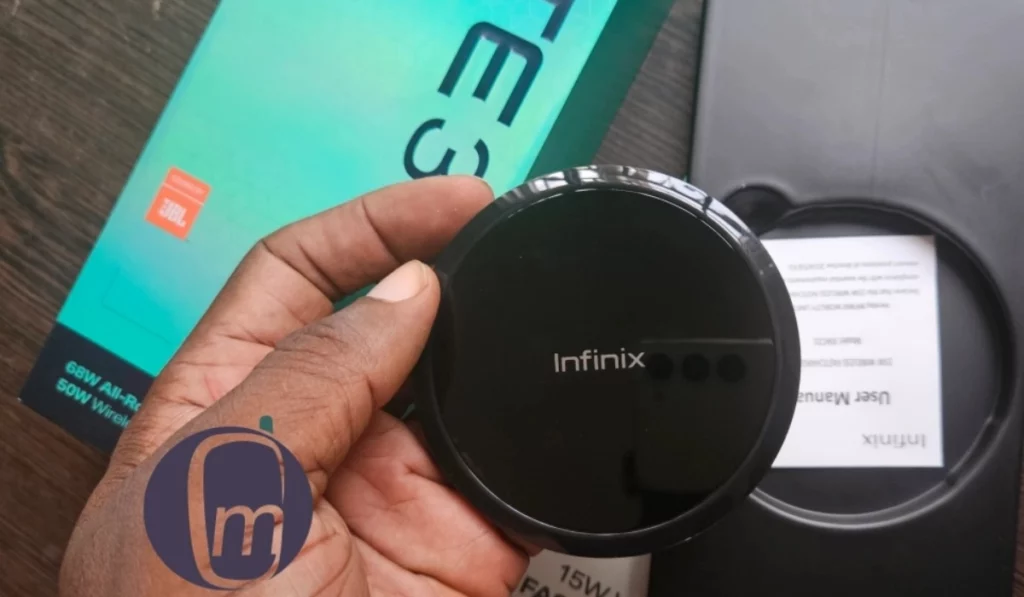 This sounds fair, because Infinix says that 50W wireless charging should get 50% battery in 30 minutes. The results for the 15W charging plate are good. That is just as fast as the charging speed offered by other brands with slower wired fast charging. You know the ones that still put 18W, 20W, and 25W fast charging in their premium flagships.
We asked Infinix if a 50W wireless charging plate is available for purchase and how much it costs. They don't have one available yet, but if you are getting the Note 30 VIP, you should keep your eyes peeled for whenever it comes out.
Now, what about the 68W fast wired charging? How does the Note 30 VIP fare? In the first 5 minutes, we got 14% battery. That was enough to keep the phone going for over 4 hours of moderate use. So, even if you have to dash out in a hurry, you can top up your Note 30 VIP really fast.
The Note 30 VIP also supports both wireless and wired reverse charging. We had no trouble using it to charge other devices via the USB-C port. You will need a cable with two USB-C ends, though. We have a few lying around here at Mobility Nigeria and tried it out: it works. Also, we placed the Note 30 VIP on one of our own wireless charging plates, and it charged the phone, so if you are away from your own wireless charger, any other Qi standard wireless charger will work.
Infinix Note 30 VIP Review: Battery Life
The Note 30 VIP is equipped with a 5000mAh battery, which is quite beefy. The processor is a Dimensity 8050 5G chipset. We wanted to see how it holds up with some heavy use. We left the 6.67-inch 1080×2400-pixel AMOLED screen in auto-switch Refresh Rate, so it automatically switches refresh rate according to what it is being used for, cranked the brightest and loudspeaker volume to the highest settings, fired up a movie on YouTube, sat back, and counted the minutes. Again.
The two-hour YouTube video we played ran the battery down from 80% to 58%. That is 22% battery drainage in two hours. Not bad at all. You are not likely to watch your videos at full volume and maximum brightness, so we imagine that you will experience even better battery life in your usage.
In regular daily use, we didn't experience any battery drain that had us worrying about being stranded somewhere with a dead phone before the day was over. As a matter of fact, sometimes, we had the battery still running till the next morning.
Infinix Note 30 VIP Review: 5G Internet
MTN 5G is live; Airtel 5G is live. We have been using both for months now here at Mobility Nigeria. Infinix Note 30 VIP handles both of these 5G networks like a champ, delivering speeds in the range of 240Mbps to 600Mbps.
Infinix is one of the brands whose 5G phones do not wait for a software update before they connect to our local networks. We have had our fair share of 5G issues from a few other brands. The Note 30 VIP just connected and worked. Of course, 4G and 3G worked just fine as well.
Infinix Note 30 VIP Review: Performance
With a Dimensity 8050 processor running the show under the hood, we expected smooth, upper mid-range performance and we were not disappointed. This is a chip comparable to the Dimensity 1300 and Snapdragon 865 Plus in terms of capabilities. That puts the Infinix Note 30 VIP in a class just below premium flagship category.
In addition, the phone has 12GB RAM, plus 9GB virtual RAM. Virtual RAM uses a small chunk of the phone's storage (256GB in this case) and uses it to augment the RAM and help with launching and switching apps. Virtual RAM isn't as powerful as normal RAM, but it helps.
All that analysis aside, in everyday usage, the Note 30 VIP is smooth and does not stutter. It runs as smoothly as any flagship smartphone does. We have said it before that most mobile users do not really need to spend on a premium flagship, when devices like the Note 30 VIP offer performance that is similar.
Infinix Note 30 VIP Camera Review
There is a 32-megapixel selfies camera in a punch hole at the top of the display. And there is dual-LED flash to support selfie-taking in low light situations. At the back is a 108-megapixel main camera, supported by a 12 MP ultrawide camera and a 2 MP depth camera. Let's look at some camera samples from the Infinix Note 30 VIP.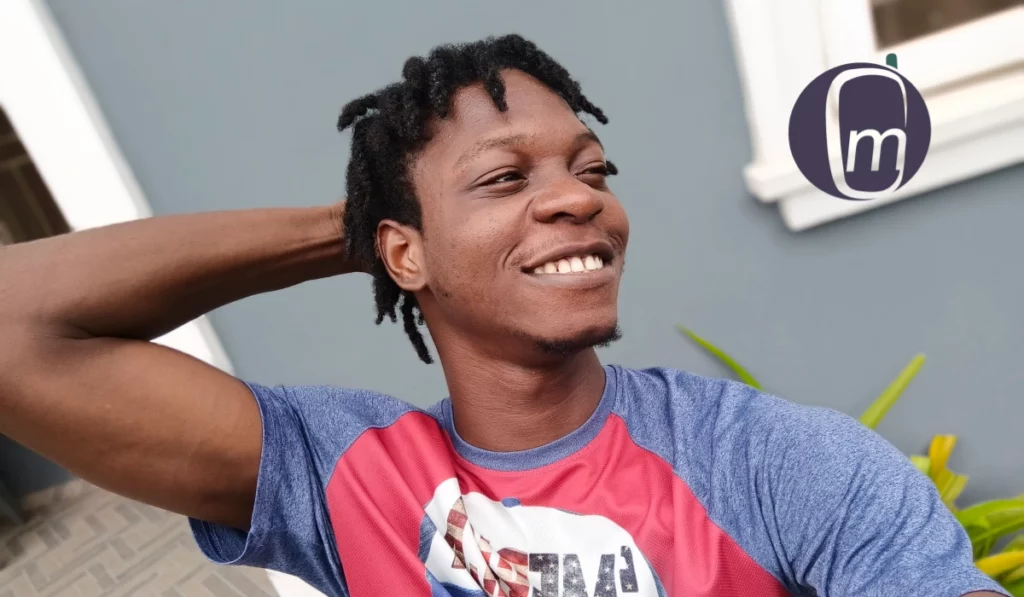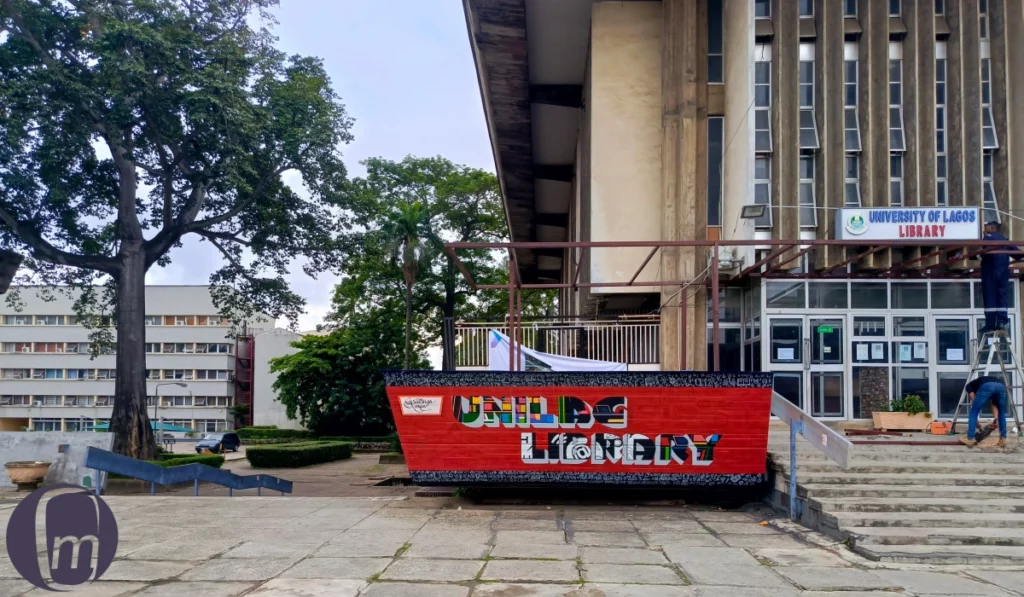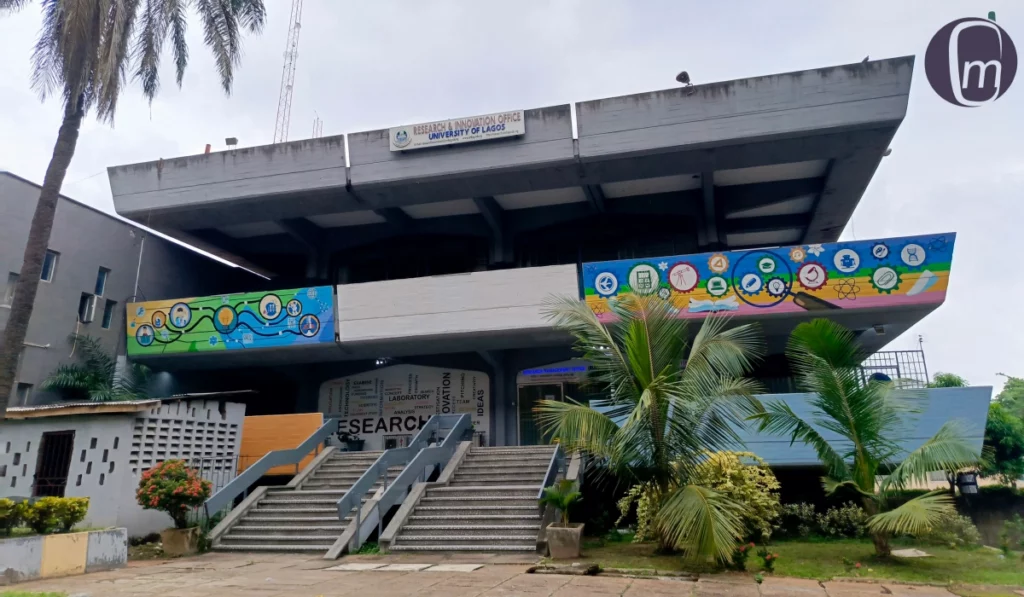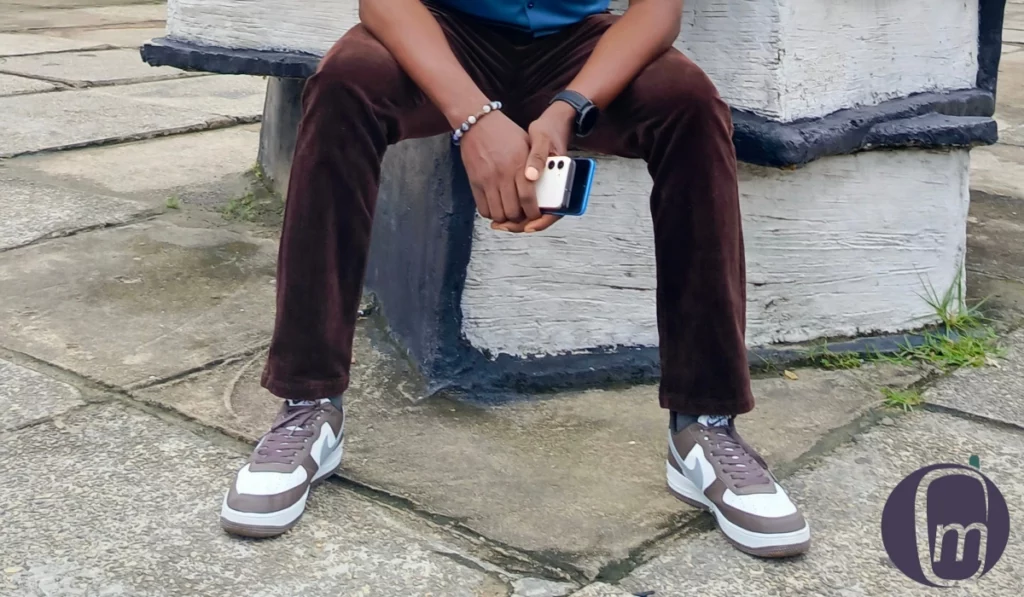 Photography on the Note 30 VIP is quite good. It isn't among the best we have seen in this price range, but it is definitely close. The photos are sharp and bright, with good details. The highlights could be better. Colour reproduction is good as well.
Infinix Note 30 VIP Review: Design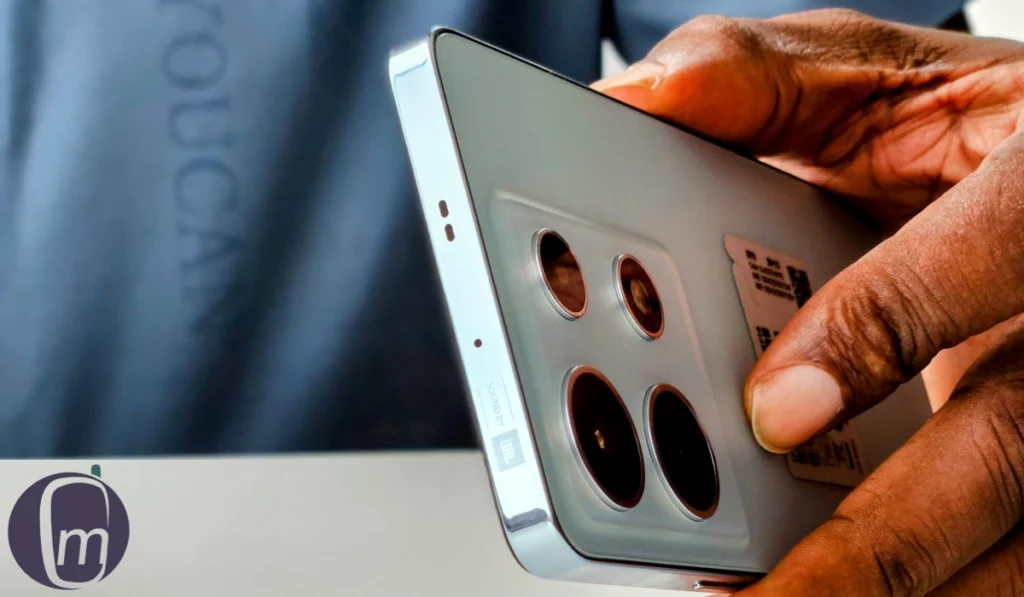 Infinix Note 30 VIP is a large, but relatively thin smartphone, with nice, curved edges at the corners. The design is elegant. At the back, there are four circles in the camera module, and they leave mixed feelings among our team. Some of us like the circles exactly the way they are; others feel that the two big circles are unnecessarily large.
The Note 30 VIP has a good grip: it isn't one of those phones that is slippery in the hand, especially thanks to the glimmer textured glass at the back. Which is good, considering how large it is. The frame gives a lovely glossy, premium feel. Our review unit is the Glacier White colour. There is another colour option called Magic Black. We will take the Glacier White any day.
Infinix Note 30 VIP Review: Last Words
You are going to be hard pressed to find a smartphone in the same price bracket as the Note 30 VIP with 68W fast charging and wireless charging. And if you find one that is close, it won't have a wireless charging pad in the box either. Finding one will be a tough task. This phone clearly offers real value.
Now add the Dimensity 8050 chip to the mix, along with 12GB RAM and 9GB virtual RAM, and you have a 5G smartphone with excellent performance. We heartily recommend the Note 30 VIP for the value it offers. It has a recommended retail price of ₦233,900 naira.