Last Updated on January 10, 2022 by Editor
Infinix Note 10 Pro is the most expensive phone I have ever owned since I started owning phones in 2002. I have owned and used it daily for 3 months now, and I do not regret spending the amount of money.
I can say it is the best mobile device I have spent money on. There are five major reasons I love using the Infinix Note 10 Pro, and I will outline them below. I am not a techie, so I have had to look up some specs and definitions in the course of writing this article.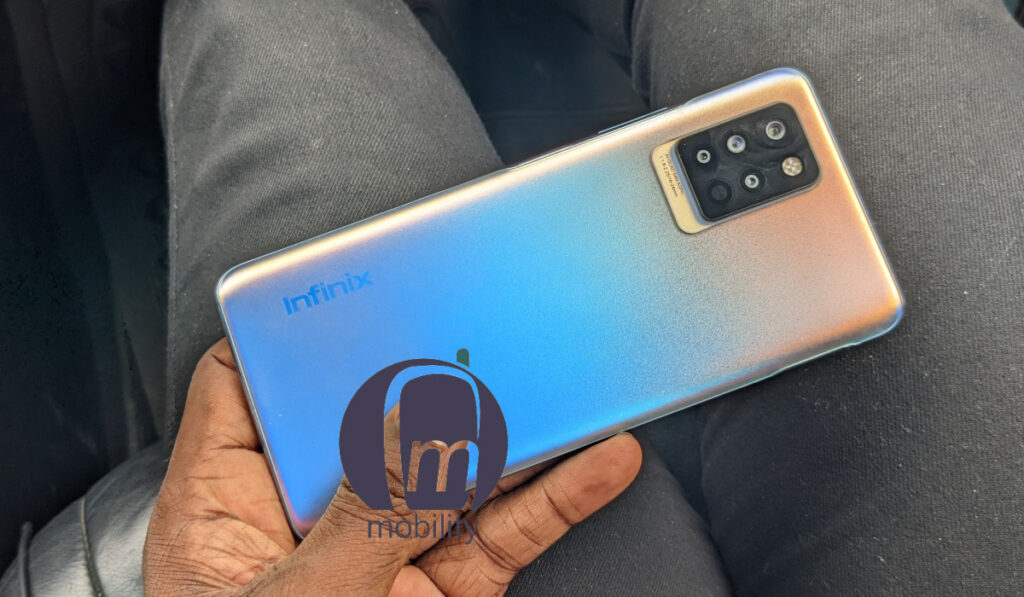 The five things I love about Infinix Note 10 Pro
1. The length of the screen: The screen is the longest I have ever seen, and it looks more like a tablet than just a phone. It provides a wider viewing screen, therefore your eyes do not get too tired peering into a small screen. I looked up the specs, and it says that it is 6.95 inches (17.65 cm) diagonally, in size. 
It supports a 90Hz refresh rate with a 180Hz touch sampling rate. This translates to a more fluid experience while using the device. The display is an LCD panel with FHD+ (1080*2460p) resolution. The Infinix Note 10 Pro's display is also certified for low blue-light by TÜV Rheinland to ensure you enjoy using the screen with less eye fatigue. Do you know what all those mean? I don't; I read them up. But I have truly enjoyed a great viewing experience with the Note 10 Pro. 
2. The cameras: Normally, I do not take a lot of pictures. But with the cameras in this  phone, I have taken more pictures than usual. I love the different features of the cameras. For example, I hear it has Artificial Intelligence, which makes intelligent decisions in helping you take sharp pictures. In addition, the camera has portrait and Super Night modes.
The Super Night feature takes beautiful night pictures, the contrasts are sharp, giving me clear pictures that I have not experienced with other cameras. The camera provides extra illumination when you need to take pictures in dark places.
For video recording, it has short video feature, of 15 seconds. This is in addition to the regular video feature of 1 hour length. My favourite feature in the camera, though, is the Beauty feature. It cleans up blemishes on your face without changing your picture. With this beauty feature, I may not need to use Snapchat filters any more.
3. The fast charging: As a semi heavy mobile device user, I really don't want my phone to be far away from me while charging. The Note 10 Pro charges so fast that it gets to full charge within one hour, depending on what percentage the battery level is at. The 33W Safe & Flash Charge feature is what makes this possible, and I love it.
4. Speed of processing: The Note 10 Pro processes information very fast, which makes for an enjoyable user experience. I don't have to wait too long for anything to load. This speed is attributed to its processor that features a MediaTek Helio G95, Octa-core CPU and Mali-G76 GPU. I do not understand the jargon, but I truly enjoy the speed of processing. 
5. Non-scratch screen: I enjoy seeing the actual screen of my device without a screen guard, but most devices would become unreadable due to scratches. In three months of using the Note 10 Pro, the screen has not scratched, and I have not needed a screen guard.  It is a thing of beauty to gaze upon your device as it was manufactured. The Note 10 Pro gives me that pleasure. 
6. Yes, I said five things, but I have a bonus item. With many other devices, if you are using one app, you are not able to open any other app. Not only does the Note10 Pro allow in-app video viewing, you can minimize your YouTube app while scrolling through Google to do a search, and the video keeps playing. The minimized app floats around, while you can use other apps. You can activate this feature by using the button on the right side of the device, and maximize the app by touching it on the home screen. 
I have enjoyed using the Note 10 Pro so far, I am yet to see its durability, though, as I have used it for just three months. 
Editor's note: The Note 10 Pro currently sells for ₦137,000 in the country. You can have a look at our official Infinix Note 10 Pro unboxing.