I am sure we have heard stories of those who went to the market to buy a smartphone and only to get home and discover it is a fake. Most times, these smartphones are even tested to be genuine in the buyer's presence but when they get home, it turns out to be a fake. Knowing how to identify a fake smartphone is going to reduce the chances of that ever happening to you.
For anyone who is tech-savvy, there are some indicators that show that a smartphone is counterfeit. These are the things I will show you so you can easily identify a fake smartphone when you see it. Without wasting much of our time, let's get right into it.
Table of Contents
Ways to Identify a Fake Smartphone
Most times, the counterfeit smartphone doesn't look the same as the original physically. On rare occasions that it does, there is a cheap camera, outdated processor, and other cheaper components instead of the real thing.
Here are some of the ways you can use to identify a fake smartphone so you do not end up purchasing it.
1. Check the general hardware
Many counterfeit smartphones never get the physical build and design correctly so you can take advantage of this to easily identify a fake smartphone.
Make sure to watch a YouTube video reviewing the original smartphone in detail so you know the way it looks. Now, search for physical differences that the phone in your hand might have.
The most obvious ones are weird bezels (usually bigger than the original), buttons in the wrong place, a wrong camera housing or placement, and wrong build material.
In some rare situations, it is quite hard to detect physical differences if the counterfeit is well executed so also check out other things harder to fool.
2. Check the processor
If you're buying second-hand or brand-new, an easy way to identify a fake smartphone is by checking its processor. Most counterfeit smartphones never get the correct processor as the original.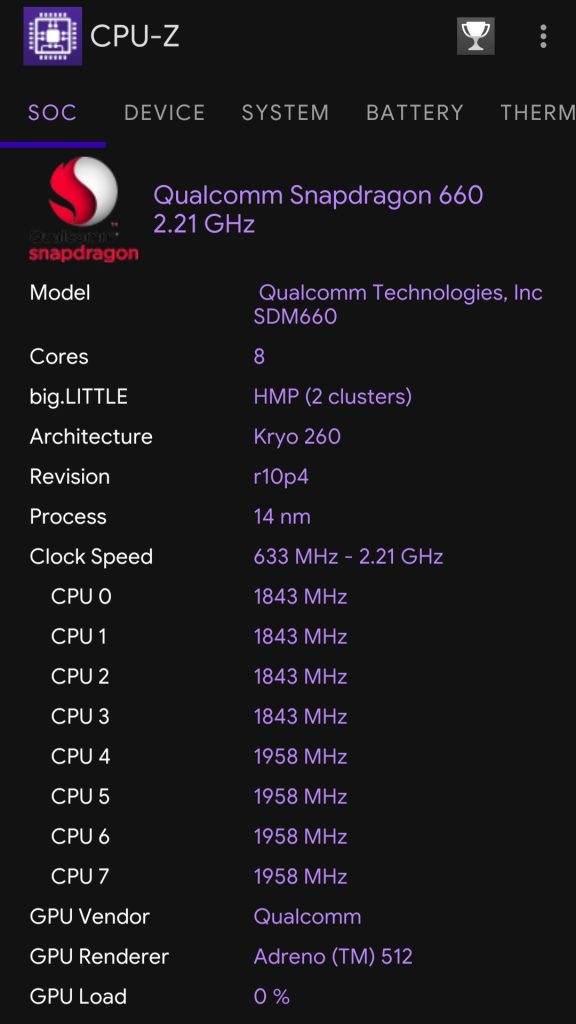 To do this, quickly install CPU-Z on the phone from the Google Play Store. It is an application that gives you the details about your processor and other components inside a phone.
When you open the app, you will find the CPU and GPU hardware details on the home page. Under the SOC tab, you will find the name of the processor. Checking the Device tab will show other details like RAM, resolution, etc.
Now, compare the chip in the phone against the official spec sheet. Also, compare other components like display resolution, amount of RAM, and many more. If there is a difference between what the app shows and what the official spec sheet shows, then it's a counterfeit. Alternatively, you can use AIDA64 from the Play Store.
3. Check the software
First, make sure to turn on the smartphone and see that it turns on. Now, check out the software UI, go to Settings, first-party apps, System apps, etc. Know how the original UI and app icons look, you can watch a YouTube video for this.
Now, check if the UI or app icons don't match the manufacturer's official device theme. Also, check out for weirdly looking home screens and icons, strange pre-installed apps, or missing features or menus.
Also, if the software and UI are unnecessarily slow and laggy when going through it, that can be another indicator.
4. Check out other general features
There are lots of things that make a smartphone and it is quite hard for a counterfeit to get all of them right. Check for poor-quality cameras, if the fingerprint and other biometrics work, and if features like NFC are working. Also, test Wi-Fi, Wi-Fi Hotspot, GPS, and Bluetooth, and see if they are working, if possible connect to other devices. Also, test out the mobile network by inserting a SIM card and making a call or browsing the internet (make sure 4G LTE works and the speed is good).
Test the cameras too as most counterfeit never get the same camera hardware. Check if the front and back cameras work and have all the features promised with the device. If they have multiple cameras, check if the wide-angle lens and telephoto zoom all work. And lastly, make sure the camera app is the same as the one on the original.
5. Check out the IMEI
Every phone has a unique 15-digit IMEI number, and this can let you know the model of the phone, network compatibility, and if the phone is even stolen. It will also help you identify a fake smartphone.
Enter *#06# into the phone's dialer, and a box will pop up with the IMEI number. If the phone is coming in its box, make sure to cross-check this against the IMEI number on the box.
Also, go to the imei.info website and enter the IMEI number, it will give you a breakdown of the handset's status.
TIP: If you're buying a second-hand smartphone in Nigeria, and you've tested everything above and the phone meets up, be vigilant. A common trick used by sellers is offering to help you package the phone you've already tested. Now, they go into their shop to package it but unsuspecting to you, they swap it with a bad or fake phone before packing and handing it over to you.
Now, we've come to the end of this article showing you how to identify a fake smartphone in 2023. Check out our article on how to start a video centre business in Nigeria.
Dont sleep on this
You can buy your dream smartphone on an instalment plan. Call or message Courage on 0817 160 1491, and mention Mobility Nigeria.