At one time or another, most of us would have panicked while frantically attempting to find a lost phone. Even if it is a simple feature phone. No matter how basic the phone could be, it would still be valuable for at least one thing. That is, our contacts, certain bank details, WhatsApp messages and some other sensitive information would still be on that phone. No, there must be a way to find a lost phone – because a whole generation of personal data is lurking right there.
Added to the fact that some of us invested quite some money buying that high-end iPhone or power-packed Android. It hurts badly to have to find that missing smartphone indeed. But there are tools already embedded into your smartphone to help track your beloved device, whether Android or iPhone.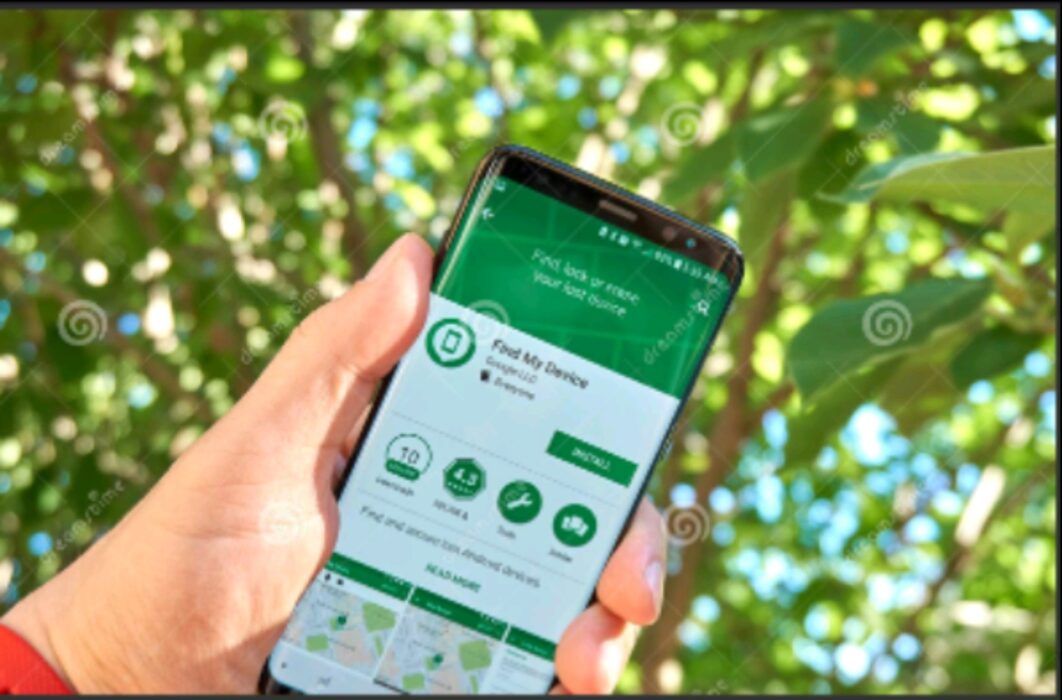 We shall briefly explore 5 possible ways to find a lost phone. You can achieve this by using the native tracking tool on your smartphone. Otherwise, there are some powerful third-party apps equally good at finding a lost phone. You could call them phone trackers, or phone locators.
Table of Contents
Ways to Find Your Lost Phone
To ensure that any means to find a lost phone becomes effective, you need to prepare ahead. There are tracking features right within the settings of your phone you should turn on, so to speak. You would find such features in your Google account settings (Android) and iCloud account (Apple). Let's quickly check how the following 5 phone tracking methods work on digital devices, including phones.
Find My Device by Google (Android)
All smartphones (and tablets) with Android 2.3 or higher, have a Find My Device feature already embedded into them. This is made possible through Google Play Services. You can equally download the service from inside Google Play Store. Alternatively, by logging into your Google account in a browser, you can also use this same feature. However, it is necessary to activate the 'Find My Device' utility ahead of time.
Find my Device simply uses the available mobile data, wi-fi or GPS service to identify the most recent location of your device. Which means:
you must have already set up your Google account;
your device's location tool must be switched on;
your device must have active internet connection;
the device is powered on (that is, the battery is not dead or flat); and
the device is detected (and shown) on Google Play.
Alternatively, if the device is disconnected from the internet or the battery is down, you can still find a lost phone. You may still detect its most recent location. In that case, the 'Store recent location' feature in Find My Device must have been turned on.
To activate the locator:
Go to your phone's Settings app and select Settings > Security, or choose Google > Services and Preferences.
Click the switch/toggle button on Find My Device section to turn it on.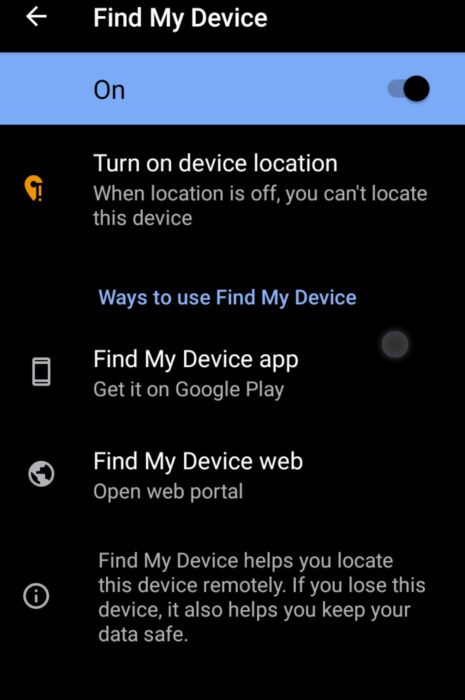 Your phone should display the app on its desktop. Similarly you can access it in a web browser (after logging into your Google account). So you simply click on the tool to show your phone's physical location on a map.
So thereafter if you need to find a lost phone, pick up another Android smartphone, tablet or computer. Obviously the other device should have the Find My Device feature activated as well. Then:
Locate and open the Find My Device app on it (or use your computer's web browser).
Sign in to your Google account. It should prompt for this in the Continue As (your name)' section. Alternatively, if you wish to help another person find his/her device on your smartphone, then you choose the 'Sign in As Guest' option. Then he/she would sign in with his/her Google name and password.
The lost phone/device would receive a notification.
The displayed map will show you the approximate location of the device, or else it would show you the last known location.
The phone in your hand should display a prompt – Enable lock & erase. Click on it.
Now you can choose between three visible options. Either you click Play a sound (high volume ringing for 5 minutes). Or click Lock your device (to lock it with a password or PIN, whether existing or new). Or click Erase device (to delete all data forever from the phone, and the phone can no longer be tracked with this tool again).
Find My iPhone by Apple
The Find My iPhone feature/app works well on your iPhone, so long as you have set up your iCloud account beforehand. You would have been assigned an Apple ID (or name) as well. You can use the Find My iPhone service on another iPhone, computer, tablet or smartwatch. But the other iPhone must similarly have the Find My iPhone app installed (and preferably switched on). You must prepare the phone tracking service ahead, to find a lost phone running on iOS. To do so, proceed do the following:
Click on Settings > Your Apple ID/Name.
Then select Find My > Find My iPhone and switch on the toggle button. The color turns to green.
Next, switch on the Find My Network, and Send Last Location toggle buttons. These two features will help you to locate the very last place your phone dropped off. It will work even without active internet service.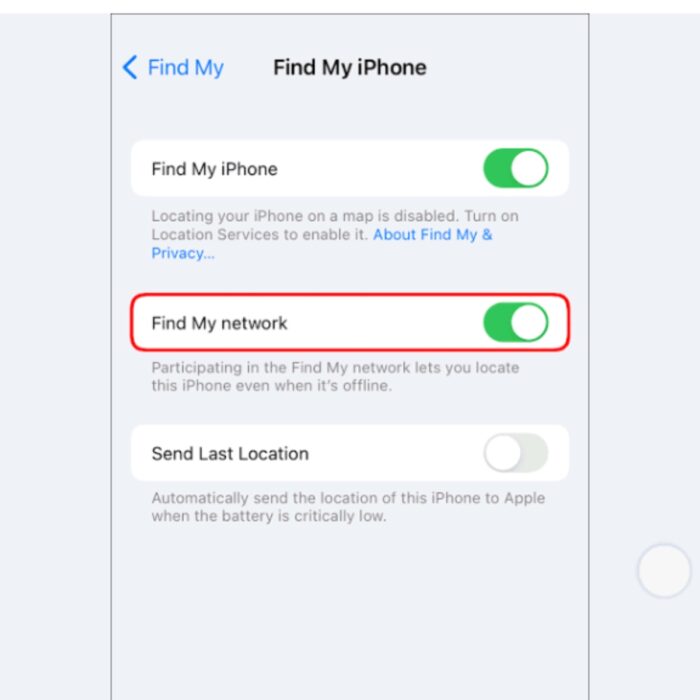 Now you are set to find your phone at any other time. To track your iPhone in case of future theft or loss, do the following:
Click on Find My app, go to the bottom section, and select Devices tab.
You can choose your iPhone or iPad to find its location in this section.
Other actions you can perform in the Find My > Devices tab include:
following the trail (on the map) to physically locate your phone/device.
play a sound to find your device
mark your device as 'Lost'
display a message/notification on the screen anytime the device is abandoned somewhere (or not with the owner)
wipe out all settings (and data) on the device. That is, do a factory reset.
Third-Party Lost Phone Trackers
There are useful apps you can download from Google or Apple Play Store with powerful phone tracking abilities. They include Famisafe, Locate Friends and Find Family, Prey, Life360, GeoTracker, and Lookout Mobile security amongst others.
Use your Phone's IMEI/MEID Number
The International Mobile Equipment Identity (IMEI), or Mobile Equipment Identity number (MEID) is a unique 15-digit identification number that every existing phone must have. It can be used to track and locate a phone. You will usually find the IMEI number listed on the original carton that came with the phone. It will also be somewhere in the battery case, or under the SIM card tray of some phones. So you can easily write it out from the carton. Alternatively, dial:
#06# (Send/Enter)
on your phone, and the phone's IMEI number(s) will be displayed on the screen. The IMEI/ MEID number can also be used to lock the phone and make it unusable in the hands of a thief or criminal. You can report the case of stolen or lost phone to the police, or to your telecom service provider. That should be done preferably within 24 hours after it occurred. Either of these two entities can use the IMEI or MEID to locate a lost phone from another device. The simple code used to retrieve phone location by IMEI (or MEID) is to type the text message below:
KYM space [15 digit IMEI number] space (click Send/Enter) to 14422
Find My Device (Samsung only)
Certain models of Samsung phones also have a Find My Mobile feature. This service is available to users who have created a Samsung account. To use this feature, find out if the phone has it in the first instance. Then do the following on your Samsung phone:
Select Settings > Biometrics & Security.
Go to Find My Mobile and switch on the toggle button. At this point, you will need to enter your Samsung account details (or you create one immediately).
You will also get additional tracking features in this section. They include Send Last Location, Remote Unlock, and Offline Finding.
Before Losing Your Phone: Set Up Anti-Theft Protection
The Factory Reset Protection (FRP) is available for Android 5.0 Lollipop phones and above, in order to lock your phone. This will render it useless to thieves, as FRP will request for the last owner's Google account name and password. Otherwise the phone remains locked permanently, and the data inaccessible.
Similarly, Apple devices also have an additional Activation Lock feature that would request for your Apple ID and password before you can ever erase the device, disable Find My iPhone, or reactivate it. This is extra security against thieves trying to take control of your Apple phone or device.
To Find a Phone – but Not a Smartphone
A simple feature phone lacking tracking abilities, or incompatible with locator apps may have to be found manually. Take the following steps:
Follow the trail to physically search around the places where you have been before you lost the phone.
Use another phone to send a text message to the lost phone. That is, in the hope that another person may have seen it, and can read the message. Include your contact details and possibly a reward to encourage the finder to reply and return the phone.
Use another phone to call the lost phone. If you are in the vicinity of that lost phone (and it's battery is not yet flat), you should hear the sound. If the lost phone is in another person's hands, he/she may reply your call in the hope of returning the phone.
Dont sleep on this
You can buy your dream smartphone on an instalment plan. Call or message Courage on 0817 160 1491, and mention Mobility Nigeria.