I got to using the iROKOtv app entirely by a chance happening. I walked into the right wing of Ikeja City Mall and there was an iROKO-branded booth in there. One of the female agents there sized me up, loved my zaddy looks, put on her best smile and approached me. She was a fine babe, to be honest, and she wouldn't take a No for an answer.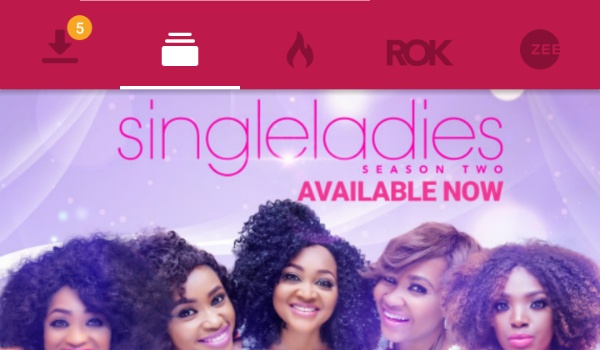 It so happened that iROKOtv was running a promo at the time and the price was right. What would it hurt to part ways with N2,000 for unlimited access to all movies and series in iROKO's library for 365 days? So, while she was still talking, I downloaded the app and signed up. She was shocked when I told her what I had just done. Apparently, she didn't know who I was. Bummer. That's how all of you who read Mobility Nigeria lie to me every day that I am famous, and an iROKOtv agent had no idea. For all she cared, I was Chukwuemeka Anazodo from Umuahia.
You guys lie to me too much. But I understand it is love. You love me. I love you lots too. Just stop feeding my vanity; you hear? So, my supposed new girlfriend told me I would have to pay the N2,000 subscription fee to get a subscription code that would have to be entered in the app, and I was good to go. We sorted that out in a few minutes, and I was an iROKOtv subscriber! Yippee!
Second Time Around
I had once attempted to use iROKOtv using my Blackberry PlayBook tablet way back in 2012. That was 6 years ago; right? Darn! iTOKOtv was web-only back then, and the Playbook did not handle it well. So, this was my second time with the service.
The iROKOtv App Experience
The iROKOtv app itself is a well done job. It is easy to use and does what it should. From left to right, there is a tab for the user's downloaded movies, a Series tab, a tab for Hot movies, a ROK tab, and – shock, horror – a Zee tab.
How it works is that you are able to select and download series and movies that you want to see from all the other tabs. And once downloaded, you go to the first tab on the left – the Downloads tab – to open them.
The app is well optimized so that subscribers on slow networks and/or limited data can download each movie or series in a "Data Saver" format. Users who have no worries about data consumption can choose High Quality mode. For example, a movie that is 327 MB in High Quality mode is 105 MB in size in Data Saver mode. So, Data Saver reduces the video size to about a third of its regular size. And that without sacrificing quality.
Well, mostly. I did run into one movie that was of poor video quality when I tried to watch it in Data Saver format. Perhaps there may be more like that; I do not know, as High Quality is my default mode. Then again, chances are that the Data Saver mode videos are not meant for the high resolution display of the LG G6, hence the poor performance. That video just might display fine on a lower resolution display, considering that it is compressed content.
Are The Movies on iROKOtv App Any Good?
What of the movies themselves? Are they any good? I have had a good experience with most of the movies, and I have been pleasantly surprised by how good some flicks by ROK Studio are. ROK Studio is a movie production outfit run by Mary Njoku. iROKOtv is run by Jason Njoku, who happens to be her husband. Do you see what I did there? Because of how good most ROK movies I have seen on the app are, the ROK tab has become my favourite. Hey, ROK; can we have some more of this good stuff? Thank you.
iROKOtv serves predominantly Nollywood content. The exception is the Bollywood content offered via the Zee tab on the extreme right. I am not quite a fan of ZeeWorld, though everyone else in the House Of Mo is hooked on it. As such, I haven't watched any Zee content on the app.
But I am a fan of the iROKOtv app, and look forward to getting on a sofa to enjoy more movies each time I need to get away from work or the stress of just being a Nigerian living and working in Lagos.
Lest I forget, I was told that I can use my iROKOtv subscription on multiple mobile devices. So, for example, Mrs. Mo can install the iROKOtv app and login with my subscription, and Boy Mo and Girl Mo can do the same too on their devices. Was it five devices the iROKOtv lady said again? I think it was five jare. You can ask to confirm whenever you are ready to subscribe.
Meanwhile, What Of My iROKOtv Girlfriend?
I wish that I could tell you that the smart and beautiful iROKOtv lady at the mall somehow got me to give her my number. Or that perhaps she wrote hers on a piece of paper and slipped it in my hand before I departed. That kind of thing happens only in the movies, please. It didn't happen in this real life scenario. I walked away after activating my iROKOtv service, and we both lived happily ever after – apart.
After you have downloaded the app, let me know how it went! I will be sharing another story of my experiences with mobile stuff soon, so don't go away.
Dont sleep on this
You can buy your dream smartphone on an instalment plan. Call or message Courage on 0817 160 1491, and mention Mobility Nigeria.