Last Updated on August 23, 2023 by Editor
One of the things we are committed to helping you do is find the best mobile phone deals available on the country. Sometimes, a store is having clearance sales. At other times, a brand is offering juicy discounts on some of their products. Either way, Mobility Nigeria brings you these deals so you can take advantage of them.
If you are shopping for a new smartphone, bookmark this page and visit it every other day to stay up-to-date with the best mobile phone deals in Nigeria. We keep it updated with new content as we spot fresh hot deals at phone stores nationwide.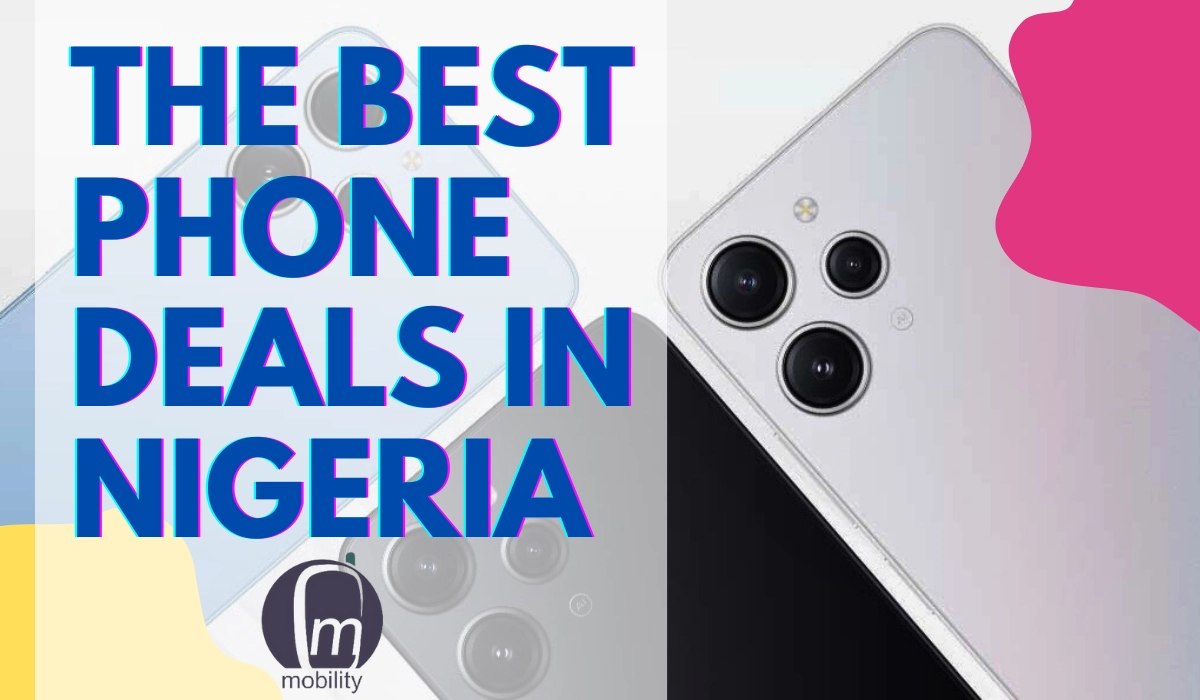 Table of Contents
Best Deal for a smartphone below ₦100,000 naira
Xiaomi says that its massive discount on the multiple Redmi 12C variants is still running. We know a few people who picked up one based on the information we published on this page. Here is what the deal gets you:
3GB/32GB: ₦56,700; this is the regular price.
3GB/64GB: ₦60,700; regular price is ₦76,500.
4GB/128GB: ₦69,700; regular price is ₦85,500.
6GB/128GB: ₦81,700; regular price is ₦94,500.
We observe that some some of them have gone back to their regular prices at some stores. We hope you have picked yours already. If not, hurry. This deal might disappear soon.
What makes the Redmi 12C really juicy is the Helio G85 processor. That's a processor found in phones above ₦100,000 from other brands, so the Redmi 12C was already a good deal at its regular prices. At these discounted prices? Fantabulous!
Best Deals for Affordable 5G Phones
If you have been looking for an affordable 5G smartphone to buy, we have a hot deal for you. The Infinix Note 12 Pro 5G is available for just ₦133,600 right now, against the ₦197,000 price tag it carries normally. What does the Note 12 Pro 5G offer?
Firstly, a Dimensity 810 processor, 8GB of RAM, 8GB extended RAM, 128GB built-in storage, Android 12, 6.7-inch AMOLED display, side fingerprint scanner, 108-megapixel main camera, a 5000 mAh battery and 33W fast charging.
What kind of 5G network compatibility does it have? We can't say for sure, but we have reviewed other 5G Infinix phones and they all worked with both MTN 5G and Airtel 5G. We expect that this one will too. You can get more detailed specs of the phone here.
Where can you get the Infinix Note 12 Pro 5G from for ₦133,600? Dash down to a Pointek store near you to ask for it. We reckon there will be a mad rush for this. It really is a steal for those looking for a great bargain for an affordable 5G phone. Feel free to also check for this discounted price at other stores like Finet, and Slot. The deal price might not be restricted to Pointek.
Also, finally, Samsung Galaxy A14 5G is now available. It has a price tag of ₦135,900 for the 4/64GB variant and ₦146,900 for the 4/128GB variant. Where? Ask at Slot Systems.
Update: Infinix Hot 30 5G is now available in the market and sells for ₦149,900 (8GB RAM, 128GB storage) at stores like Slot and Pointek.
Update: Infinix has announced the NOTE 30 5G going for ₦146,500. August 15 Update: The Note 30 5G is now available at Pointek but with a price tag of ₦180,400. Why the massive difference in price from what was announced at launch? A fallout of the naira-dollar exchange rate?
August 23, 2023: Finally, TECNO Spark 10 5G is available. We found the 8/256GB variant at Slot Systems for ₦146,500 only.
The Cheapest Phone Deals
If you are looking for the very cheapest smartphone in the market, look no further than the itel A04. If offers a 6.3-inch display, 2GB RAM, 32GB built-in memory, and a 4000 mAh battery. It sells for ₦38,500.
But note this: one key reason why it sells for that ultra-low price is because it lacks 4G. You read that right. This is a 3G phone. Which is not a horrible thing: the mobile networks still run their 3G networks and thankfully the Internet works, though it is much slower than 4G. If you want a cheap 4G smartphone, take a look at the next section.
The Cheapest 4G Phone Deals
The best phone deal for the cheapest 4G smartphone in Nigeria is from itel as well. Say hello to the itel A60, selling for ₦45,900. This phone was launched in partnership with Airtel Nigeria, so you might not be able to find it elsewhere. But the itel A58 Pro is also available for ₦46,500 and has no allegiance to any single network operator.
If itel is not your cup of tea and you want to explore a different brand, Xiaomi currently has the Redmi A2+ 2GB/32GB selling for ₦47,900. Its specs include a 6.52-inch LCD screen, a Helio G36 chipset, an 8-megapixel rear camera, 5000mAh battery and 10W charging.
All of these rock-bottom cheap 4G phones offer 2GB RAM and 32GB storage memory. You can put a memory card in them to get extra storage.
Where to buy any of the phone deals listed on this page? Check your favourite mobile phone store in your city. Some of them are also available on e-commerce website and marketplaces. Do let us know if any of the deals mentioned on this page was helpful to you.