Whether it is pure coincidence, or it is a strategic move, OPPO has priced their all-new A96 same as Vivo's also-new V23e in Nigeria. Both Android smartphones have a price tag of ₦159,900 each, which is essentially ₦160,000, no?
When the uniformity of their prices struck me, I thought, "If I had ₦160,000 to buy a phone with, which of these two phones would I spend it on?" That's a good question. Hopefully, a lot of you out there are intrigued too and want to find out. Let's get into my analysis right away.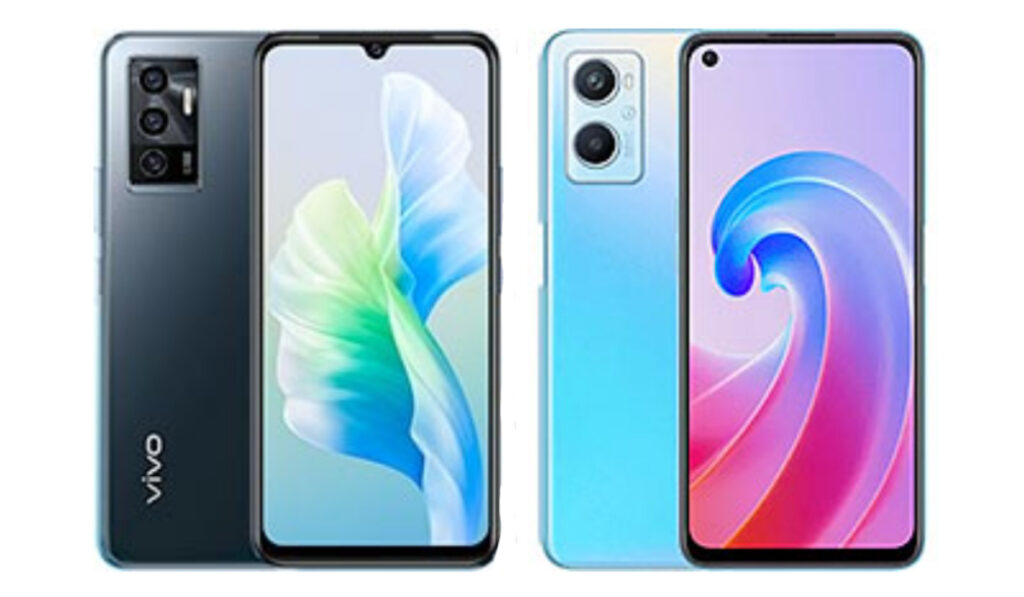 vivo v23e vs OPPO A96: Display
Vivo V23e has a 6.44″, 1080p AMOLED display. I am a sucker for AMOLED displays: they deliver get better blacks and contrast, plus they also make always-on displays possible. In the other corner, OPPO A96 has a 5.59″ IPS LCD panel, but there is 90Hz refresh rate in there. It also has 1080p resolution.
Neither of them has Gorilla Glass protection; at least it isn't mentioned by either manufacturer. So, which display wins? That's difficult to tell. But I would go for the AMOLED display. In my experience, higher refresh rates do not add that great a value in practical terms. It is also a smaller screen (and smaller body), and I am not a big fan of bigger displays and phones. Round One goes to Vivo V23e.
vivo v23e vs OPPO A96: Design and build
When it comes to design, I prefer the OPPO's punch hole screen to the waterdop notch in the V23e. Both phones do not look bad at all, though, but OPPO A96 has an IP5X dustproof, IPX4 waterproof rating, and that gives it a practical edge. It stands a much better chance of surviving liquid splashes and droplets than the Vivo does. OPPO A96 wins this round for me.
vivo v23e vs OPPO A96: Performance
Here, I am looking at the processor and RAM as the metrics for performance. Vivo V23e has a slightly more powerful and capable processor. It is equipped with a Helio G96 chipset, against the A96's Snapdragon 680 chipset. The Snapdragon is better in one respect though: it has better battery management.
In terms of RAM, both phones stand shoulder to shoulder with 8GB RAM each. Vivo V23e takes this round.
vivo v23e vs OPPO A96: Storage
While Vivo V23e has 128 GB storage, OPPO A96 has double that – 256 GB. If storage is a priority for you, there is no contest here. Both phones have a microSD card slot, though, so you can always add extra storage space that way. The clause is that Vivo V23e uses a shared slot, so you have to give up a SIM card in order to use a memory card, while OPPO A96 has a dedicated memory card slot. The OPPO wins this round square and fair.
vivo v23e vs OPPO A96: Cameras
And now, we come to the cameras. The quality of cameras is difficult to compare just by looking at specs. We have seen 12MP cameras that take better photos than 48MP cameras, because megapixels are not all there is to image quality. So, I won't dwell on the rear cameras. But this has to be said, it is hard to find a 50MP selfie camera, and you will find it in the Vivo V23e. Actually, Vivo markets it as a selfie-centric phone – designed to take the best selfies possible. So, if selfies are important to you, I really think you should take a look at the v23e. And that's all I am saying about the cameras.
vivo v23e vs OPPO A96: Battery life and charging
On to battery life. We already saw that OPPO A96's 5000mAh battery is bigger than the V23e's 4050mAh battery. But it isn't about battery capacity alone. The A96 has a more frugal processor and so I am inclined to lean towards the OPPO A96 for better battery life. However, if faster charging is more important to you, the V23e has 44W charging, against the A96's 33W charging. Vivo V23e charges faster.
vivo v23e vs OPPO A96: Which is better?
Which of these two phones will I spend my ₦160,000 on? Vivo V23e is more compact, has an AMOLED display, is more powerful, charges faster, and has what I believe is a better selfie camera. OPPO A96 has a better build, larger display with higher refresh rate, bigger storage, and better battery life. This is a tough one for me, I must admit. Perhaps I should let you decide which you prefer: I have helped you with the analysis, after all. You can buy me fresh palm wine sometime.
Dont sleep on this
You can buy your dream smartphone on an instalment plan. Call or message Courage on 0817 160 1491, and mention Mobility Nigeria.