At this rate, owning a TECNO or a Xiaomi phone in Nigeria just might find you in the middle of a gang war. The war is happening strictly online for now, but it is getting heated enough to spill over into real life soon. Let me tell you about the ongoing TECNO vs Xiaomi war.
TECNO is a well-known mobile phone brand here and needs no introductions. Xiaomi, however, is a relatively new brand in Nigeria and not a lot of people know it. It is pronounced "Shao-me". Like TECNO, Infinix and itel, Xiaomi is a Chinese brand and makes "affordable" smartphones. While the brand isn't so popular here, it is currently the 4th largest smartphone brand in the world. So, Xiaomi is big globally – bigger than TECNO. But here in Nigeria, TECNO is much bigger than Xiaomi in terms of market share.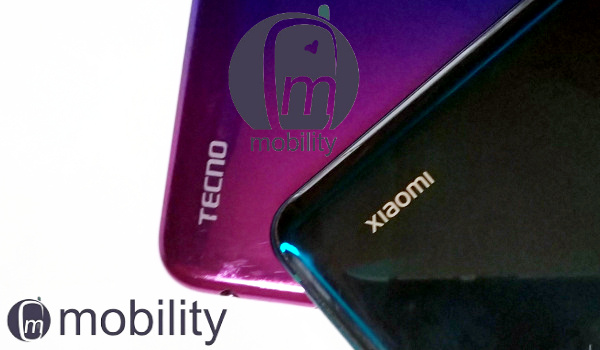 The introduction done, let's also define a few things. When I say TECNO here, I mean TECNO and it's sibling brands, itel and Infinix. And when I say Xiaomi, I am referring to its Redmi and Pocophone siblings as well. Yes; Xiaomi is the same brand behind Redmi and Poco phones, same way Transsion is behind TECNO, Infinix, and itel. So, what is this TECNO vs Xiaomi war about? How did it start? And how bad is it now?
Genesis of the TECNO vs Xiaomi War
This is not the first smartphone brand war that has involved TECNO Mobile. Some years ago, there was the Samsung versus TECNO gang war. It was heated and it was bitter.
The basis of the war was that some people are convinced that Transsion Holdings brands set out to scam Nigerians with substandard products and they became vocal about it, pushing Samsung as an alternative. This Samsung vs TECNO war was already going strong as far back as 2013.
Unfortunately, Samsung was never able to match the pricing of TECNO, itel and Infinix smartphones, despite recent commendable efforts with the Galaxy A-series phones.
In 2019, Xiaomi made splash with an official launch in Nigeria. Note that Xiaomi offers more pocket-friendly devices than Samsung. Xiaomi's Redmi Note 7 was launched in Lagos in April 2019. The brand quickly drummed up support among phone enthusiasts.
Exit Samsung
For some reason, at the same time, the Samsung boys and girls have eased off on trashing Transsion phones. Did the rebels abandon Samsung and switch to Xiaomi? We will need independent information to confirm that. But whatever happened behind the scenes, TECNO's fans have a new adversary to face in the form of the highly vocal fans of Xiaomi.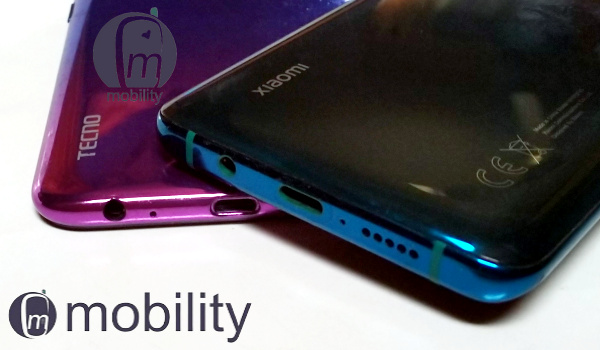 And so the TECNO vs Xiaomi war was on. Well, not exactly. It was mostly a one-sided war, with Transsion's brands being on the receiving end of the bashing.
It has been a brutal and relentless heckling of TECNO, itel and Infinix products in the last one year by Xiaomi fans. There is no launch of a new TECNO phone that had not been followed by endless criticisms of the brand by Xiaomi fans. And it is no-hold barred. Terms like "Shitfinix", "Alhajitekno", "Scrapno", and "Crapno" are a few of the numerous derogatory jabs taken at Transsion products, especially by users on Nairaland Forums. There are scores of threads on there demarketing TECNO, Infinix, and itel products.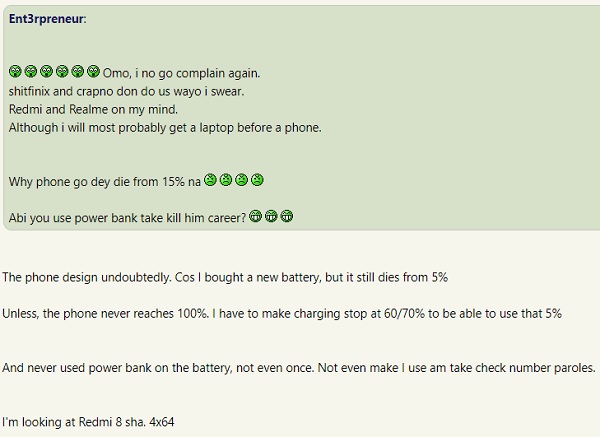 What has happened now in 2020 is that Xiaomi itself is coming under fire and on the receiving end of the same treatment that it's fans have meted out to TECNO phones. People who have used Xiaomi phones are complaining of quality and usability issues as well, and it is making the Mi community uncomfortable. Here is an example of a forum post sharing bad experiences with Xiaomi smartphones: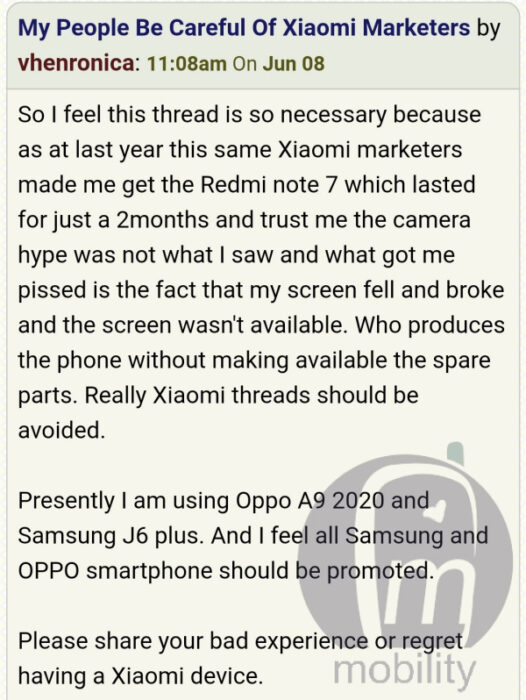 It looks like a case of living and dying by the sword. Verbal violence is not the exclusive preserve of any set of people. And that is proving to be true as the TECNO vs Xiaomi battles escalate. For every gbas, there is a gbos.
It is a well-known fact in the industry that Transsion brands has digital marketers on their payrolls. These individuals basically spread the "Gospel" according to TECNO, Infinix and itel. Whether this new onslaught against Xiaomi phones is the handwork of these marketers remains to be seen. But so far, the complaints have been tame – nothing caustic like what the 3 musketeers of Transsion have been subjected to in the last few years.
Of course, there is no available proof either that the onslaught against Transsion brands is the handwork of anyone officially sponsored by Xiaomi. But with both sides of the divide throwing jabs at one another now, the battles are getting more heated by the day.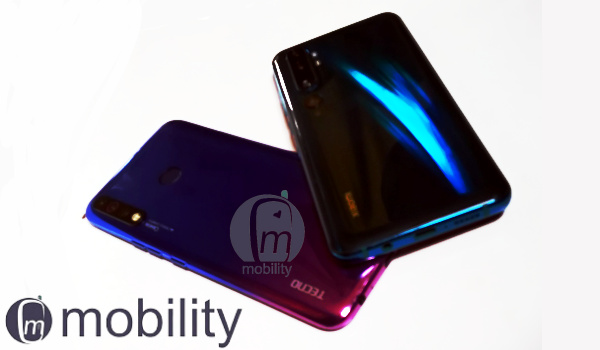 The TECNO vs Xiaomi war is far from over. As a matter of fact, these are early days. Buying a TECNO or Xiaomi phone may mean you may someday get caught up in a gang face-off.
We are not there yet and hopefully never will, but if the TECNO vs Xiaomi battles rage on, may we not see a situation where people get pulled over on the streets of Lagos or Port Harcourt and are told, "If you have a Xiaomi phone, stand to this side. If you have a TECNO phone, stand there." God forbid. Somebody say an amen.
I am Mister Mobility and will be bringing you more entertaining stories from the industry. Follow @mobilitynigeria on Twitter and turn notification on so you don't miss my stories.
Dont sleep on this
You can buy your dream smartphone on an instalment plan. Call or message Courage on 0817 160 1491, and mention Mobility Nigeria.