Last Updated on January 7, 2021 by Editor
Samsung Galaxy A21s is a mid-range Android smartphone that runs Android 10 operating system out of the box. Its highlights are the 6.5-inch Infinity-O display, 48-megapixel quad camera at the back, and the massive 5000 mAh battery. There is 15W fast charging to speed up quick recharges of the battery.
The display of the Galaxy A21s is one of its major weak points though: it has only 720×1600 pixels, resulting in a very low pixel density for a 6.5″ screen. The punch hole in the display houses a 13-megapixel camera for selfies. There are three variants of Samsung Galaxy A21s – the base variant has 3GB RAM + 32GB ROM (internal storage memory), the second variant has 4GB RAM + 64GB ROM, while the highest variant has 6GB RAM + 64GB ROM.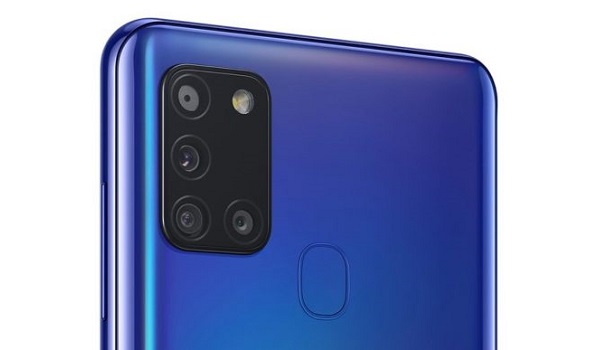 Samsung Galaxy A21s Specifications
The specifications below are of the middle variant of this phone, the one with 4GB of RAM and 64GB storage memory, as that is the variant on sale in Nigeria at the moment.
Display: 6.5-inch TFT punch hole display. Resolution is a mere 720 x 1600 pixels, so it isn't the sharpest of displays.
Battery: The 5000mAh battery is on the massive end in 2020, so you can expect battery life that covers a close to a full day, If you use the phone sparingly, you will easily squeeze out more than a full day out of it.
Charging: 15W fast charge means that if you plug in the phone to charge with an empty battery, you will have close to 50% power within 30 minutes. It is significantly faster than what regular charging does.
USB type: This phone uses USB Type-C. That is the one with a reversible connector, not the old school USB port.
Processor: This is the equivalent of the engine of the phone. It determines how powerful a smartphone is. Samsung Galaxy A21s uses an EXYNOS 850 chipset, which is decent. It isn't a top performer in the mid-range class of smartphones, but it will do.
RAM: 4GB RAM is adequate for decent app launching and switching.
Storage Memory (ROM): It means what it says: memory that you use for storing your files e.g.photos, vidoes, documents, etc. 64GB storage is quite adequate for many users. if you need more, there is a micro-SD card slot available.
Selfie Camera: A 13-megapixel snapper hidden in the punch hole at the top of the display.
Rear Camera: There are four camera sensors at the back, and the main one has a 48-megapixel resolution. Expect good pictures. The other 3 sensors include: 8MP ultra wide-angle sensor, 2MP macro sensor, and a 2MP depth camera. There is an LED flash to assist with low-light photography.
Fingerprint Scanner: The fingerprint sensor is located on the rear of the phone, some distance below the camera module.
Face Unlock: Yes.
Up next, we have answers to some of your most frequently asked questions about Samsung Galaxy A21s.
What colours is Samsung Galaxy A21s available in?
The Galaxy A21s is available in 4 colours, namely: white, black, blue, and red.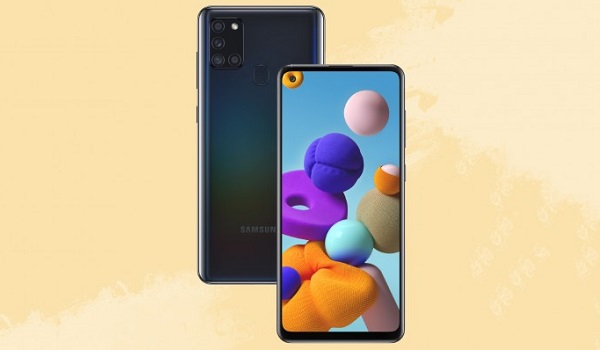 Does Samsung Galaxy A21s have Gorilla Glass protection?
Samsung does not mention the presence of Corning® Gorilla® Glass protection on the display of the Galaxy A21s.
Is Samsung Galaxy A21s waterproof?
There is no mention of an official IP water or dustproof rating for the Galaxy A21s.
Does Samsung Galaxy A21s have NFC?
Samsung Galaxy A21s is equipped with NFC, but Samsung says this feature is region/location dependent, so be sure to ask about it for your location.
Samsung Galaxy A21s price in Nigeria
The 4GB RAM + 64 GB ROM version of the Galaxy A21s has a recommended retail price (RRP) of ₦84,000. This is a steep price, considering the poor display resolution. But it is understandable considering current economic realities. This is a general trend with smartphone sales. It is not clear whether the other variants of the phone are officially available in the country.
Is Samsung Galaxy A21s worth buying?
For the price, the Galaxy A21s looks like good value for money.
Where to buy Samsung Galaxy A21s in Nigeria
Where can you find the Samsung Galaxy A21s to buy in Nigeria? Check local retail stores, as well as ecommerce sites like Slot, Jumia, Konga, and others.