Last Updated on July 11, 2023 by Editor
Introduction: The Palm Treo 700P is my first CDMA smartphone. This is my first Palm OS smartphone. This is also my first touchscreen device in so many years. I have had it, used it and tormented it for two weeks now, under the extreme usage patterns all smartphones that God deems fit to send my way are subjected to. Two weeks is good enough, and I hereby present my detailed review of the Palm-powered Treo 700p.
In the course of this review, I will often make reference to the Nokia E61i, comparing features of the Treo 700p with its own features. Why? In my two weeks of using the Treo, I keep subconsciously comparing it with the E61/E61i in many ways. Can you blame me? I used the E61 for over a year, and have used its sibling the E61i for a couple of months as well. It is just inevitable that comparisons show up.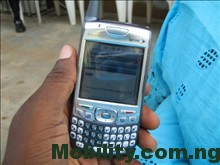 Treo 700p: A Quick Checklist
1. EVDO with backward compatibility with CDMA 1x.
2. Palm OS Garnet 5.4.9
3. 1.3 megapixel camera still and video capture.
4. QWERTY keyboard
5. Bluetooth, Infrared, and USB connectivity
6. Blazer Web browser and Email client support
7. 62mb shared memory + SD slot (up to 4GB)
8. 1800 mAh Li-ion battery
9. 312 MHz Intel XScale PXA270 processor
10. 2-inch 320 x 320 transmissive/reflective LCD touchscreen with finger or stylus input
The Palm Treo 700p Review
Form factor, Display
The 700p is a candy-bar device with a large screen and a full QWERTY keyboard. The device itself feels a little bulky because of its thickness. In reality, it is smaller in length and height than many available devices in its category e.g. the E61i. The E61i is merely thinner. Anyway, the thickness gives a sense of bulk.
Having said that, the 700p is handy and pocketable, and I had no usability issues with its form.
The display is a 2-inch, 320 x 320 pixel piece of work that's slightly smaller than the display of the E61i (2.5-inch; 320 x 240 pixels). The screen brightness is awesome when set to its maximum setting. Of course, you can expect an extra hit on battery life should you do that. I find that a half-way setting is bright enough in both daylight and at night.
Text Input and Navigation
The 700p gives you the best of two worlds: a QWERTY keyboard that works well, and touchscreen functionality. The touchscreen allows you to use an included stylus or your fingers. There is no handwriting recognition capability. As such, text input is really via the keyboard, while the touchscreen is an awesome aid to navigation, selecting/copying/pasting text and images, etc.
One of the most marvellous features on the Treo is the assisted text input. The phone saves whatever text you have inputted before, and suggests the nearest match to whatever word you begin typing. Neat feature that comes in handy when inputing web forms and the like.
Multimedia
The 700p comes with PocketTunes music player built-in, and plays a range of audio formats. I noticed that it does not play midi and AAC files though. Of course, MP3 is supported. PocketTunes lets you setup playlists, and to repeat or shuffle your songs. You can play your music in the background while carrying out other tasks.
The built-in Pics & Videos application handles the display of images and video playback. In viewing images, you can view them as a slideshow and attach background music to play along with it. There are also a couple of transition effects to select from e.e. fade, cross-fade, dissolve,etc.
Video playback is smooth and sharp, though the player tends to use less than the full size of the screen. I'm not sure why this is so, but usually, the video plays in the center of the screen and has lots of black background framing it.
I must add that the 700p's loudspeaker is nowhere near as powerful as that of the E61i. It also has a clear lack of bass in the overall sound output.
Email
Email on the 700p is an area in which the E61i is beaten hands-down. Auto-retreival. Email displayed in HTML format. Plus, beautiful handling of attachments, and better use of screen estate, ensuring that you can see more at a go.
And the clincher: s60 mail clients have a very annoying habit of turning auto-retrieval of mails off when they run into a network problem and cannot connect. Usually, the user is unaware that auto-retrieval is off. On the 700p, it does not matter what connection problems show up, the client will resume auto-retrieval as soon as a connection becomes available. Bye-bye to watching over email like a hawk.
Internet
The 700p's built-in web browser is named Blazer. And it has got a lot going for it, though it has a few limitations. First off, it does not work (at least on Reltel) without configuring a proxy server with it. Once configured however, it is fast and versatile.
Blazer handles posting content, logins, and secure access with grace. You can also download files through it, and it is both a Web and WAP/mobile browser. On the E61i, there were two separate browsers for Web and WAP access respectively.
Blazer lets you save bookmarks, save pages for offline viewing, and lets you set how large a cache you want or need. You can disable images, disable style-sheets, use it in Optimised Mode (in which you never have to do horizontal scrolling) or in Wide Page Mode. It also lets you connect to a VPN.
If you are visiting a page that you like, Blazer lets you send the page address to a friend via SMS. Beautiful. Like Opera on desktop, you can set Blazer to always load the last page you were visiting the last time.
The touchscreen functionality aids web browsing, letting you select text and images to copy/cut and paste text as you wish. This was something I missed on the E61i, and I'm certainly glad to have it again.
Blazer's niggles:
1. you can't start scrolling a page till a sizeable portion of it has loaded
2. it appears that there is a limit to the size of web pages that it can handle. In browsing some very large pages, I get a "page too large to be downloaded" message, but the page actually loads anyway.
3. can't open multiple windows on it
Besides those niggles listed above, Blazer is a fast, versatile browser. Highly recommended.
Operating System and Memory
The 700p runs on the Palm operating system. The user interface is clean, simple and definitely less complicated then Symbian s60. It is difficult to lose your way around the UI. There are dedicated buttons for a number of applications. In all, I have seven (7) favourite applications setup to use these buttons.
After the firmware update I ran, switching from one application to another became smooth. It is now significantly faster than what obtains on the E61i.
I have 62 MB of space to play around with on the 700p, and with a 1GB SD card, that's more space than I have use for.
Multi-Tasking
Arguably the greatest handicap of the 700p is its limited multi-tasking capabilities. It multi-tasks in several areas, but much of it is hidden from the user. For example, if you are typing a memo and switch over to the phone mode to make a call, when you come back to the memo application, its still open and in the state you left it earlier.
Again, email checks in the background while you are playing music and doing something else. However, there is a sense in which keeping the user from harnessing the potentials of its multi-tasking capabilities is limiting. Most applications do not have an option to exit. You just open whatever else you want to use.
In Symbian s60, for example, there is the option to see all running apps, close whichever you want to close, and select which you want to use. I miss that a little, I must admit.
Organizer and Office features
The phone has elaborate organizer applications for managing contacts, calendar, tasks, memos, and alarms. The Office applications suite is by DataViz Documents-To-Go, and is very versatile. It beats what is currently on the Symbian s60 devices, allowing you to edit documents and retain their formatting.
The calendar application is also miles ahead of what is on s60 at the moment. No questions. There are alarms, repeated tasks, and a beautiful agenda view that allows you to set a background image. The agenda view shows you your appoitments, tasks, alarms, new mails, etc. Very comprehensive.
There's also a Voice Memo, Calculator and extensive contacts application.
Connectivity
On the network front, the 700p offers CDMA 1x and EV-DO, the latter providing much faster data thoroughput. Unfortunately, I didn't get to test EV-DO out, as Reltel isn't offering that yet.
On the device connectivity front, the 700p offers Bluetooth, infra-red, and USB cable. No; there isn't Wi-Fi on this device. Bluetooth allows dial-up networking, file transfer, audio headset usage, and PC synchronisation. Infrared works too for file transfer and synchronisation too.
USB cable works for PC synchronisation as well. In addition (and this is cool), when connected to the PC via USB cable, the phone is being charged through the cable.
Battery Life
The 700p comes with a 1800mAh Li-ion battery. That's a large one. I expected much more from it, but so far with intense – and I mean intense – usage (almost never leaving my hands), I need to charge it twice daily. Note that I have been constantly tormenting the phone through the last 2 weeks. I've been installing and trying out lots of software, testing out those softwares to determine whether to keep them or not, and updating here and there.
As such, my experience so far certainly cannot reflect the real battery performance of the device.
I'll probably be able to give a more accurate battery life after the initial love bug wears out and I return to my regular usage patterns. But so far, my impression is that the battery life is not as good as that of the E61i.
Games
If you've ever played SkyForce, you know that it is a top-notch game with sound effects, great graphics, and beautiful maneuvres. I downloaded and installed the demo version of SkyForce to the 700p, and had a go. Verdict? Excellent. Gameplay was smooth and there is no sense in which the 700p handled SkyForce different from the E61/E61i. With that, I am satisfied that the 700p doesn't lack in the gaming department.
Camera
The 1.3 mega-pixel camera produces good pictures and video shoots. I've never paid much attention to the quality of the camera on my devices, so I really cannot give a head-to-head with the E61i.
3rd Party Applications
Plenty. I have BibleReader from OliveTree, and the Palm version leaves the s60 version in the dust! I have installed GoogleMaps as well, and you need to see the sharpness and performance. An unlimited data plan as I have on Reltel certainly makes a big difference.
In addition, I have installed a dictionary, file manager, compression utility, backup application, and more. There is a huge catalogue of Palm applications – freeware, shareware and paid -out there to choose from.
Conclusion
That's my detailed review of the Treo 700p. My evaluation of the device? It is a great smartphone. Yes; it is different from what I am used to, but I have already come to love this device. The 700p is a beautiful and effective mobile office tool.