With every new technology accessible to mobile phone users, your indispensable mobile phone gets more exciting and versatile everyday. Users of phones with Android 7 and above, as well as iOS devices, are proudly entitled to this experience. However, there is a downside to it – your phone's battery may unavoidably pay the price. Some of these new phone features are heavy consumers of battery power. Sometimes you totally need to conserve power on your dear phone. So the obvious question is, HOW DO I STOP MY PHONE BATTERY FROM DRAINING QUICKLY? How can I slow down battery drainage on your smartphone?
The graphics, the sounds, videos, games, and quite a number of obvious and hidden tech features on your phone are guilty as charged. We carry our phones around everywhere and use them for fun and serious work. Your phone moves at the speed of light, the graphics are alluring. Is there a way to slow down the quick drainage of your phone battery? Surely there must be a way out. Particularly if you find yourself in places where you may not get quick access to electricity to charge your phone.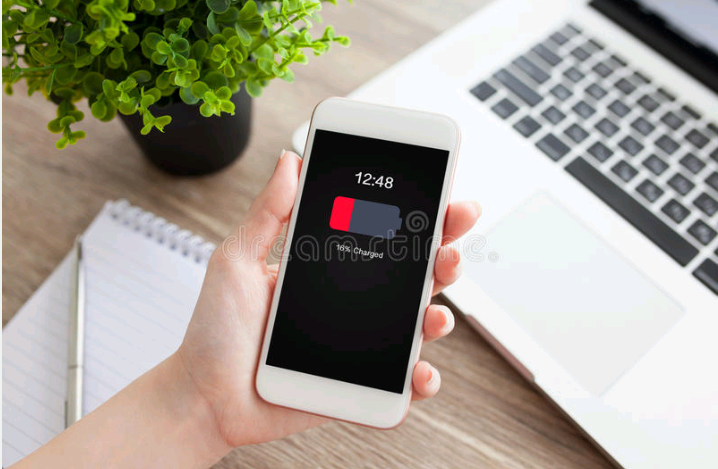 In this article we would cover the essential reasons why your phone battery drains quickly and how to slow down that unwanted trend, to avoid constantly hunting for a quick battery recharge (which can be frustrating).
Table of Contents
10 Things That Are Draining Your Phone Battery
There are a number of reasons why your phone battery is not retaining its juice for long. Indeed there are phones with low battery capacity that need to be spared the hell of constant power top up, so be mindful of your device. If your phone battery is prone to quick drainage, then check out the following issues on your mobile phone:
The screen brightness
The phone screen stays active for long before timeout (probably over 3 minutes long)
Many apps are running in the background
So many apps are using location service on your phone
Your phone's wi-fi or internet connection has been switched on for long
Your phone's operating system or apps (or both) are outdated
So many alerts and push notifications entering your phone
Phone battery is near the end of its life cycle
The phone's temperature is fluctuating between extremes
SIM card has lost connectivity (service/network not available)
Quick Fixes to Slow Down Battery Drainage on your Phone
From the foregoing, it is easy to check your phone settings and make changes to the obvious culprits tampering with your phones battery. So here we go, let's do a quick run-through of steps to take to slow down battery drainage on your phone.
Reduce the Screen Brightness
You can easily do that on the draw-down ribbon menu at the top of your phone screen. There is a slider there for that purpose Otherwise, go to Settings > Display (& Brightness) to adjust the slider, or percentage of screen light.
Other tweaks you can perform in the Settings > Display option of your phone to reduce battery drainage include:
Turn on Adaptive Screen Brightness. This feature will adjust the brightness of your screen automatically in response to daylight detection on your phone.
Turn on Night Light (if available) at a particular set time on your phone.
Switch on Dark Theme (to further reduce how much power is needed to display text and graphics)
Reduce the time it takes for the phone to go into Sleep mode by adjusting Settings > Display > Advanced > Screen Timeout (Android). Or use Settings > Display & Brightness > Auto-Lock (iOS).
Turn on Battery Saver/Battery Manager feature
The draw-down ribbon menu atop your phone screen may give you access to the Battery Saver (if you have set it beforehand). Or simply go to: Settings > Battery (Android) or Settings > Control Center > Customize Controls > Low Power Mode (iOS), to set the percentage for switching on the Battery Saver. Additionally, use the Battery Manager (if available) to detect apps that are draining the battery and restrict or stop them.
Direct Care for your Battery
Your battery obviously needs to be preserved or minded to enjoy it a little more. Do so by:
Keeping the phone in cool conditions or environment as much as possible.
Watch out for any activity that seems to increase the phone temperature and avoid or reduce it.
It is advisable not to entirely drain the phone battery before recharging it.
Use the original phone charger (or a compatible one) to charge your phone. Get the details from the phone manual, or from the phone manufacturer's website.
Try to reboot/restart your phone occasionally to release the battery (at least temporarily) from any service holding onto it.
Use Airplane Mode when you are in an area where there is little or network connection.
Reduce Constant Wi-fi or Internet Connection
It is recommended that you switch off your phone's Wi-fi or Internet connection when you are not using it. This slows down the continuous burning of your phone battery due to internet traffic. Similarly, reduce (or switch off) internet activities that keep the battery constantly working, such as GPS/location tracking; lengthy streaming of videos, games and songs; hotspot or phone tethering; or lengthy voice calls. Also remember to switch on Bluetooth only when it is needed
Update your Phone Software: Operating system and Apps
The update status of your phone's operating system and its apps can affect the performance of the phone and power consumption as well. Update your phone's operating system in Settings > System > System update. Altenatively go through Settings > Advanced > About phone/About tablet (Android).For iPhone/iPad users, use Settings >General > Software Update > Install Now to update iOS operating system.
To update you apps, go to Google Play Store, tap your profile at top-right corner, and click Manage Apps & Devices (Android). Or go to the Apple app store, click your profile at the top-right corner, and click Update next to each icon (or Update All option).
Remember also to do the following to slow down battery drainage on your phone:
Close all open apps still working in the background. Just click the Home button (the stacked three horizontal lines/hamburger icon at the buttom of your screen) to see all open apps. Release them by sliding them upwards. Alternatively, long-press each app until it trembles, then click the X or Close button that appears on top of it.
Turn off frequent push notifications from inside the apps or websites responsible for them. You can also access each app in the Settings > Apps section to turn off its notifications.You can change your phone's battery if necessary.
If after taking all precautions (as stated above) you notice the battery still drains fast, it may have overused or stretched to the end of its life cycle. The obvious solution is to change the battery.
Dont sleep on this
You can buy your dream smartphone on an instalment plan. Call or message Courage on 0817 160 1491, and mention Mobility Nigeria.