I am sure by now everyone knows about the release of the PlayStation 5. Even the people that don't want to know, know about it. Sony, with the PS5, has given us a glimpse of the direction that future consoles will follow because of the futuristic look and features of the gaming console.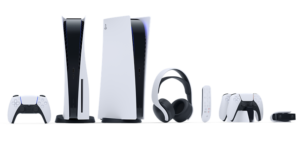 The PlayStation 5 was announced in 2019 as the successor of the PlayStation 4. It is currently we to release on the 12th November, 2020. Just a little over a month away,we don't have to wait long to witness the majestic beauty of the console.
According to Sony, the console will launch in two different varieties. The first being a base PlayStation 5 system with an Ultra HD Blu-ray compatible disc drive,for retail game support alongside digital distribution through the PlayStation store, and a low cost variant lacking the disc drive but retaining the digital support download.
The PS5 was built for speed and efficiency, to reduce lag and so many other amazing experiences to ensure you enjoy whatever game you might be playing to the fullest. Is that not what we all want?
The console also has a beautiful futuristic design that catches your eye immediately you look at it. If and when you get it, you'll be looking at it all the time. I know I would.
Let's get into those specs.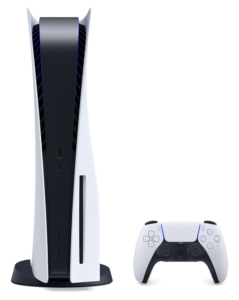 Media
Ultra HD Blu-ray, Blu-ray, DVD, Digital distribution.
CPU
Custom 8-core AMD Zen 2,
variable frequency, up to 3.5 GHz
Memory
Storage
Removable storage
Internal (user upgradeable) NVMe M.2 SSD, or external USB-based HDD
Display
Video output formats HDMI: 480p, 720p, 1080i, 1080p, 4K UHD, 8K UHD
Graphics
Custom AMD RDNA 2,
36 CUs @ variable frequency up to 2.23 GHz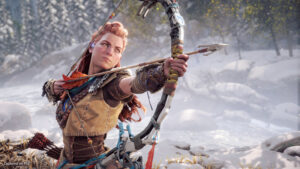 The graphics on the PS5 are insane, so good that it's almost real. This helps us gamers to connect deeply with the game. Nothing gets us hyped more than amazing graphics and killer content.
Sound
Custom Tempest Engine 3D Audio
Controller input
Dual sense, Dual shock 4, PlayStation Move
Connectivity
Wi-Fi IEEE 802.11ax
Bluetooth 5.1
Gigabit Ethernet
2x USB 3.1
1x USB 2.0
1x USB-C
HDMI 2.1 out
Online services
Dimensions
Base: 390 mm × 260 mm × 104 mm
Digital: 390 mm × 260 mm × 92 mm
Mass
Base: 4.5 kilograms (9.9 lb)
Digital: 3.9 kilograms (8.6 lb)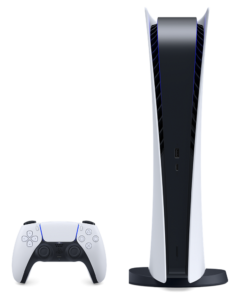 The PlayStation 5, for it's look, is relatively a light console to hold. With a nice calming grip to give you an amazing feel while playing the game.
Although it has not been released yet, it will be released on the 19th of November, 2020. You can get one from Jumia and konga, as they have made plans to make it available at that time. The console has two different prices for the two variants. The first being N152,000 (for the low cost variant) while the other costs as much as N190,000 (digital version)
If you had a wishlist of things to get during the holidays this Christmas or you want to give the perfect gift to someone or even yourself, the PS5 is the way to go.
Dont sleep on this
You can buy your dream smartphone on an instalment plan. Call or message Courage on 0817 160 1491, and mention Mobility Nigeria.