A freak power surge at an overnight-er in the ancient town of Badagry killed my trusty Microsoft USB-C quick charger. So I decided to get a Samsung fast charger to replace it. This is the horror story.
It was to be a quick, fun, one-night at Whispering Palms in Badagry with a group of about 35 people. I hadn't participated in a bonfire in almost 20 years, so this was going to be fun. And it was. After the fire went out, Mrs. Mo and I returned to our cosy room to turn in for the night. A glance at my phone told me the time was a quarter after midnight.
I was in bed already when I heard the first spark. It was followed by a few others shortly, and then there was smoke coming out from behind the TV. Jumping out of bed, I dashed about and put off every switch in the room, including wall sockets to which both our phone chargers were connected, then called for technical support.
My Trusty Microsoft Fast Charger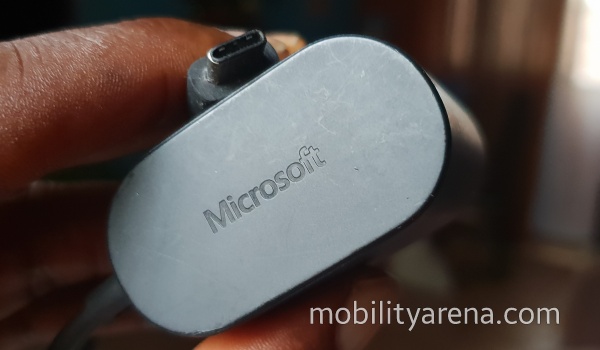 It was not until we got home on the afternoon of the next day and I plugged my phone to charge that I realized what had happened. The power incident had fried my Microsoft fast charger, and it wouldn't work any more. My valiant workhorse was finally dead. It was a QuickCharge 2.0 rated charger and worked well with my S9+. It was a good thing that my Galaxy S9 Plus was not plugged in when the incident happened. Horror!
Incidentally, my precious Lumia 950 is still very much alive and kicking. Now I needed a replacement charger for use with both my Lumia and my Samsung. If you are already wondering why I didn't just use the charger that came with the S9 Plus, let me share with you some info. I have 3 chargers for my phone. The fast charger that came with it is stationed at the office. The Microsoft fast charger that got fried was stationed at home (and goes with me on trips). Lastly, I have a ZUS dual USB fast car charger stationed in the car.
You get the picture: I pretty much run a system in which it is next to impossible for me to run out of power for my phone. As a matter of fact, my ZUS car charger has two ports – one with a USB-C cable and the other with a regular USB cable, so anyone taking a ride with me can top up their phone battery too while mine is connected. I don't get called Mister Mobility for nothing, you know.
Anyway, I proceeded to order a Samsung Charger from Slot. I checked before ordering, and the ratings clearly showed it should fast charge my Galaxy S9 Plus. So, I got it, confident that my problem was solved.
But The Samsung Fast Charger Did Not Fast Charge My Galaxy S9 Plus
In the image below, the black Samsung fast charger on the left is the one that came with the Galaxy S9 Plus, while the one on the right is the replacement charger I purchased. Both of them have QuickCharge 2.0 ratings.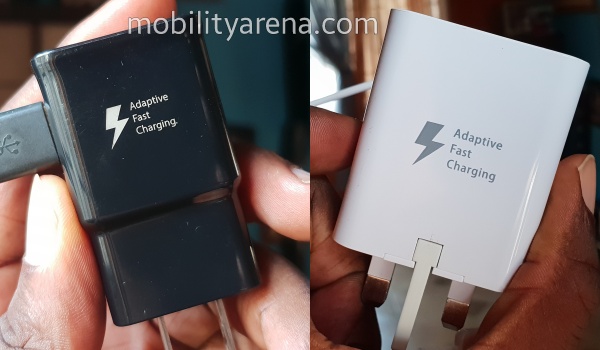 A Quick Charge 2.0 charger puts out 9 volts at 1.67 amp to power your compatible phone from 0 to 60% battery level in 30 minutes. See this article, Quick Chargers and Quick Charge versions: All Your Questions Answered, for more details about quick charging.
But when I plug the new Samsung fast charger to charge the S9 Plus, it does not display "fast charging". As you can see in the cropped picture below, it has the correct ratings – same as the "follow come" S9+ charger. But when used with my phone, the bloody phone tells me to use the charger that came with it for fast charging.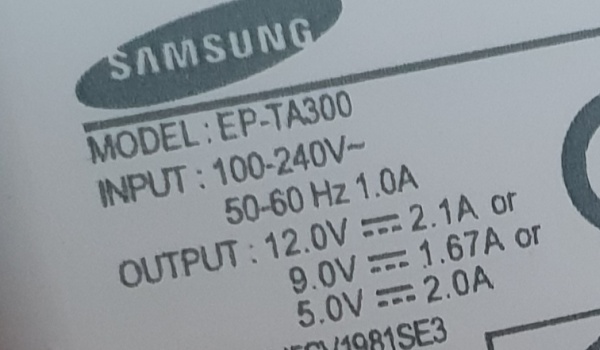 That was how I ended up with a Samsung fast charger that does not fast charge my Galaxy S9+. We have since found out that Mrs. Mo's phone charger was also fried in the power incident, so I have given her the new charger to use with her non-Samsung smartphone. LOL.
It didn't feel like a waste of money any more. But I still need a fast charger for use at home. Aluta continua…
I ran a search for the model name of the Samsung fast charger I bought, "EP-TA300", and found that it looks different from what Samsung and Amazon have listed. This is what their listings look like: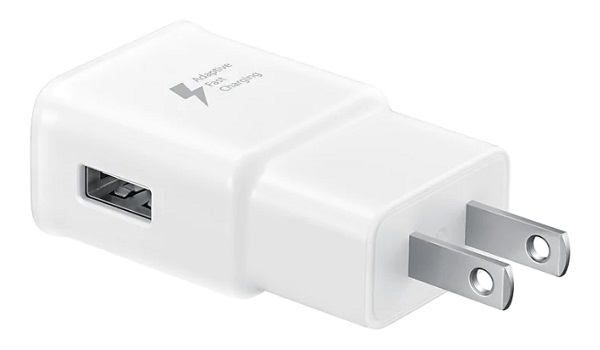 It looks like I got scammed last thing in 2018. I paid N4,500 for a knock-off? LOL. I should have gone to the Samsung Mobile store instead.
Dont sleep on this
You can buy your dream smartphone on an instalment plan. Call or message Courage on 0817 160 1491, and mention Mobility Nigeria.