The Pova 5G is TECNO's first 5G phone, and in the last few weeks, the company has stepped up marketing activities for the device. Why is TECNO Mobile marketing a 5G phone so hard in Nigeria when 5G networks have not rolled out yet? Perhaps they know something many people do not know. Here's what we know.
We know that The Nigerian Communications Commission (NCC) has just concluded the first auction of 5G spectrum. From that auction emerged two licence winners – MTN Nigeria, the country's leading telecom operator, and Mafab, a hitherto unknown business entity that was registered just in 2020.
Also, we know that MTN has been ready for 5G deployment for a while, having conducted demos in 2019. The Y'ellow network clearly has built the capacity to deliver commercial 5G services, if only at select locations in Nigeria. While we expected that the two licence winners would roll out with non-standalone (NSA) networks, MTN has confirmed that it will deploy a standalone (SA) 5G network. There is no word from Mafab yet. A non-standalone 5G network is one that uses existing 4G LTE infrastructure to roll out 5G services. Advantages include that using this option makes it cheaper and faster to roll out service. You can read more about it in this MobilityArena explainer article: Understanding NSA 5G and SA 5G: a quick and easy primer.
As for Mafab, it remains to be seen what game they are playing. The grapevine says that they plan to launch their 5G network immediately after fulfilling their financial obligation to NCC in early 2022, and that they are already shopping for network equipment suppliers. There is no official confirmation of this, though, so take it with a pinch of salt. Even if Mafab are going to roll out 5G services, I doubt that it can happen that fast. Rolling out a network from scratch is a resource-intensive activity.
In contrast, MTN has existing infrastructure that they can piggyback on to roll out 5G services in record time. Which is likely what will happen. The NCC has said, at various industry events, that 5G networks and service will be deployed in early 2022. I am inclined to believe that it will happen. As always, it will be first deployed at a few key locations, likely highbrow areas in Lagos, Abuja, and Port Harcourt, and then expansion to other locations in the country will happen over the next 10 years.
This is why TECNO Mobile is marketing the POVA 5G so hard already. 5G is right around the corner for Nigerians, and the company wants a good slice of the pie. The Chinese brand is not the only one with 5G mobile phones in Nigeria already. Brands like Samsung, Nokia, and Xiaomi officially have 5G phones on sale in the country already. 5G iPhones are available as well, and you can get your hands on the OnePlus Nord CE 5G from indie retailers too.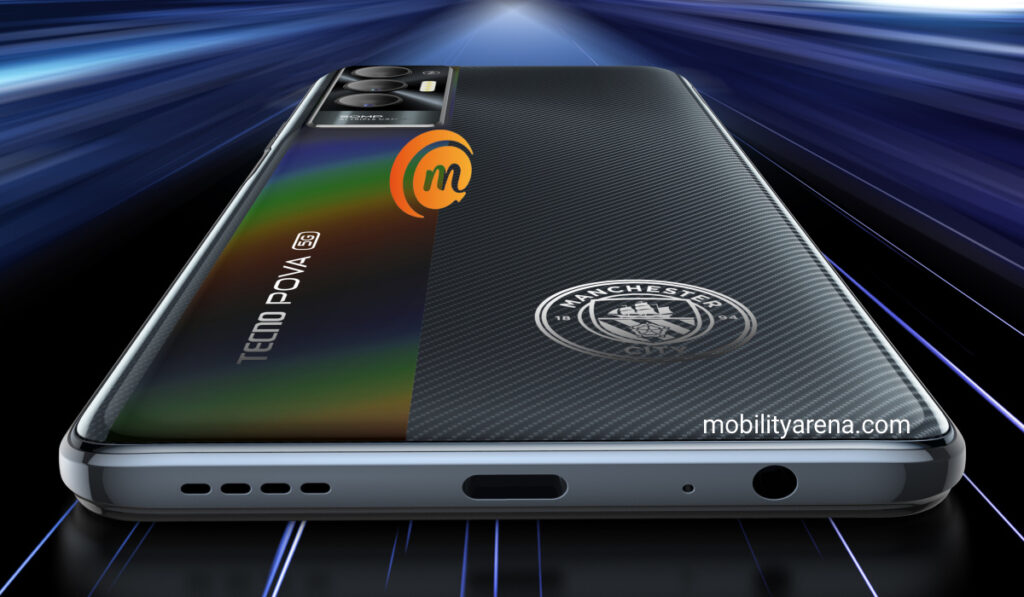 What does TECNO's first 5G phone bring to the table?
The POVA 5G has a 6.95-inch, 120 Hz Full HD+ IPS LCD screen, is powered by the MediaTek Dimensity 900 5G chipset, has a 6000mAh battery, and 18W fast charging. For photography, the main camera is a 50-megapixel snapper. You can check the full specs HERE.
How much does it cost? It has a recommended retail price of ₦147,000.
PS: don't forget to check out the Best Budget 5G Phones on Sale in Nigeria.
One thing is looking sure: 5G deployment in Nigeria will happen soon, and MTN will be the network pioneering this next generation technology. TECNO Mobile clearly also wants to be the brand you will remember when shopping for your first 5G phone, and that the Pova 5G will be your choice.
Dont sleep on this
You can buy your dream smartphone on an instalment plan. Call or message Courage on 0817 160 1491, and mention Mobility Nigeria.